State Fair season is right around the corner and as you can imagine…I can't wait!  If I could own a state fair concession stand and cook crazy goodness all day long..I'd be in hog heaven (literally)..lol!
Until then, I'll have to settle for my kitchen ..and some creepy carnival music in the background!
These mini Funnel Cakes in cookie form will bring all of that State Fair fun home to you.
And as we all know.. when a tasty treat is tiny, it's super low in calories, and therefore almost healthy..right?…RIGHT!  So I made these Funnel Cakes into light and crispy cookies, now we can enjoy them by the dozen!  😉
I added the subtle Fall flavors of Apple Pie into this version, but you can adapt these adorable babies any way you'd like!   Keeping them small and simple seems to be the favorite though!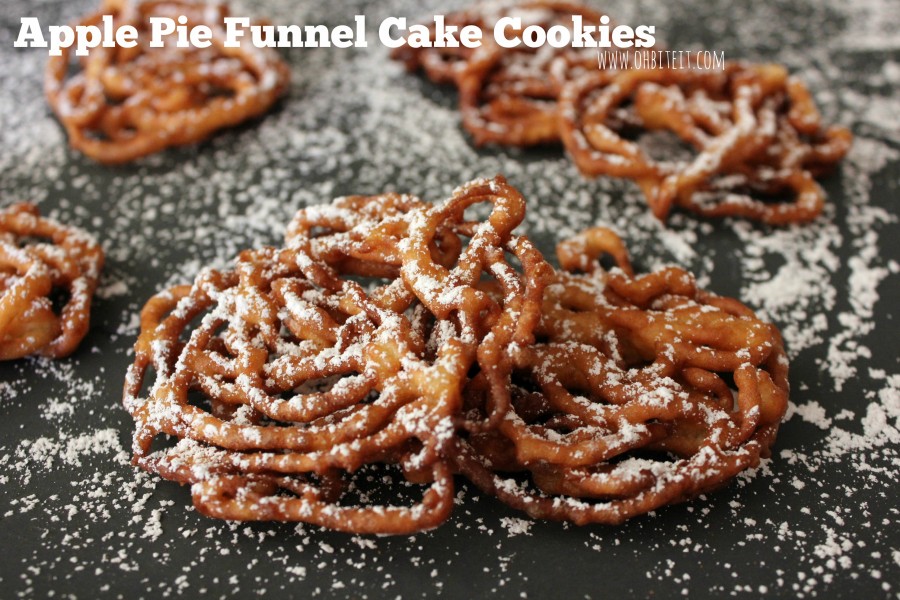 ~Make a huge batch of these to perk up your holiday table and bring on those giggles.  These are sweet, crispy and will be the life of your party/dessert/bake sale/hostess gift/late-nght snacks!  🙂
What you'll need for approx. 4 dozen cookies…(decrease the recipe accordingly for less):
3 eggs
1/4 cup sugar
2 cups milk
1 Tablespoon vanilla
1/2 cup pureed apple pie filling
3 1/4 cup all purpose flour
1/2 teaspoon salt
2 teaspoons apple pie spice
2 teaspoons baking powder
vegetable/canola oil, for frying
a shallow fry pan that will hold 2″ of oil with room for some expansion
a squeeze bottle
an electric hand mixer
a food processor OR blender
The topping:
1/2 cup powdered sugar
1 tablespoon cinnamon
Directions:
In a food processor or blender, chop up the apples until they're smooth…set aside.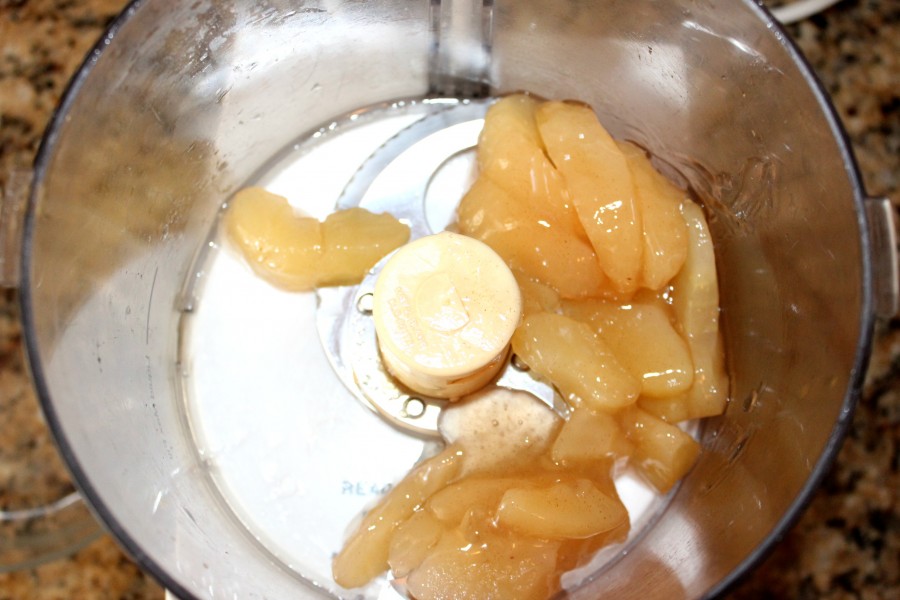 Beat eggs, sugar and vanilla together and then add the milk slowly–beat. Add the smooth apple pie filling, continue to beat until ingredients are well blended.
Add the dry ingredients and beat until smooth and creamy.
Pour batter into a squeeze bottle or you can funnel the batter directly into the oil.  I funneled it into the bottle..lol…

When the oil becomes hot (350 degrees), squeeze the batter into circular "cookie-like" shapes… (do one at a time)

Brown on both sides, let them drain/cool on some paper towel…
In a small bowl combine powdered sugar and cinnamon. Using a sifter, sprinkle cinnamon sugar mixture over the funnel cake cookies…
Now serve them up to anyone you like to see smile..a LOT!
Like YOU..lol!  ~Enjoy!  🙂