How often do you stumble upon an incredible vegan treat that's actually um..incredible?  Not often!!  Until NOW, thanks to Dandies all-vegan, GMO free marshmallows!
Dare I say that these vegan marshmallows are even better than the their traditional cousins, and by 'better', I mean WAY better!
I've never had such a creamy, rich flavored, and smooth marshmallow.  They literally melt in your mouth, and now you can even make some quick vegan S'mores!  Yep..it's true!
S'mores that are now topped with vegan marshmallows are a treat that everyone can partake in, and feel good about!  Check out these and other vegan goodies right here > Chicago Vegan Foods!  Then go make a batch of these incredible Buckey S'Mores Dip!
What you'll need: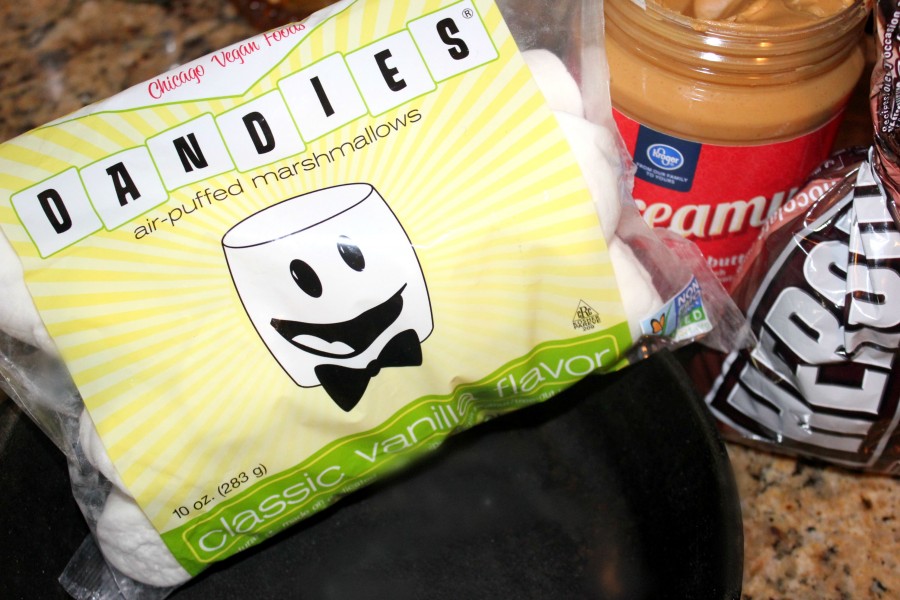 1 bag of Dandies Marshmallows (standard size)
1 cup creamy peanut butter
1 cups semi-sweet chocolate chips
graham crackers
Directions:
In an oven-safe pan, evenly spread the peanut butter…
Then top it with the chocolate chips…
Now top that with all of those creamy Dandies Marshmallows…
Bake at 350 degrees for approx. 12 minutes or until the tops are golden and it's warmed through.
You can broil it for a couple of minutes if you'd like, just to drive the whole thing all the way home..lol
Grab some graham crackers, start dipping..and ~Enjoy!  🙂