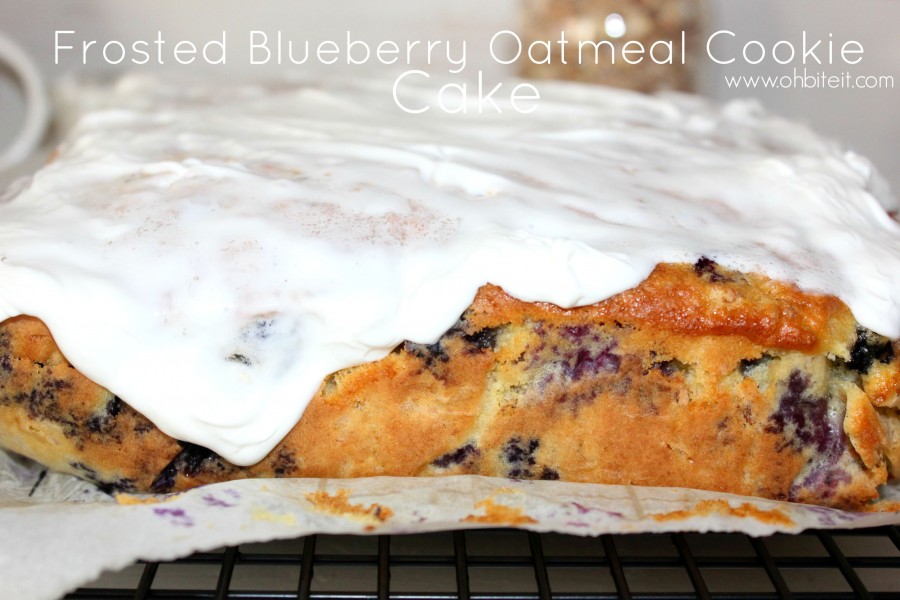 Yep…This is an entire Oatmeal-filled cake, totally bursting with plump blueberries!! And it tastes exactly like a giant, succulent, fresh-from-the-oven, warm, bursting with blueberries, frosted oatmeal cookie!
~Buh-bye boring cookie portion-control, we're cake now!  And it's spectacular!
Oh, no worries, you'll still need some cold milk.  But fair warning, NO Oatmeal Cookie in the future will EVER live up to the sheer gloriousness that IS this cake!
I'm talking about a thick, decadent cake that's filled with all things Oatmeal cookie, right down to the frosting!  This will knock any cookie OR cake out of the ballpark…and into a different ballpark miles and miles away..haha!
Whip this up for a new Frosted Blueberry Oatmeal Cookie flavor twist!  You will LOVE it!
What you'll need:
1-16.5 oz. box of yellow cake mix
1 cup cooked oatmeal
1 cup or so of fresh blueberries
frosting for the topping..I used a store bought brand.
a 9x9x2″ square cake pan..sprayed and lined with parchment paper!  I like a thicker cake, but any 9×13 or smaller pan will work!
Directions:
In a large bowl mix up the cake batter according to the box instructions.
Gently stir in the oatmeal, and the blueberries…
Pour it into the pan, and bake it at 350 degrees for approx. 40 minutes, or until it's completely cooked through and golden.  this time will vary depending on the size and thickness of your pan…
Let it cool a few minutes…
Now top it with some of that frosting…
Serve with a few extra blueberries because..pretty!
And dig in, to the BEST version of an Oatmeal cookie you;ll ever have!  ~Enjoy!  🙂