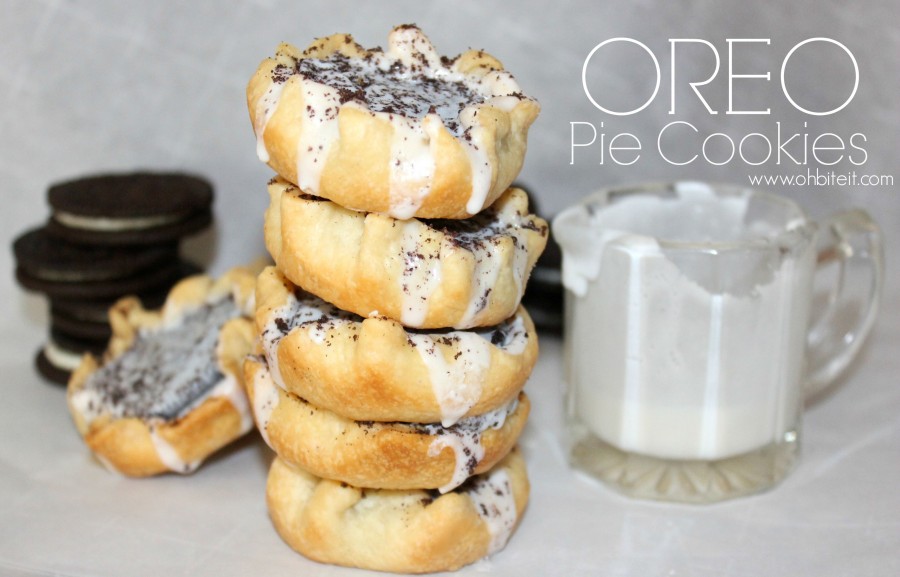 Have you ever had a warm OREO cookie?  If you haven't..please, leave here, go right now and pop a couple into the oven,  come back and immediately let me know what you think!  They are incredible!  SO incredible that I think I've created more recipes with warm Oreos than regular..lol!   🙂
This time, all I could think about was somehow creating an entire pie made of Oreos.  I know how weird that sounds but come on..this is a weird place! 😉
Anyway, I knew that if I created a large OREO pie, I'd eat a..large OREO pie.  So I had to get all portion-controlled on myself, and create mini Oreo pies.  That way I could successfully lie to myself and eat lots of them with no real concern for calories..haha!  Because as we all know ..when it's small, so are the calories!
Each OREO is lovingly snuggled inside its very own flaky, buttery pie crust and drizzled with a frosting glaze that made the perfect bed for um..more OREOS.
You bite into your very own, personal bite of heaven in the form of a warm, succulent OREO pie of perfection..all wrapped up in cookie cuteness!
~Make LOTS!
What you'll need for approx. 8 pie cookies:
1 sheet of Pillsbury refrigerated pie dough
8 OREOS
1 cup of White Frosting
1-2 OREOS for dusting the tops
a non-stick sprayed muffin pan
a 3″ cookie cutter
Directions:
Simply roll out one pie crust, and cut out circles… I got 8 decent looking circles.
Place the dough circles into the muffin pan and add one OREO into each crust…
Gently fold over the pie edges around each cookie, and bake them at 350 degrees for approx. 15 minutes, OR until they're golden…
While they're warm, top them with some frosting… if you warm up the frosting first, you can pour it on like this…
Fill them up good! And a nice shower of OREO crumbs…
Serve them fresh and warm…
And try to share a few..if you can!
Don't forget about YOU! ~Enjoy! 🙂