Well, it's officially 'Peach' season!  That amazing time of the year when we can fill our kitchens with sweet, plump, fresh peaches and all of the incredible recipes that they give us!  My number one choice for fresh and local peach purchases is Whole Foods Market!
At Whole Foods Market, you can gather bushels of amazing, top quality, organic peaches and lots of other produce, at a super affordable price.
Thanks to Whole Foods Market, I'm up to my neck in peaches, and I can't get these recipes pumped out fast enough..lol!
I simply saw the box of Pineapple Upside Down Cake at the store and thought..hmm..why not do this with Peaches?!  Which is a thought I have quite a lot these days..lol~!  So here we are!
What started out a necessity, ended up being one of the BEST cakes ever!  The combination of the pineapple cake and the fresh peaches is heavenly, and totally gorgeous too!
~Add a little caramel and WHOA~  beyond heaven!
~So get to your local Whole Foods Market and grab some peaches and then give this simple sweet treat a try~ you will LOVE it!  🙂
**AND..you can try out all of these other peachy-peach Whole Foods Market recipes as well..prepare to drool!
What you'll need:
1 box of Pineapple Cake Mix..or you can make your own of course!
Approx. 2 cups of sliced peaches
1 cup Brown Sugar
1/2 stick of Butter..melted
Caramel Sauce for topping…optional!
A 9″ springform pan pan
Directions:
Mix the batter according to the box instructions.
Slice up the Peaches…about 2 cups…
In a medium bowl, microwave the butter until melted and stir in the brown sugar until it's smooth…
Now pour the butter mixture into the bottom of the pan…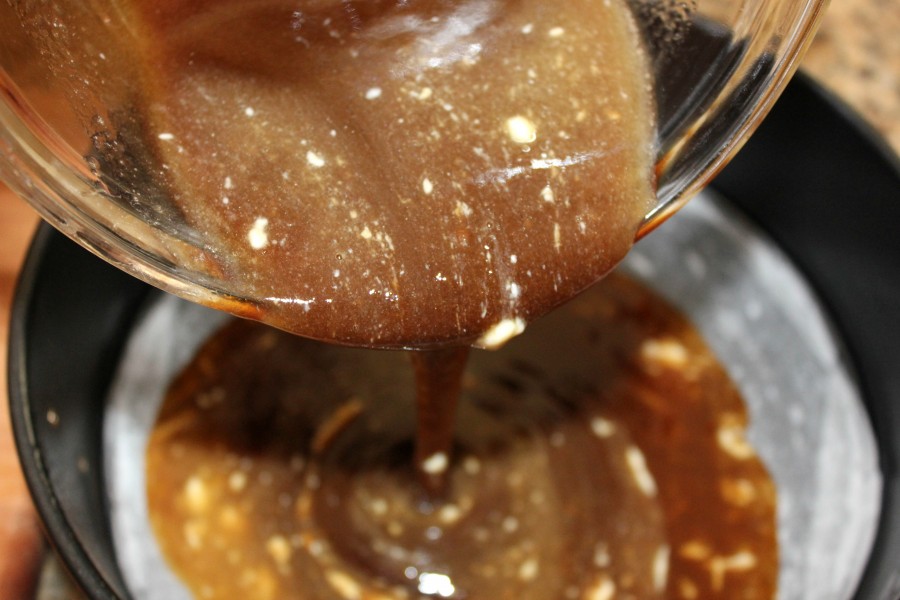 Now arrange the sliced peaches in a pretty design right on top of the brown sugar..this will be your top…
Now..pour the batter onto the peaches, carefully, so you don't mess them up..lol
Smooth out the top…
Place the pan onto a sheet pan to protect your oven…trust me!  Bake it at 350 degrees for approx. 45 minutes, or until it's golden and cooked all the way through.
Flip it out onto your serving plate, and slice it up!
Serve it to your most favorite people in the world…
Because they will NEVER let you forget about this cake, and will request it until you can't take it anymore..lol
Add some caramel, just to drive home how awesome you are…
See what I mean?
Now grab some for your ultimate favorite person…YOU!  😉  ~Enjoy!