Well, I saw these beautiful Cedar planks at Whole Foods Market, strategically placed directly next to the fresh King Salmon.  And like a well rehearsed orchestra..they both called sang my name, in synch..in the most beautiful, and mesmerizing tones ever!  So..of course here we are!  I chose to do a Teriyaki variety, but you can go crazy with the flavors..the possibilities are endless!  Especially RIGHT now since this incredible King Salmon is ON SALE for three days 9/18-9/20!!
Whole Foods Market proudly features their Salmon and Shrimp and adheres to their strict domestic shrimp standards (we're the only grocer to consistently carry sustainably caught shrimp raised in the US in both our fresh and frozen cases). This is fresh, wild-caught, domestic salmon from the Pacific (ranging from California, Alaska, etc.)  So you can feel good about what you're eating and feeding your family…SCORE!
At Whole Foods Market, our salmon and port-buyer process with a great video from the folks who hand-select all the fish that reach our stores:
You can check out the detailed info and informative video regarding general information right HERE > INFO!
Sooo, because of its incredible presentation, I always assumed that the cedar plank way of cooking was only reserved for the 5 star, snooty variety…however it's SO easy!  And it really does make an amazing difference in the fish-fun and in the fish-flavor, …and it is a little bit fish-fancy too, which makes it a super cool, affordable,  and impressive way to entertain!  
Give it a try..it was only like $6.00!  You can get one  here if you'd like >>  CEDAR PLANK!
What you'll need:
A Cedar Plank
Salmon
Some Teriyaki Sauce…your fave
Toasted Sesame Seeds..optional!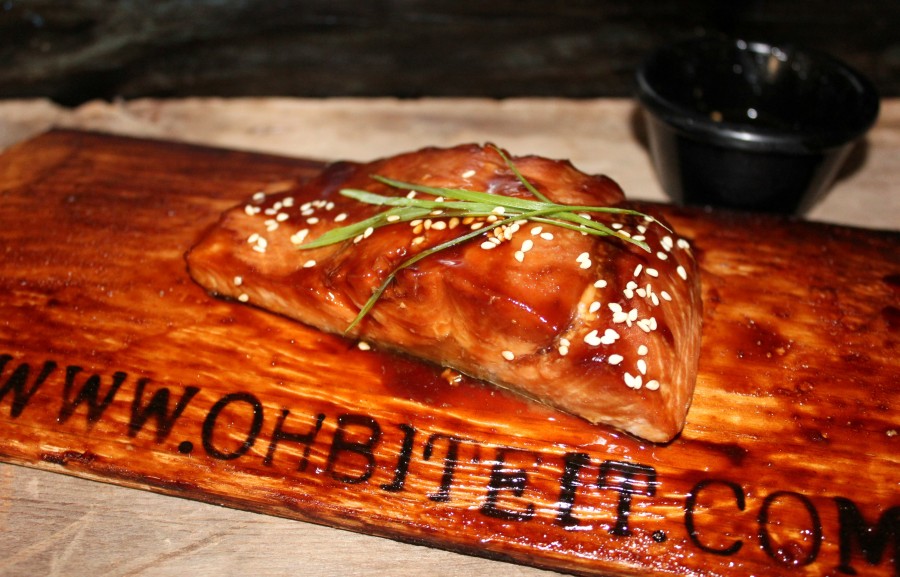 Directions:
Soak the plank in water for 3 hours.  Some people even flavor the water with different aromatics..YUM!  OR maybe some booze??  🙂
Season the plank with a little of whatever it is you're using on your Salmon..in my case, I used some Teriyaki Sauce!  Just brush on some of the flavors!
Place the Salmon in the center of the plank.
Now either on a hot grill or in a 425 degree oven, cook up the Salmon on the plank until it's done to your liking.  (doneness of fish various from person to person)
Serve it on the plank!!  MAJOR Ooh's and Ahh's!!  🙂  ~Enjoy!  🙂