We've got another mash-up happening today, and this one is Sooo GOOD!
Forget everything you thought you knew about pie crust, and re-imagine a world where you can use anything your heart desires as a delicious, doughy base for all of that pie topping goodness!
That's what we have here, a tender, fluffy, caramel coated, cinnamon roll 'pie crust' that makes the perfect bed for warm, sweet, apple pie filling!
The entire pie is generously drizzled with cream cheese frosting and maybe, just maybe..a small splash of caramel!  Take that dry, old, ordinary pie crust..this changes everything, in the BEST way ever!  Top it with ICE CREAM AND …OH! MY! GOSH!
What you'll need:
1 container of Pillsbury Cinnamon Rolls with enclosed cream cheese frosting (8 count)..OR, you can totally make your own!
1 cup of caramel sauce..reserving some for drizzling over the top.
1-21 oz. can of Apple Pie Filling..I used Lucky Leaf Pie Filling!
1 tbsp. Cinnamon
A Springform pan..9″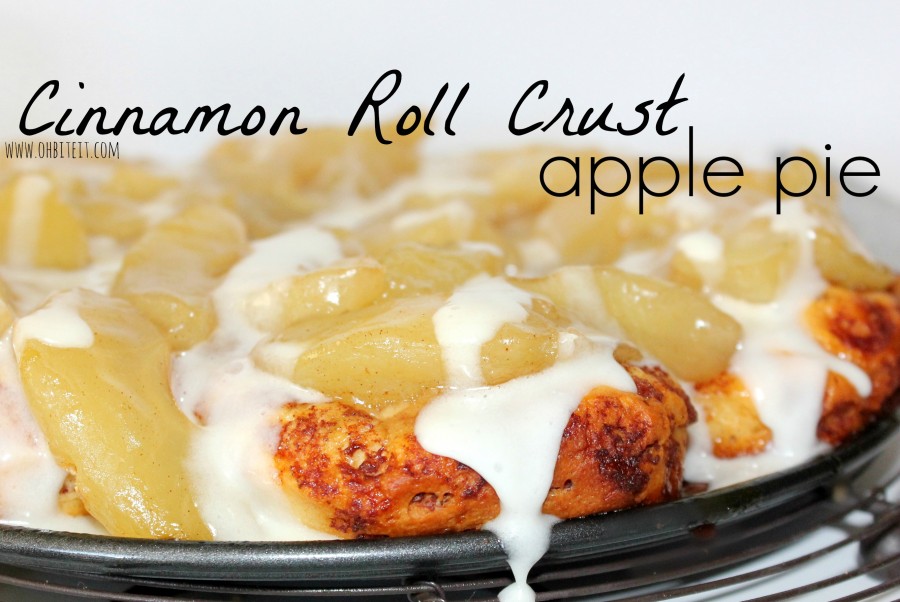 Directions:
Spray and line the bottom of the pan with parchment and place the cinnamon rolls evenly, making sure they have 'room to grow'…
Spoon some of the caramel over each roll, reserving some topping for a nice drizzle over the finished product , if you so choose!
Par-bake them at 350 for approx. 8 minutes or so, just until they start to come together and firm up a bit…
Take them out and top them with the pie filling…
Back into the oven for another 10-12 minutes so that the entire pie gets, hot, gooey, and irresistible. Drizzle some of that cream cheese frosting ALL over it…
The more frosting..the BETTER, and a dash of cinnamon takes it over the top!
~Just look at that flaky cinnamon roll 'crust'!
Now, serve that warm baby UP…
And Do what you need to do!  ~Enjoy! 🙂