If you could take everything you love about Fall and wrap it up into one, incredible, succulent, sweet treat..it would be these Pears!
~I'm talking about Fall smells, Fall flavors, Fall comforts, Fall desserts, and Fall happiness…all found inside each thin, roasted-unitl-sweet slice of these perfectly warm, beautiful babies!
This simple, yet elegant and impressive dessert is the best way to showcase Fall fruit.
In a matter of minutes, you can be serving your friends and family a five star dessert course, with one star worth of effort..lol, and no one will ever know.
By slicing the Pear (OR Apples btw) this way, it allows the entire fruit to roast and caramelize in their own juices, creating the most amazing, warm and comforting end to a meal ever.  It literally melts in your mouth!
This little fancy-shmancy dessert hack with take you well into the winter as it would make the best ending to a big bowl of stew EVER.
~Grab some ice cream and now you're a rockstar! 🙂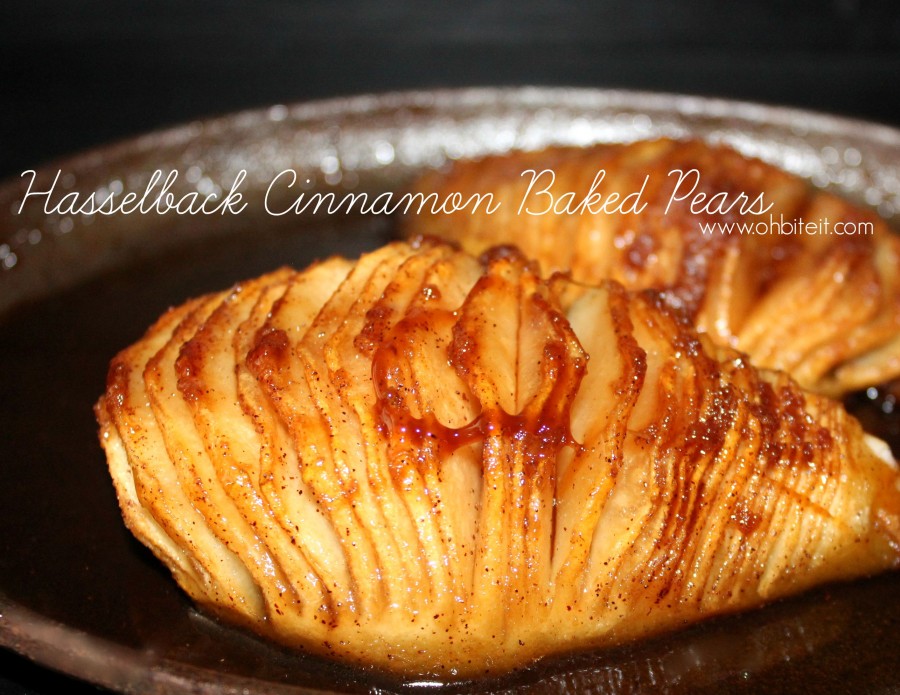 What you'll need for 4 luscious servings:
2 large pears
2 TBSP butter..softened
2 TBSP brown sugar
1 tsp. cinnamon
1 tsp. sugar
Ice Cream for topping, because..duh! 🙂
Directions:
Peel the pears (optional, but better), and slice them in half vertically, carefully removing the center seeds etc.
Now, simply slice very thin slices all the way across the pear, making sure not to slice through to the bottom.
Brush the sliced pears with the softened butter, making sure to get inside the slices the best that you can..the slices at this point don't want to separate so easily, so just be very gentle not to break them.  (you will have lots of other chances to butter up all those nooks as the pears bake and "relax" a bit..haha.
Sprinkle the buttered pears with the cinnamon, sugar, and brown sugar.
Place them flat side down onto an oven-safe pan/plate and bake them at 400 degrees for approx. 45 minutes.  Be sure to consistently butter/sugar them as they bake.  They will create their own 'sauce' so you can baste them with that as well for maximum flavor!
When they're golden, tender and smell amazing, you can broil them for a few minutes for extra caramelization!
Serve them once and warm…
With um..the Ice Cream that those slices are begging for..lol!
And maybe an extra sprinkle of Cinnamon Sugar for good luck.  🙂  ~Enjoy! 🙂