**See the bottom of this post for contest details!**
How great is the 'Breakfast for Dinner' concept?  It's such a comforting, hearty, and delicious way to end the day isn't it?!
I recently had the opportunity to create a 'breakfast for dinner' experience using none other than the very best breakfast staple to ever grace our pantries~ Krusteaz!  
Yep..top quality, breakfast and baking mixes that can magically morph into some incredible dinnertime fare, in the easiest and most hassle free way ever.
Krusteaz has made the process of getting a delicious meal on the table as simple as can be, without sacrificing an ounce of quality, or taste.  For my breakfast for dinner culinary creation, I thought whipping up a Monte Cristo mash-up would make that dinner bell ring loudly..and WOW~  did it ever!
Ditch the that old and boring typical Monte Cristo batter and reach for something that can jazz up that sweet & savory sammy like nothing else can.  I'm talking about Pancake Batter!  That's right…fluffy, slightly sweet, and golden-fried pancake batter!
Krusteaz Pancake batter hugs that cheesy, sausage filled Monte Cristo and won't let go, they become one in the most beautiful and tasty way ever.  This "breakfast" takes your dinner to levels unreached until now.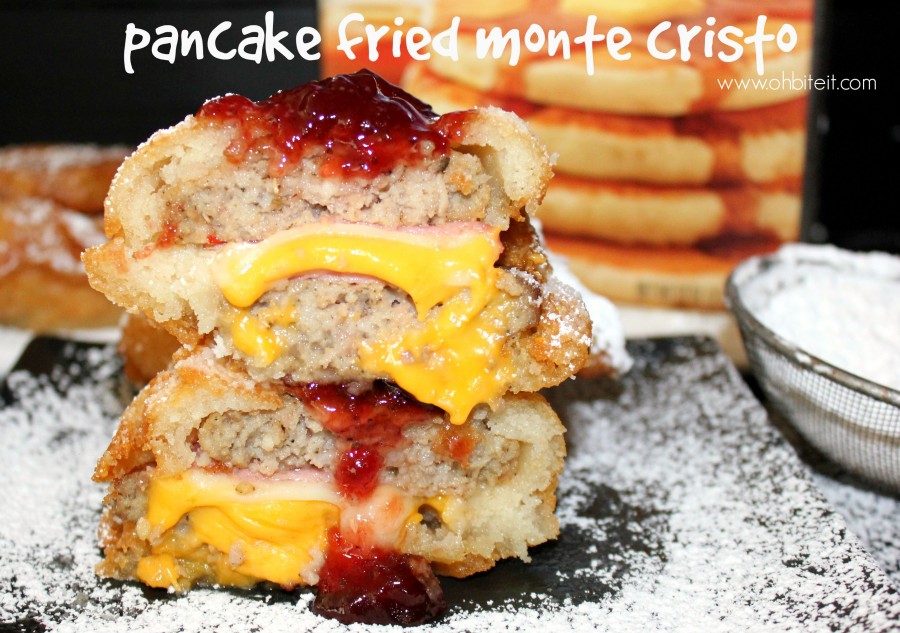 Like magic, that warm, golden Pancake holds together 2 sausage breakfast patties, canadian bacon, and 2 cheeses like it's no big deal.  THEN~  when you sprinkle those beauties with a shower of sweet powdered sugar and a nice dip into a pool of berry jam.. you'll never be the same.  And all will be quiet around that "breakfast for dinner" table (other than the sounds of pure joy as the "Ooh's and Ahh's" make their escape)..lol!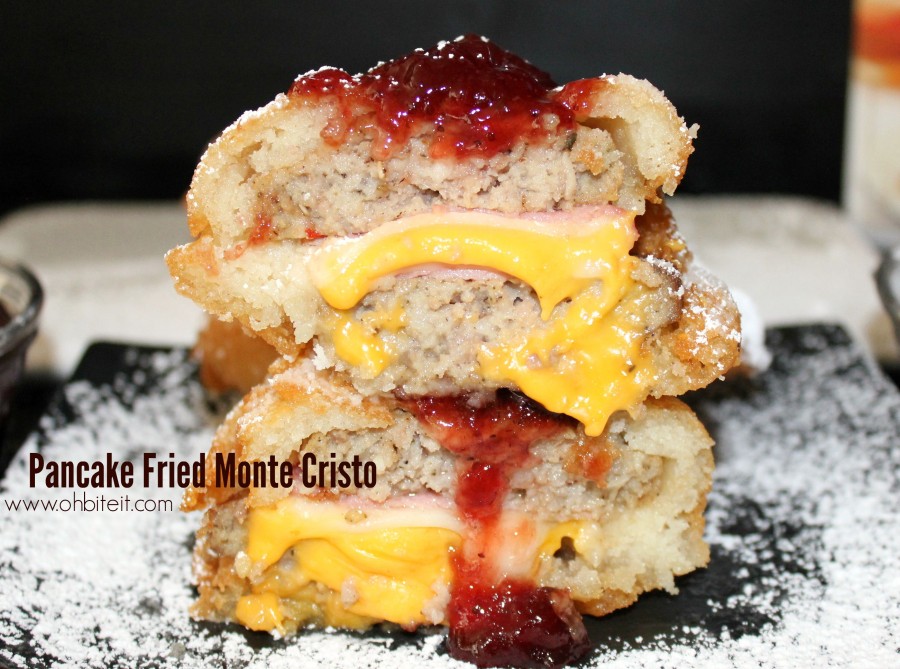 What you'll need for 4 Montes:
2 cups of Krusteaz Pancake Mix
8 PRE-COOKED Sausage Patties
4 slices of American Cheese
4 slices of Swiss Cheese
4 slices of Canadian Bacon..OR thinly sliced Ham
Strawberry or Raspberry Preserves for topping & dipping
Powdered Sugar..for well, Sugar! 🙂
Skewers for security
Oil for frying~  I used Canola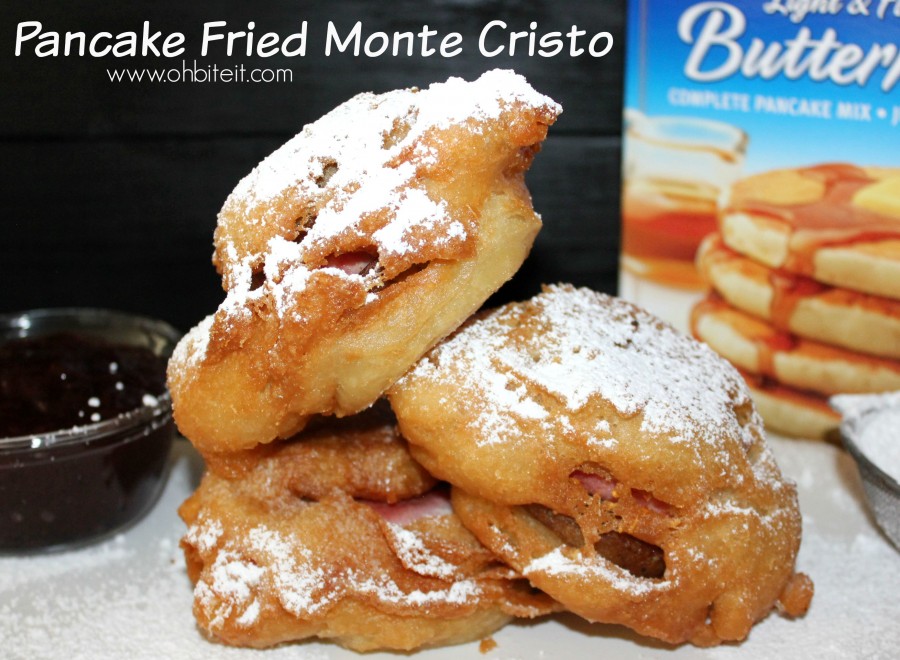 Directions:
In a large bowl, prepare the Krusteaz Pancake batter according to the box instructions.  Set aside…
Now simply stack all the cheesy and meaty Monte goodies…
Layer that folded stack of monte middles between the 2 sausage patties and secure it with a skewer…
NOW~  for the fun part!  Scoop spoonfuls of that glorious pancake batter all over that monte mountain…
And gently place it into the hot (350 degree) oil…
Let it sit in the oil until the bottom starts to get golden and secured, then slowly and carefully remove the skewer, and flip that monte over in the oil to fry up the other side…
Let them cool a bit…
And dust them with a light shower of powdered sugar…
With a WOW factor like this, dinner will be a huge success…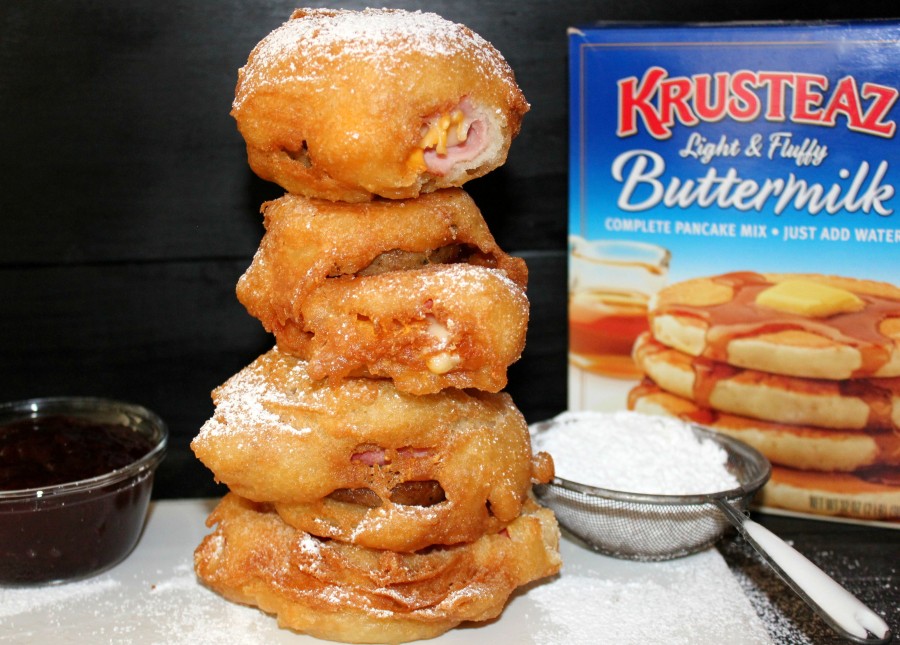 Definitely don't get too distracted by their beauty and forget a nice topping of Berry preserves
…and then DIG IN to that Breakfast for Dinner delight!  ~Enjoy! : )
And NOW for the prize pack of ALL prize packs!  This will have you prepared for an amazing breakfast, lunch AND dinner for a long..LONG time!  🙂  Feast your eyes on this > 
I'm talking about TWO boxes of each of the following mixes:
Buttermilk Pancake Mix
Belgian Waffle Mix
Wild Blueberry Muffin Mix
and Blueberry Pancake Mix
Also, some fun kitchen items like:
*A pancake spatula
*One squeeze bottle for pancake art
*An apron
..and a kitchen timer!
BONUS~ Breakfast Night inspiration including sample Breakfast Night recipes
All you need to do to be entered to win is:
1. Comment below and tell me what your favorite breakfast is.
2. Like Krusteaz on facebook right > HERE!  
**That's IT!  One winner will be randomly chosen by EST Friday, September 25, 2015..GOOD LUCK! 🙂