Ahhh~~Finally a Breakfast BOMB!
It was only a matter of time until this explosion of devilish Bacon wrapped deliciousness made its way to our Breakfast table!  And we are so happy it did!
This French Toast is the most unique French Toast you will ever have!  Not only is it stuffed with smooth Cream Cheese, it's also wrapped in Bacon, fried to a golden puff and then coated in Cinnamon Sugar and soaked with Maple Syrup!
~Can we get an AMEN~
What you'll need for 16 flavor exploding Bombs:
1 container of Pillsbury Grands Flaky Layers Biscuits (8 count)
1 lb. Bacon
1/2 cup Cinnamon Sugar
1 8oz. block of Cream Cheese
Oil for frying~ I used Canola
skewers or toothpicks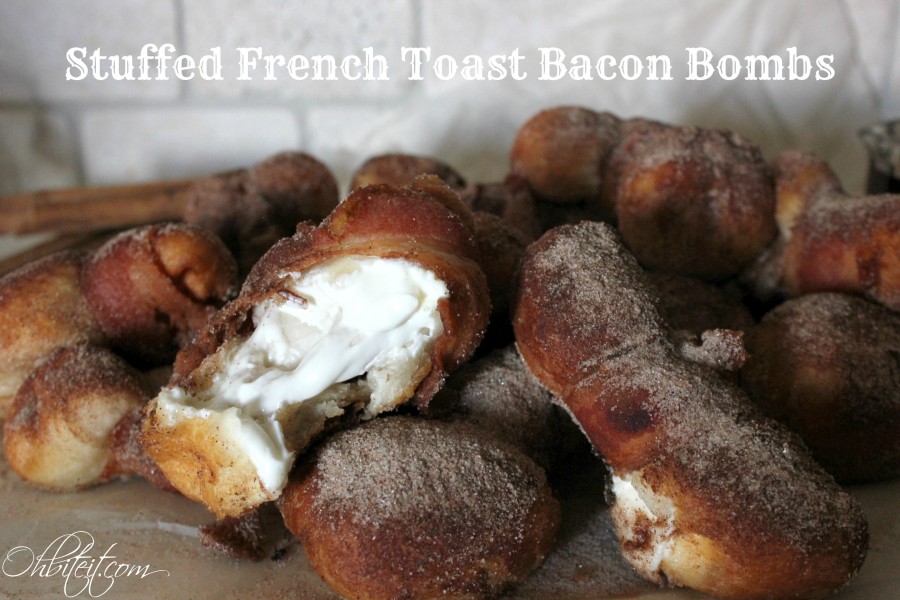 Directions:
Cut each Biscuit into 2 equal halves.
Gently stretch each biscuit half out just a bit, and add a small scoop of Cream Cheese in the center, making sure NOT to over-fill them…
Now wrap each stuffed biscuit with a half slice of Bacon and secure them with a toothpick or skewer…
Fry them up in the 350 degree Oil, until they're puffed and golden on ALL sides…
While they're warm, toss them evenly in the Cinnamon Sugar…
Let them cool for a few seconds…
Now start popping them in your mouth…
Prepare for a flavor explosion of a lifetime…
Make sure the reach of these bombs is long range, in other words…SHARE!
Make sure and Syrup them up GOOD!
But don't forget about your Bomb Diggity!  ~Enjoy! 🙂