This 'recipe' is simply a classic case of "because we can" happening here, and wow..what a yummy result it was!  When I think about hot dogs, I think about sadness.  Don't get me wrong, there's nothing wrong with a good old hot dog, as long as you top it with all the things that make it um..better?!  Right?  Otherwise..they're just um..sad…lol.
Well, this hot dog isn't sad, this hot dog is Tater Tot happy, because you can't even say "Tater Tot" and not smile.  🙂
This magical mash-up should've happened a looong time ago.  It's is a love connection like no other, as the crispy salty Tater Tot crust lovingly wraps itself around that dog and won't let go.  The combination of textures and flavors are to. die. for!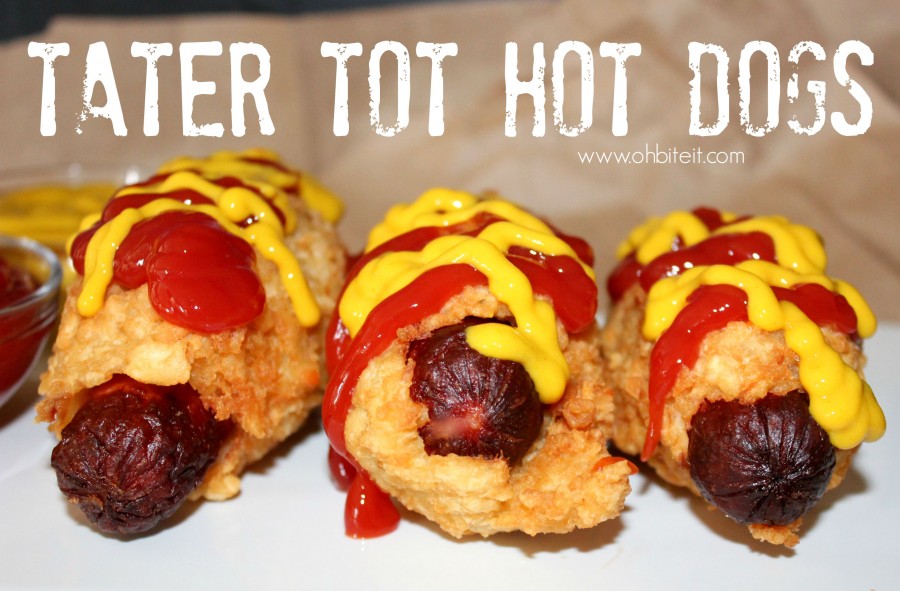 ..you'll hardly need any toppings at all..trust me!
In a matter of minutes you can make those hot dogs happy as well as every lucky duck you share them with!  ~Make LOTS!
What you'll need for 4 Tater Dogs: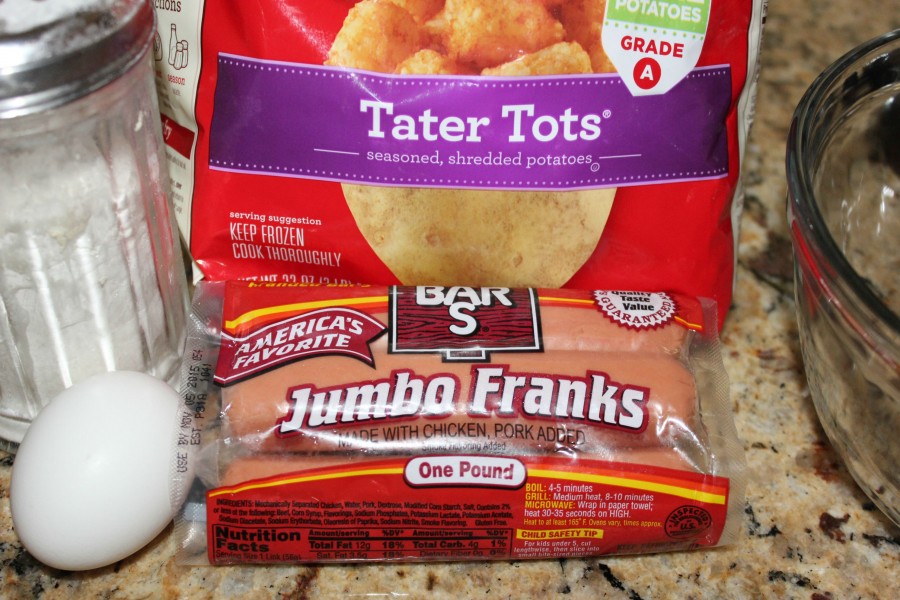 4 hot dogs
4 cups of mashed Tater Tots, mash them first and then measure!
3/4 cup of flour..give or take (all depends on the stickiness of the tots)
1 egg
1-2 splashes of water
salt and pepper to taste..optional
oil for frying..I used Canola
Directions:
In a large bowl, mash up the tater tots and add the egg.. maybe some salt and pepper to taste as well.
Then add in flour and  a splash or 2 of water.  You need this to be thick and sticky…
Mix it together until combined, and with your hands..work it around the hot dogs..getting as much as you can to stick…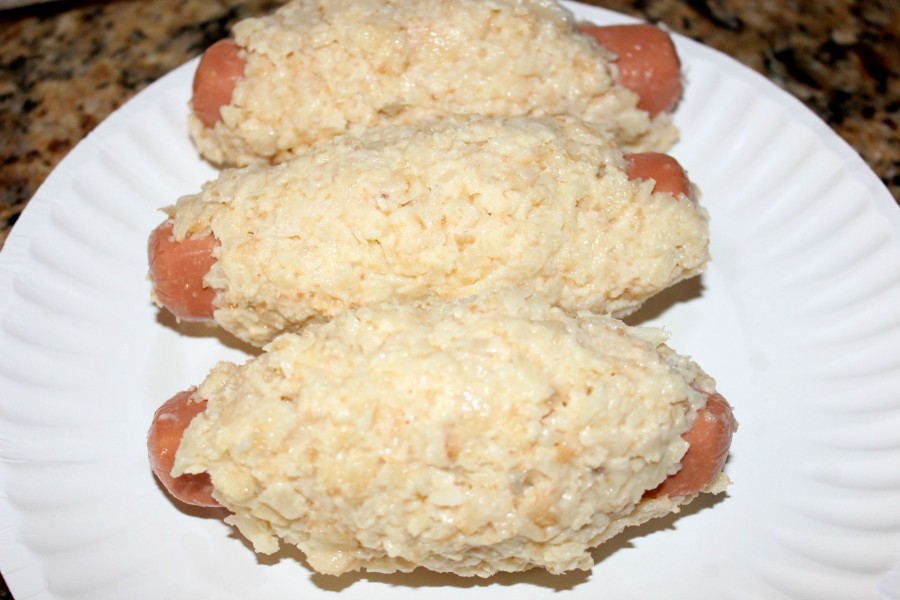 Fry them up one at a time in the hot (350 degrees) oil until they're golden and firm and smell AMAZING!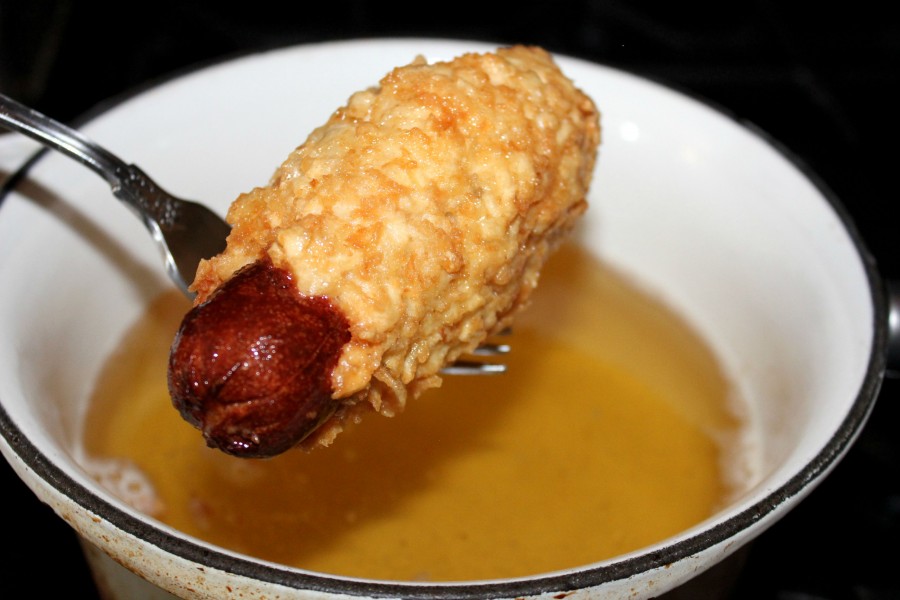 Let them cool on some paper towel…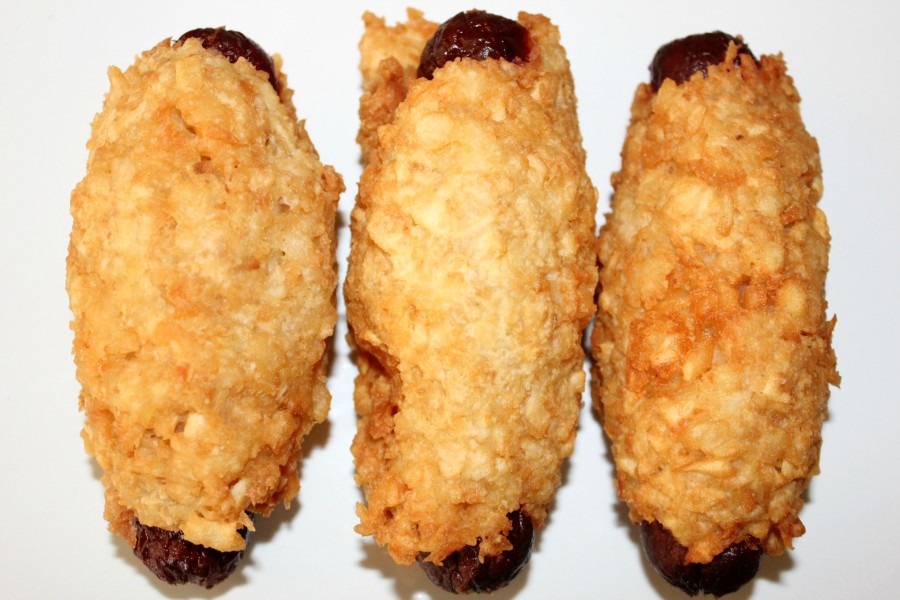 Then grab those dips and toppings..
..and dog-dig IN!  ~Enjoy!  🙂