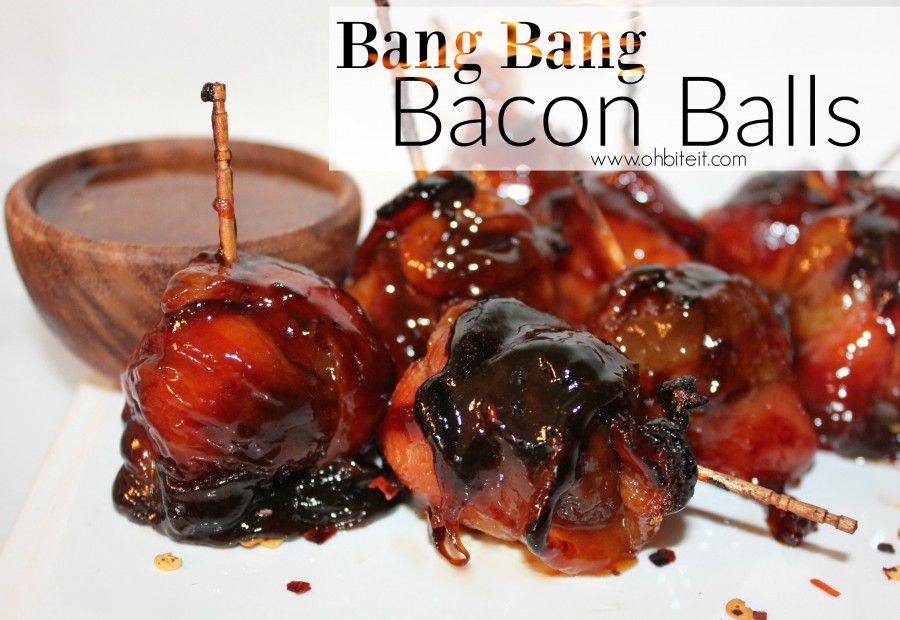 Well, it seems as though I'm always last in line for trying what seems to be very common food fare…lol!  UH~I JUST discovered "Bang Bang Chicken"  🙂
..Now, I'm sure that I can't be the only one who has gone their entire life somehow avoiding bang bang chicken, but if my sister has it her way..well, I'm an outcast..HAHA!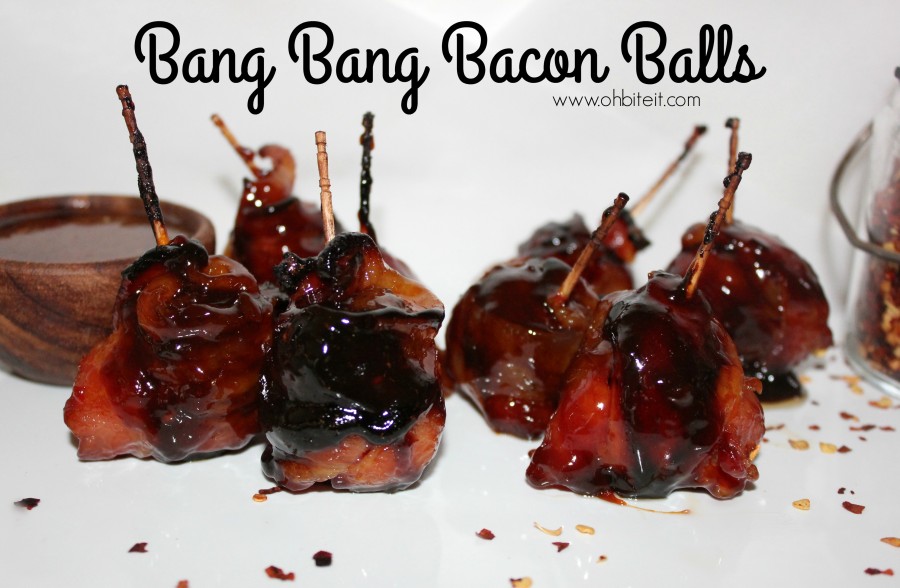 Anyway, how can I say this…um..I fell in love with all things 'bang bang'..why?  Well..because it's BANGIN'!
My mind started spinning, as it often does.. when it comes to yummy food, and I started thinking about all the delicious foods that I could um..bang. 🙂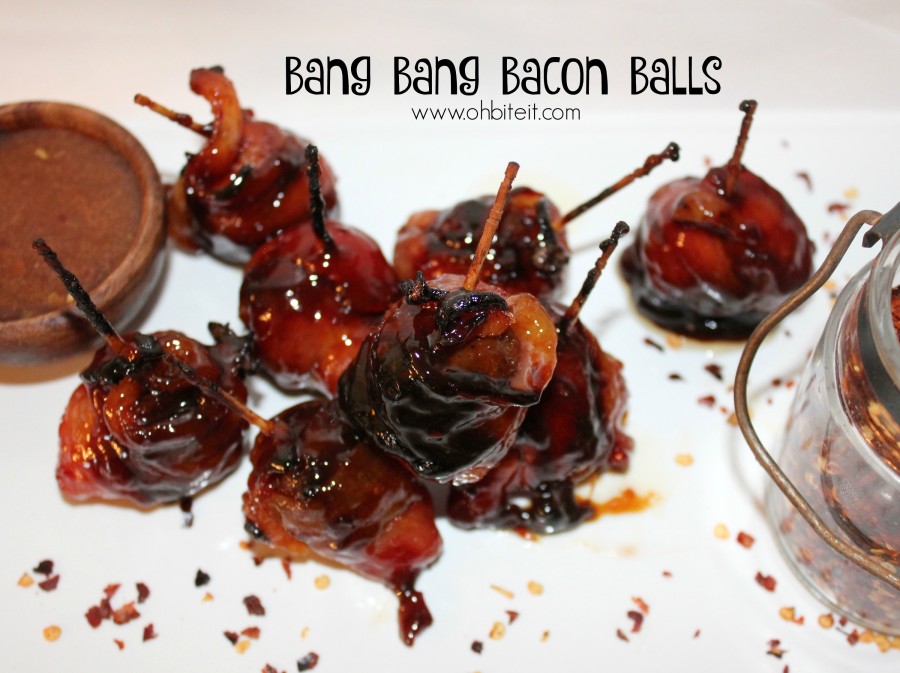 The natural place for me to start would be duh..BACON, I mean you do know me by now right?! 😉
When these sticky and sweet orbs of deliciousness grace your lips, they take you on a journey of taste sensations like you've never been on.  That's really the only way I can describe the sheer magnificence that are these balls. 🙂
It's purely a twist of fate that this bangin' new found love of mine collided with what I like to call "foodball" season!  And wow did that ever work out..since I had a fresh, excited batch of sweaty Guinea Pigs football fans to unleash my new banging' creations on, and let me just say..these babies were a touchdown!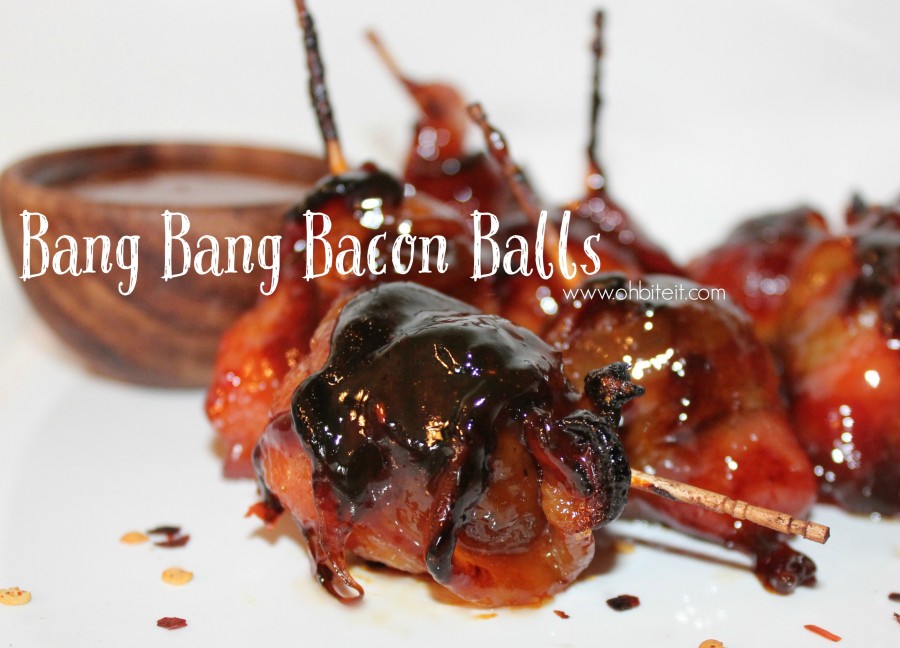 Meaty, bacony balls of spicy-sweet succulence seemed to fulfill many a foodball-fantasy that no one even knew that had until now..lol!
Sticky, sweet bangin' meaty balls of bacon made me the MVP and yeah, it was a fun time.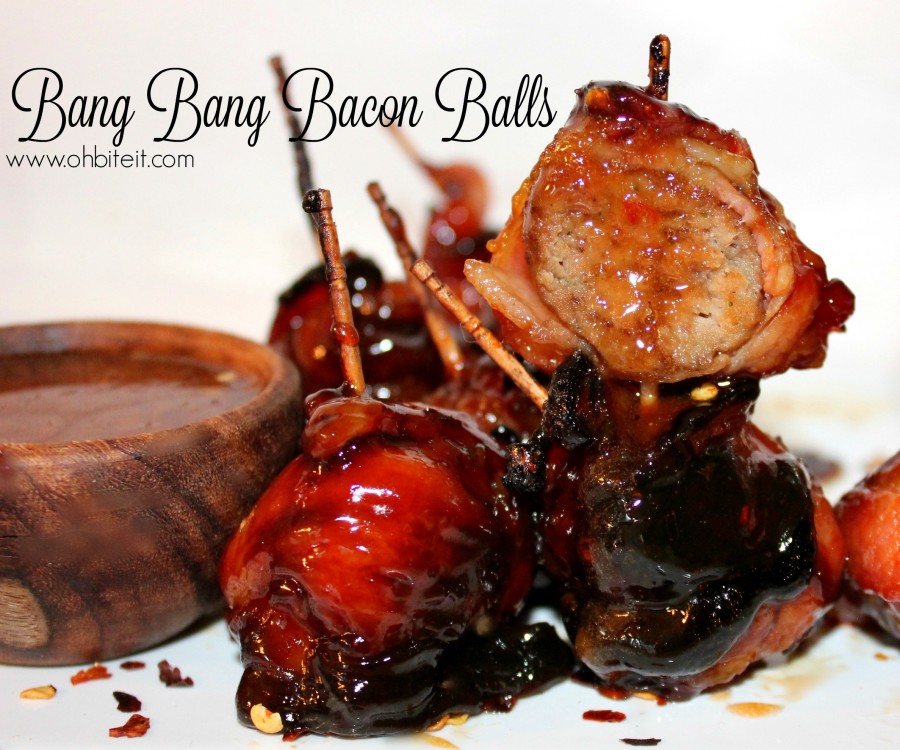 ~Go make a batch of these and make at least twice as many as you think you'll need..TRUST me!
~What you'll need: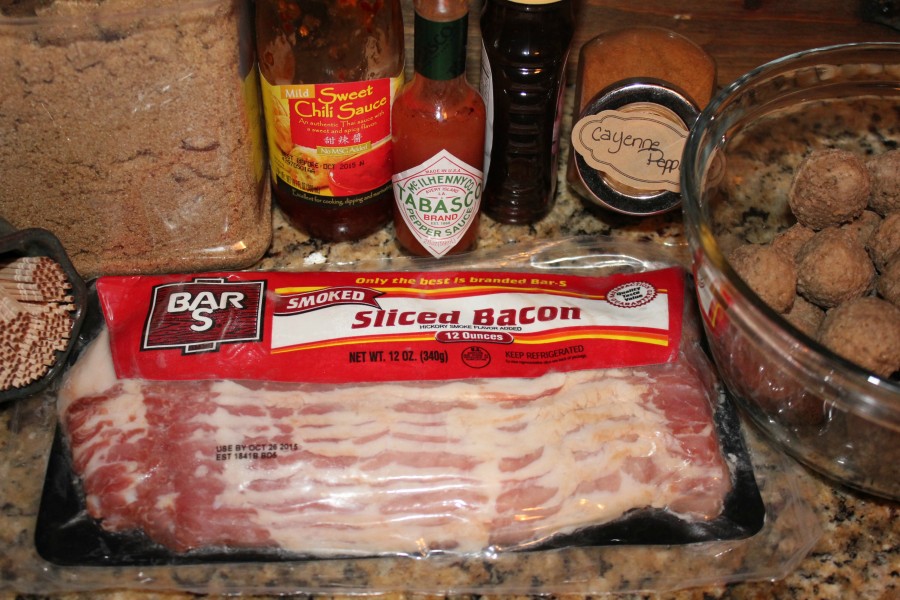 FULLY COOKED mini/appetizer size meatballs..in the frozen section
1 lb. thin sliced bacon
1/2 cup brown sugar
2 tbsp. honey
1/4 cup sweet-hot chili sauce
2 tbsp. hot sauce..your fave
1 dash of cayenne pepper
1 dash of red pepper flakes..optional, but pretty!
toothpicks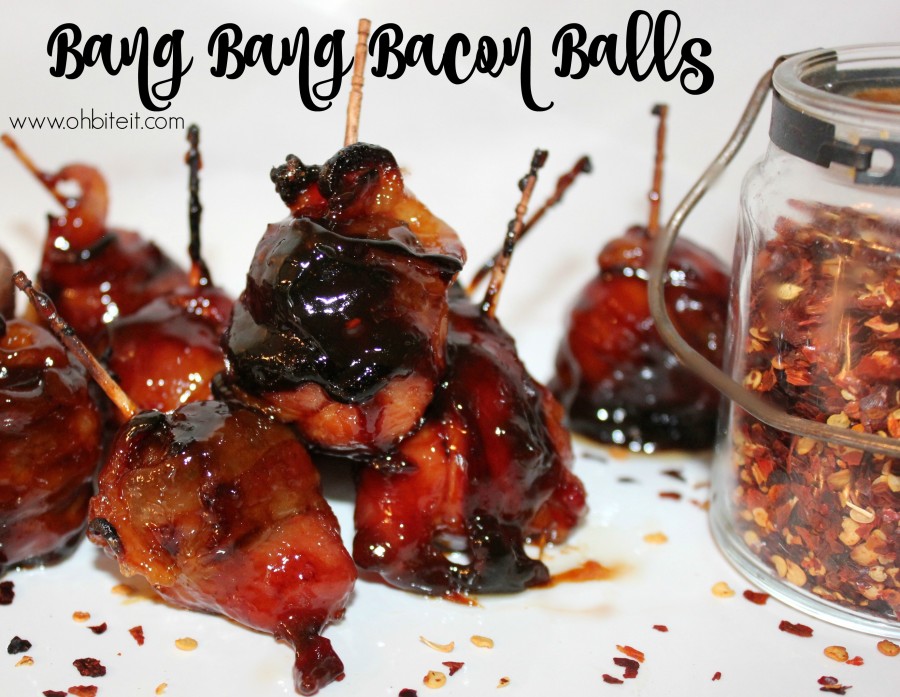 Directions:
In a medium bowl combine the 'bang bang' sauce.  Simply mix together the brown sugar, honey, chili sauce, hot sauce, cayenne and optional red pepper flakes.  Mix until smooth.. this is a VERY thick sauce, and that's what you want for an incredible end result!
Now take each mini meatball (frozen or defrosted ..it didn't seem to matter) and wrap a slice of bacon around it.  If you wan your bacon to go farther for more balls, simply use half a slice per ball.  They'll sill be great!
Secure the balls with a toothpick and generously coat each one with that thick, amazing bang bang sauce…
Place them onto a sheet pan evenly spaced, so the sauce has room to drip all around, this will become your basting glaze…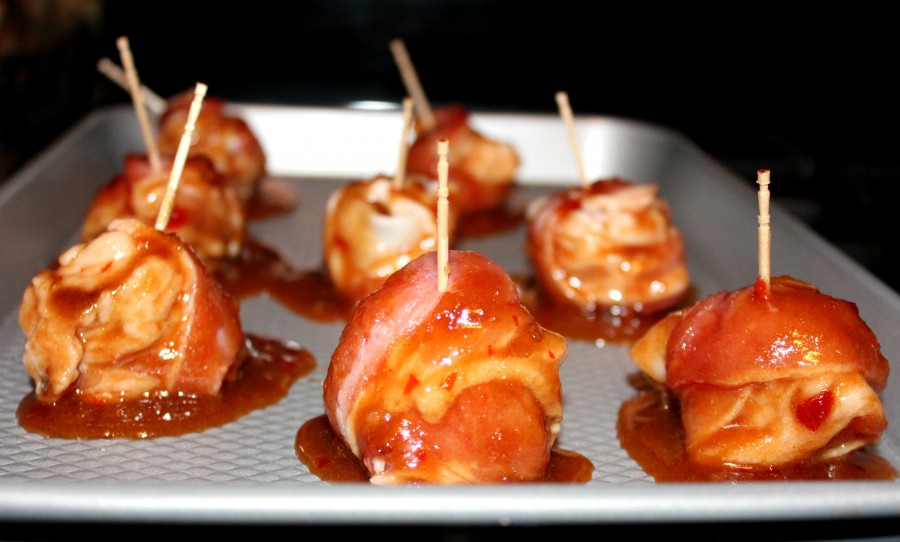 Bake them at 400 degrees for approx. 30-40 minutes OR until they're dark and sticky…  Baste them regularly with the sauce that is being created with some of those bacon drippings.  The more you baste, the better they'll taste..lol!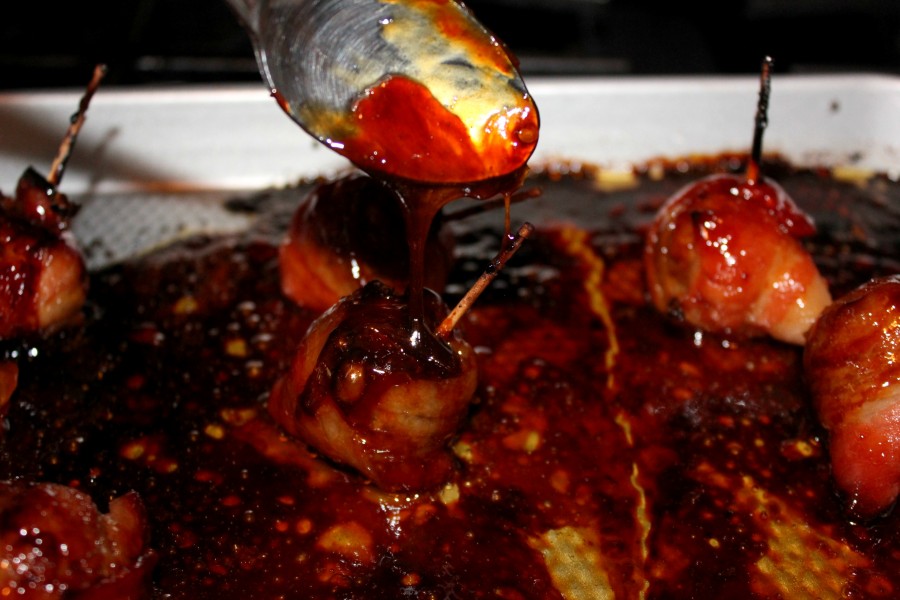 Take them out before they're over done, and let them cool.  They will get more sticky as they cool down.
Plate those beautiful babies up…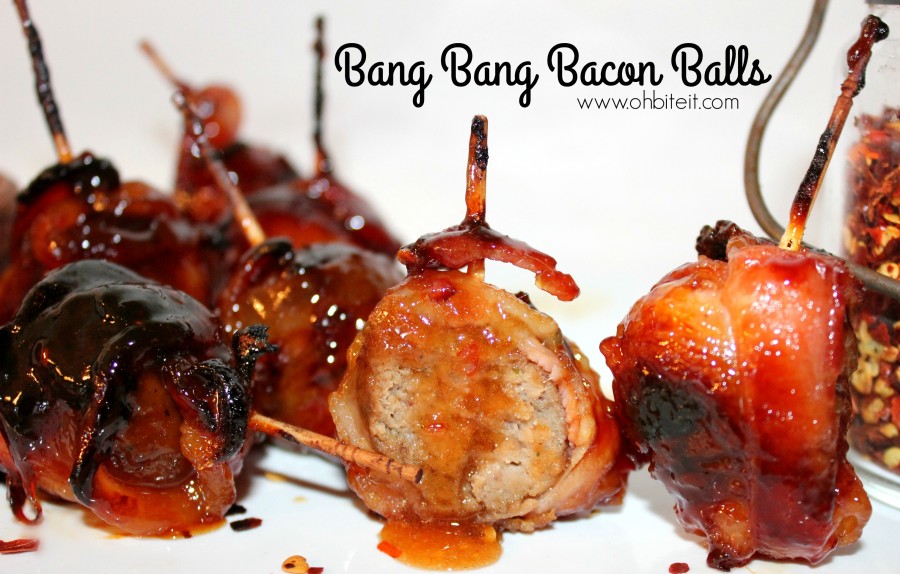 Serve them to anyone you feel deserves them..lol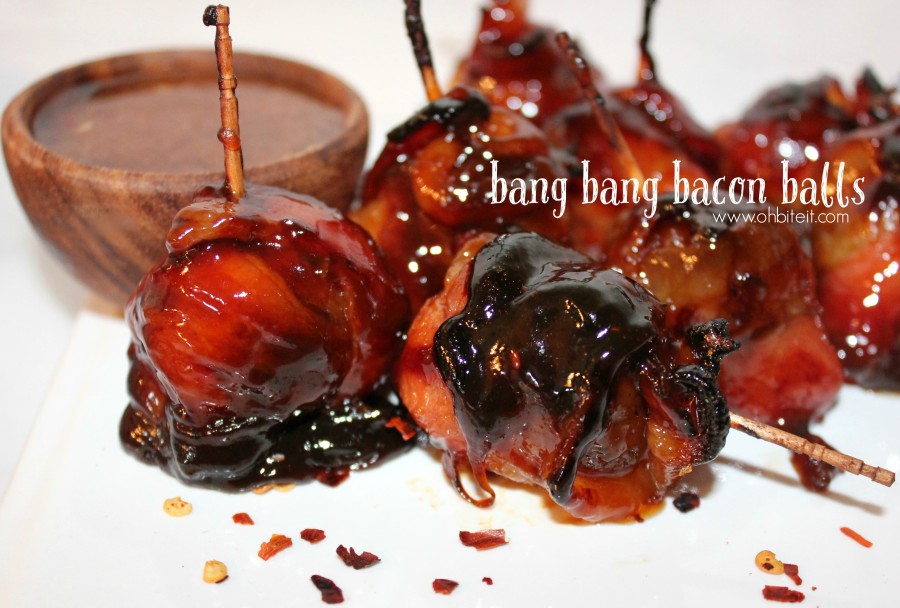 Like YOU!  ~Enjoy!  🙂