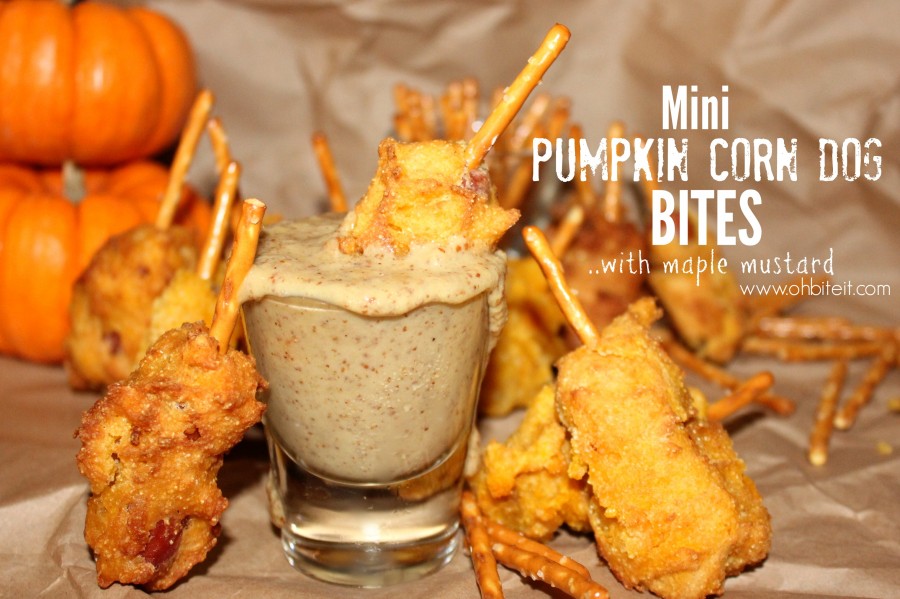 We are in the middle of what I like to call "Foodball" Season!  That magical time of year when snacks and sports collide.  Let's face it, game day food is almost as (if not more) important than the game.  Without stellar snackage, not only are you angry when your team loses..but now, you're 'Hangry' and who needs that?!  😉
When I think of Foodball Food, I think of a one or two-biter, minimal napkin requirements, hand to mouth..couch friendly fare.  I also think about simple and satisfying ingredients that you can feel good about feeding your family and friends.  That's where Whole Foods Market comes into 'play'.. < see what I did there?!
At Whole Foods Market, you can find quality ingredients with an affordable price tag, thanks to their 365 brand of groceries.  
For this recipe, I used the 365 brand Pure Pumpkin and it made these little corn puppy bites spectacular!
The pumpkin and corn bread together are a match made in food heaven and they couldn't be easier.
With the salty, crispy, and whimsical addition of the pretzel sticks, these are a delicious and fun way to bring that fall flavor into your living room!  One dip into that Maple Mustard, and NOW… they're a touchdown for your mouth!  🙂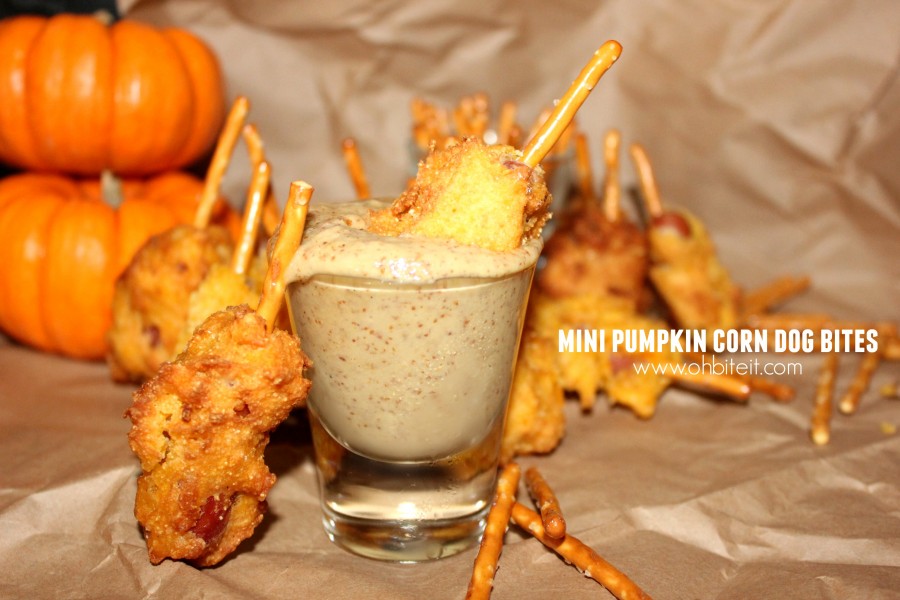 ~Make huge batch of these babies for your game day, and you will be the MVP!
What you'll need:
1 package of Lil' Smokies Sausages
1-8.5 oz. box of Corn Bread Mix
1/2 cup of 365 brand Pure Pumpkin
1 egg
1/2 cup corn starch (not shown) ..for dusting.
Pretzel Sticks..one per mini dog
Oil for frying..I used Canola
1/2 cup Mustard & 2 TBSP. Maple Syrup..mixed for the dip.
Directions:
In a large bowl prepare the corn bread batter according to your box instructions.  Stir in the Pumpkin, making sure not to over-stir it, so you have some flavor and color definition…
Now lightly coat the sausages with some corn starch…
Coat them generously with the batter…
Fry them up in the hot (350 degree) oil until they're evenly golden on all sides.  Drain them and let them cool slightly on some paper towel.  Gently insert a pretzel stick as the tastiest handle ever.
Mix up that magical mustard dip…
Serve them with that delicious maple mustard…
And share with that football crowd…
There's plenty for both teams' fans…
And hopefully some left for..YOU!  ~Enjoy!  🙂