Now that Fall is upon us and in full swing, it's time to turn our attention to comfort foods.  And I'm not just talking about soups and stews..although, YUM!  I'm talking about getting creative with those fabulous Fall flavors that we all know and love so much!  I'm talking about a sweet, spicy, marinated pork loin..wrapped in top quality bacon and gloriously glazed with an apple cider glaze that will leave everyone begging for thirds seconds!
~I mean…just take a look at this apple cider glazed, succulent and satisfying bacon wrapped work of delicious pork & bacon  art..lol
One of my all-time favorite flavors of Fall is Apple, so it only made sense to add a little Apple Cider into an otherwise hearty and super satisfying Fall flavored supper.  A unique and hearty meal was in order and I knew exactly where to turn… Smithfield Foods!
Smithfield Foods came to the rescue with their marinated Applewood Smoked Bacon Pork Loin Filet and Bacon, all seasoned and ready to go!  Can you see where I went with this delectable combo?  I had almost no choice, but to wrap that top quality bacon all the way around that pork loin and baste it in a rich apple cider glaze, just to drive home that fabulous Fall-inspired feast.  Smithfield did all the work for me, as the meat is perfection right out of the package!
What you'll need:
1-Smithfield Foods marinated pork loin
1 lb. Smithfield Foods bacon
Sandwich rolls..one per each sandwich
The Apple Cider Glaze:
2 cups Apple Cider
1 tablespoon dijon mustard
1/2 cup of Apple Butter to Apple Jelly
1 pinch red pepper flakes..optional
Directions:
Lay out the bacon and slightly overlap it.  Place the pork loin across the bacon…
Roll the pork loin up inside the bacon…
Place it onto a sheet pan, and bake it at 450 degrees for approx. 30 minutes, or just until it's fully cooked through…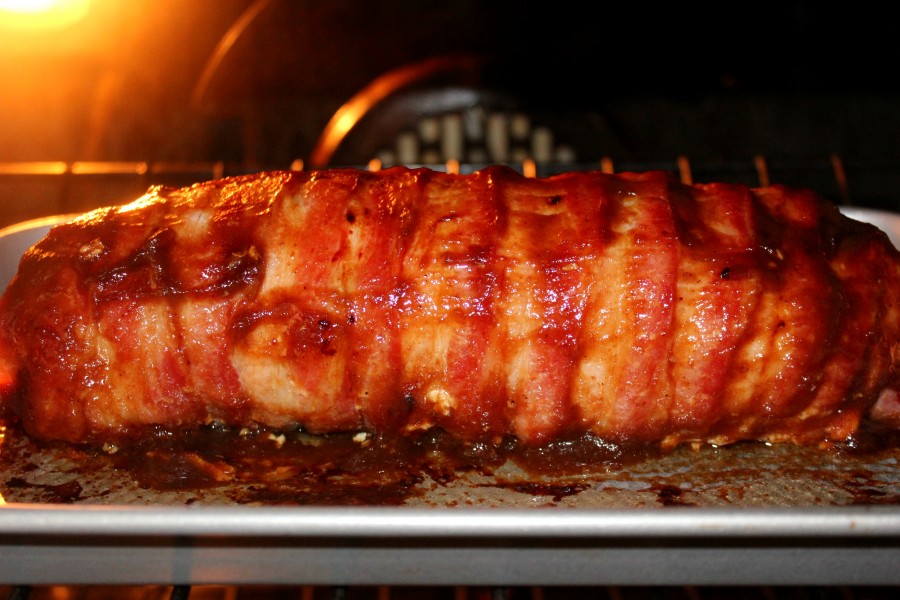 While it's cooking, make the apple cider glaze.  Simply add the apple cider, mustard, and apple butter/jelly into a small sauce pot and simmer it for approx. 12 minutes or so…until it's thick…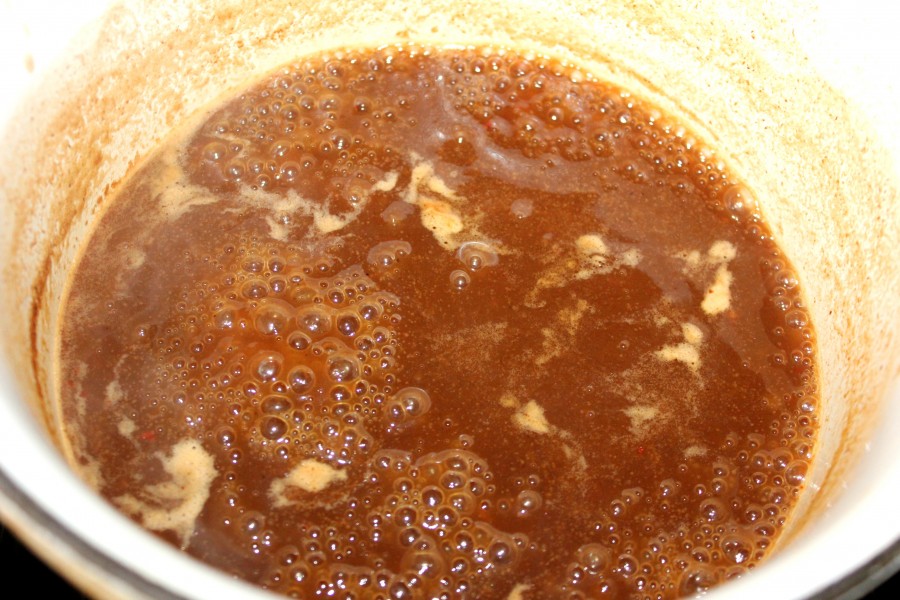 Baste the meat with the glaze quite often, the more glaze..the more flavor!
Let it cool for a few minutes, then slice it up thin for sandwiches..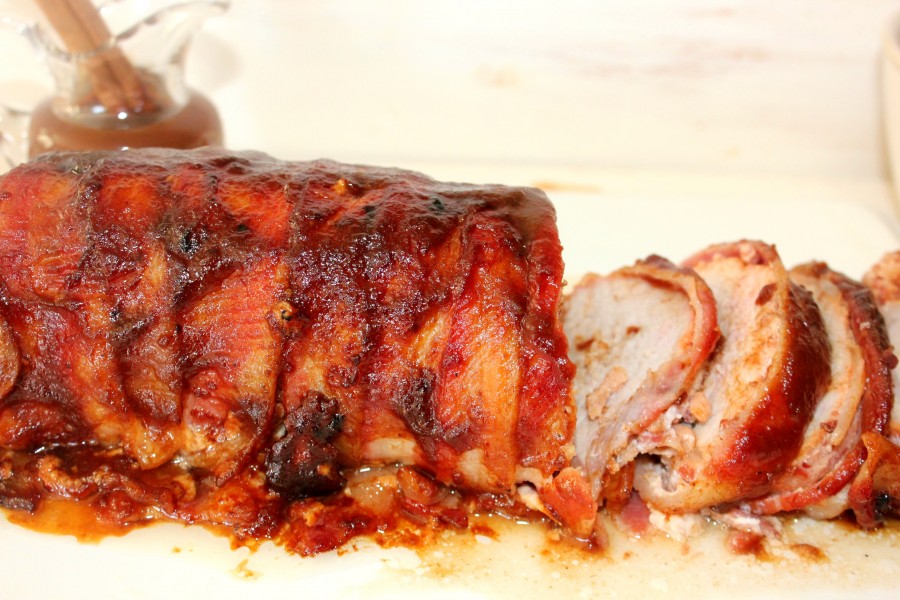 Top your sandwich roils with some of the meat…
and a nice drizzle of glaze…
And dig IN!  ~Enjoy!  🙂
The Right Way to Do Business
"We believe that there is a right way and a wrong way to make money. Sustainability is ingrained in our culture, and that applies to the way we run our plants, the products we produce, the way we treat our employees, and the communities where we operate. We also treat the animals we raise with the respect that they deserve."
—CEO Larry Pope
"The Smithfield® brand's heritage of quality pork began in 1936 when Joseph W. Luter and his son founded their small meatpacking company in Smithfield, Virginia. Almost 80 years later, Smithfield continues to delight consumers with premium-quality hams, smoked meats, bacon, and fresh pork. Flavor hails from Smithfield."
This is a post sponsored by Smithfield, however all opinions and content are my own.