How great is Monkey Bread?  I mean..I can't think of a more misleading/confusing name for something so delicious..but, whatever..lol!
The possibilities for this simple and impressive method are absolutely endless and fool-proof, so there's no reason not to take this idea and monkey around with it..lol  < see what I did there?!  😉
Anyway, I thought it would be fun to put a super savory spin on the good old Monkey Bread, and turn it into a quick and delicious meal.  What better meal is there than a bacon cheeseburger?  Hmm??
Especially when that bacon cheeseburger is morphed monkey-bread style into a wrapped in buttery dough,  tender beef filled, bacon hugged bundle of deliciousness.  In a matter of minutes, you can have this in the oven and into your lips..where it belongs!
~You will love it!
What you'll need:
A Bundt pan.. Or any oven safe pan will do, just layer them in a single layer.
2 OR 3 containers of Pillsbury Biscuits (8 count)..more or less, depending on the size of your pan!
Frozen, fully cooked meatballs..one per ball.
2-2.1 oz. boxes of fully cooked bacon.  Uncooked bacon will be too greasy.
2 cups shredded cheese.  I used Mozzarella and Cheddar.
1-23 oz. (the large) jar of Tostitos brand salsa con queso
Directions:
Lay out a biscuit and wrap/stretch it around one meatball. making sure to seal it up very well…
Now, wrap it with a half slice of the bacon…gently pressing the bacon into the dough so it sticks as best it can…
Set them aside.
Add a light layer of the salsa con ques0 into the bottom of the pan..
Then sprinkle in some cheese…place some of the balls into the pan.
Now, simply start layering those bacon wrapped beauties with more cheesy goodness…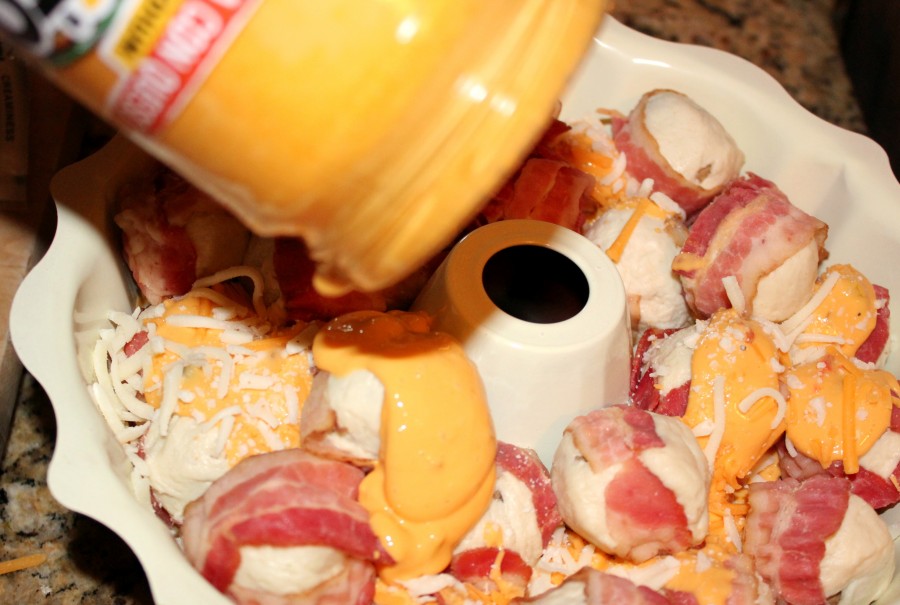 Continue layering until you can't layer anymore..lol
Bake it at 350 for approx. 40-45 minutes, OR until it's fully cooked through.  *Cooking times will vary depending on your pan, oven..altitude etc.  If the top is getting too dark before it's fully cooked, simply cover it with some foil.
Let it cool before you attempt a flip-out!
NOW~  you can flip out, gently onto a serving platter that is…lol!  Then DIG IN!  ~Enjoy! 🙂