When I stumbled upon these adorable mini SOLO cups, I nearly lost my mind!  My love for everything mini suddenly took a turn towards obsession as I stared, eyes glazed..fixated on the sheer cuteness of these magical, mini party cups.  It only took me seconds to know what I wanted to do with these little cuties and ..here we are!
Stopping short of actually enrolling in college, I decided to bring some of all of the college experience home to me~ In the form of um…Beer Pong, and ummm…Doughnuts..lol!  I'll read a book later!  😉
What better way to enjoy a classic drinking game than with the sweet addition of boozy doughnutty balls of fun?
Now, of course.. I don't suggest that you actually toss these balls into the beer..but after a few of these babies, you never know what could happen…just saying!  😉
Make a fun batch of these super cute, sweet shots for your next get together, and YOU will be the life of the party!  🙂
What you'll need:
Mini SOLO cups..I found these at the dollar store!
For the Doughnut Holes:
1 cup of beer..your fave!
1 large egg
2 cups all-purpose flour
2 Tablespoons sugar
4 1/2 teaspoons baking powder
1/4 cup (1/2 stick) unsalted butter, melted
Oil for frying~ I used Canola
White frosting for the doughnut hole glaze a.k.a "Ping-Pong Balls"
Directions:
Add the canola oil (about 2-3?) to a large, heavy-bottomed pot. (There should be at least 2 inches of oil in the pot and at least 2 inches between the top of the oil and the top of the pot.)
In a small bowl, mix together the flour, sugar, and baking powder…add in the beer…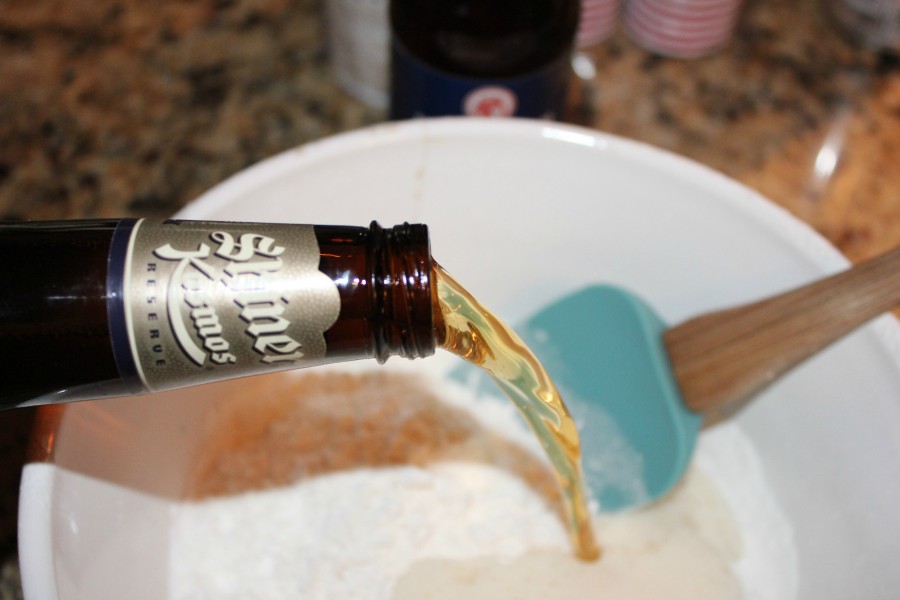 In another small bowl, whisk the cooled melted butter and egg together, pour it into the beer batter, and mix well to combine.
Stir and mix until a soft dough forms, this is a dense and sticky dough…
Once the oil has reached 350ºF, drop about 1 teaspoon sized scoops of dough into the oil (you want these to fit on top of the cups, and they will puff up a bit..so don't make them too large) **although you can always trim the doughnut holes to fit if necessary!
With damp hands, you can successfully roll them into nice balls! Be careful not to overcrowd the pan.
Fry the doughnut holes, flipping them in the oil, for about 2 minutes or until they're a light golden color.
Using a slotted spoon, transfer the doughnut holes to a rack-lined baking sheet to cool…
Warm up the frosting in the microwave for a few seconds.
One by one, coat the doughnut holes in the warm frosting glaze and allow the excess glaze to drip off…
Let them set up… *you can totally thin out the frosting for a more even, white "Ping Pong Ball" fully coated look!
Now, fill the cups with some beer.. because, BEER!
Top the cups with a nice, sweet, white, boozy, ping-pong "ball"…
And play the tastiest game of Beer Pong EVER!
~CHEERS!  🙂  ~Enjoy!