Do you have any Thanksgiving leftovers still hanging around?
Do you suffer from "Idon'tknowhowtojudgetherightamountoffoodforacrowd-itis" ?
Do you typically have about 10-12 guests over for dinner, yet insist on cooking for 50?
If you answered yes to any of those questions, then you'll want to stick around… this recipe could be for you!  Especially if you're sick and tired of the typical re-do/re-use abuse of day old food fare.
We need something original and delicious to breath new life into that old grub, and I think I might have just the thing?!
I took yesterday's stuffing and turned it into today's gourmet breakfast!
That's right, I waffleized that stuffing and topped it with a perfectly poached egg..BOOM~  breakfast is served!  A little Hollandaise drizzled on the top would be nice…dontcha think? 🙂
~Good morning to you, and goodbye to those leftovers! 🙂
What you'll need:
The Waffles:
2 cups of stuffing
1 egg
The Topping:
poached/fried eggs for the top..one per each stack of stuffing waffles
black pepper to taste..or any other toppings you'd like!
Directions:
Mix the stuffing with one beaten egg until well combined.
Place the stuffing into your waffle iron and cook until firm and golden…
Now stack up those waffles, and place a poached or fried egg right on top!  *If you're making a big batch and/or not serving them right away~  put the waffles on a sheet pan in a low oven (200-250 degrees) to stay warm and toasty until you're ready to serve.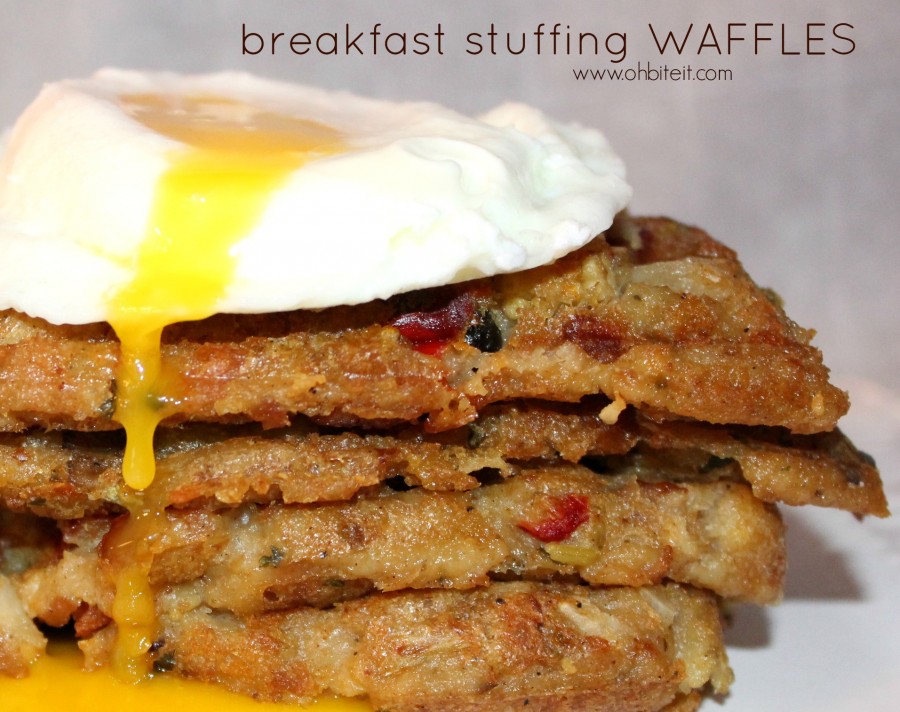 Serve warm!  ~Enjoy! 🙂