Sooo, can I just say that I think I've rediscovered yogurt..and by "rediscovered", I mean..I found a new and exciting way to love it!
Oh, I've had yogurt, I've even had good yogurt, but until now..I've never actually experienced GREAT yogurt!
The amazing quality of The Greek Gods Yogurt inspired me to create a recipe that showcased it's amazing creaminess, and fresh, smooth flavors!  Each bite of this heavenly pie will only leave you wanting another bite..lol!
The light and flaky puff pastry crust is not only unique, but serves as the best buttery bed ..ever, for those frozen yogurt, cranberry-filled clouds of lush!
The Greek Gods Yogurt has completely won me over, and I'm a new lifelong fan!  This Lush Pie was taken over the top thanks to this fresh, creamy, and delicious yogurt!  Click here for a printable coupon so you can make this asap!  And check out The Greek Gods on FACEBOOK too!
What you'll need:
An 8″ x 2″ pie plate
1 box of puff pastry sheets.. you will use 1.5 sheets
2 cups Greek Gods Plain Yogurt
2 cups cranberry sauce..I made my own, but canned will work just fine!
8 oz. cream cheese..room temp.
8 oz. cool whip
1 cup sugar
1 egg with a splash of water for egg wash..
A food processor helps lots!
The cranberry sauce/topping:
12 oz. bag of fresh cranberries
1 cup sugar
some star anise..optional
Directions:
Gently roll out one sheet of the pastry sheets and cut/press to fit it into the bottom of the pie plate.  Poke the bottom of the dough with a fork and bake it for approx. 10 minutes, just to get a little color on it.  Take it out of the oven and slice the other pastry dough into approx. 4″ by 1″ slices and twist them to form a pretty edge around the pie plate.
Brush it with some egg wash so it sticks…
** I baked the bottom of the crust separately from the edges simply so that the edges wouldn't burn while the bottom baked long enough to be a nice secure and firm bed for all the LUSH!  You can totally bake it all at the same time if you'd like, just watch those edges!
Bake it again at 350 degrees for another 8-10 minutes, or just until it's evenly golden and puffed.  Take it out, and let it cool completely!
Now you can simmer the cranberries, star anise (optional) and 1 cup of sugar until the berries start to pop ..this took me about 12 minutes or so.  Set aside to cool completely and thicken up…
Stir it as it simmers…
In a food processor, combine the cream cheese and the sugar, pulse until smooth…
Now add in the yogurt…and pulse again..
Pour that filling into a large bowl and gently fold in the cool whip…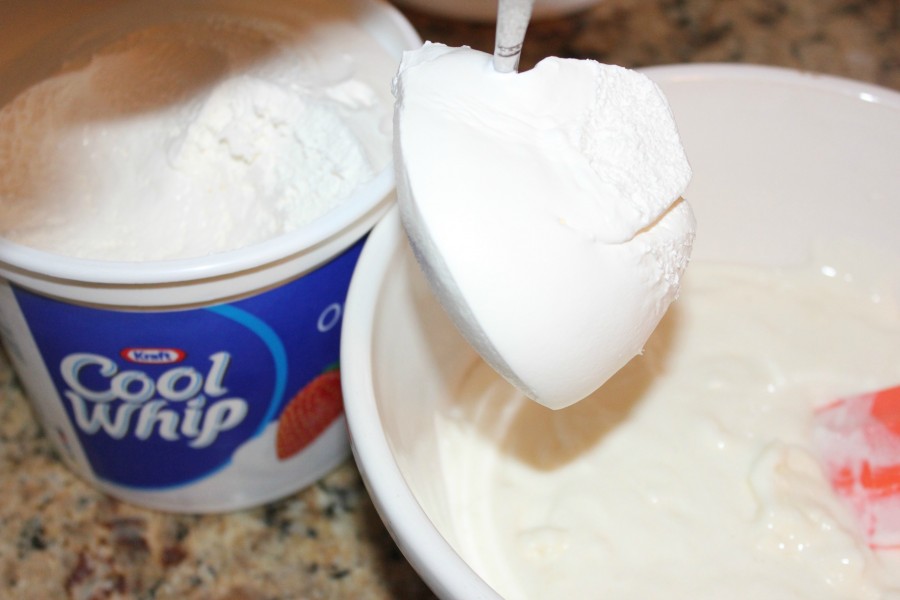 And now for the beautiful and tasty addition~  the Cranberry sauce.  Pour all of it into the creamy mixture, and gently fold it in, making sure to leave lots of pretty swirls…so DON'T over mix it! 🙂
reserve a little of the sauce for extra topping if you'd like!
Pour it all (or as much as you can) into the cooled crust and smooth it out, gently as to not disturb the pretty swirls…
Now it goes into the freezer for at least 4 hours to set up!
Let it soften a bit before you cut into it, a warm knife will help if it's just too frozen!
Notice it's extreme beauty…
Add some extra cranberry sauce on top for an even bigger 'WOW' factor!
And an even bigger taste factor…
Hurry up and get yourself a nice big slice…this Lush doesn't last long!  ~Enjoy! 🙂