As the weather turns colder, we turn toward yummy things that can fill us with warmth!  Usually that warmth is cleverly disguised as sweet, decadent, treats that somehow warm our souls..lol!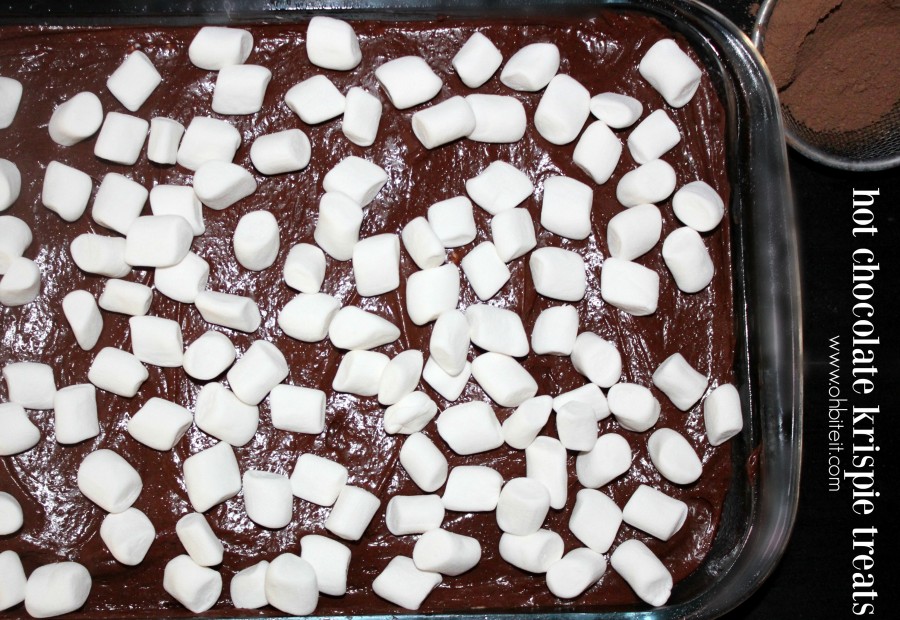 When I think about warming up the first thing that comes to mind other than crawling back into bed, is a giant mug of Hot Chocolate!  There's nothing quite like it, especially on a cold Fall day!
However…we still need to eat right?!  😉
Soooo…here we are!  I hand you a super succulent square of Hot Chocolate Krispie Treats, an ordinary classic with an extraordinary combo like no other!  Each bite delivers all the goodness of Hot Chocolate with the crispy, crunch of a good old Rice Krispie Treat!  Bring a batch to your next holiday gathering and bring the recipe..trust me!  Make LOTS!
What you'll need:
9×13 pan sprayed with non-stick spray
40 standard sized marshmallows…OR one bag of mini marhsmallows..I used Dandies!
6 cups of rice krispie cereal
2 tbsp. butter..melted
The Topping:
2 cups of chocolate frosting
1 cup of mini marshmallows
1/3 cup hot chocolate powder..your fave!  ..plus a little extra for sprinkling on the top.
Directions:
Prepare the krispie treats as per the regular recipe.  Press them into the pan, and poke holes evenly throughout…
Make sure the holes are big enough to get lots of frosting in there…
Warm the frosting (in the microwave for a few seconds) and stir in the hot chocolate powder until smooth…
Mix it up, lick spoon..repeat!
Pour that frosting all over, in, and around the krispie treats…
Spread it on nice and thick…YUM!
NOW~  the fun part… top that baby with a generous supply of mini marshmallows…
..and a dusting of more um…hot chocolate powder!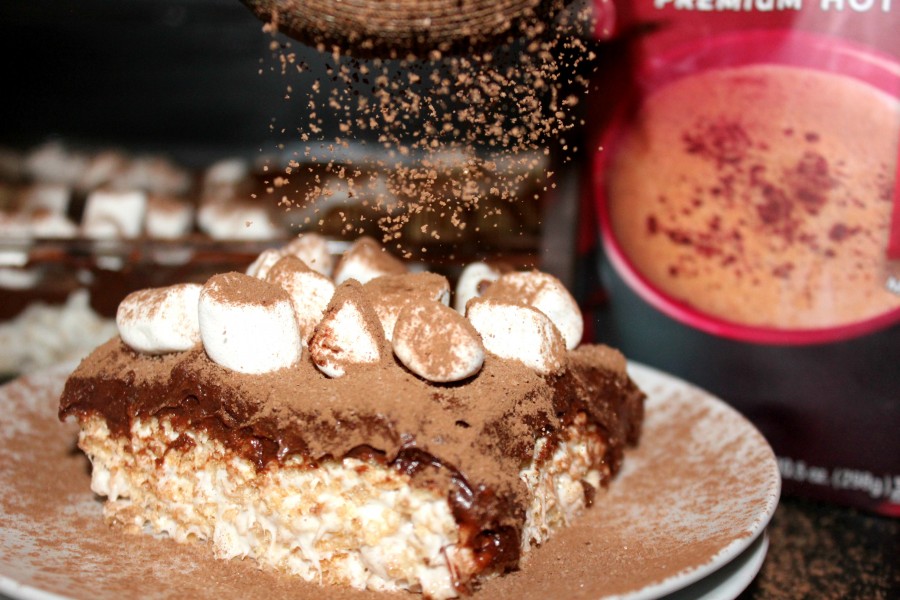 Let them set up, then go for it!
Be sure to check out Dandies on social ~ FACEBOOK ~ TWITTER  ~ INSTAGRAM!  
And dig into that comfort!  ~Enjoy!  🙂