Yep..you read that right, these are Green Bean Casserole..FRIES!  🙂  They're everything we know & adore about that classic holiday casserole, all prettied up in a delicious grab-n-go, hand-to-mouth, snackable-festive-finger-food-feast.
If ever there was a holiday dish that left you an empty serving dish, it's green bean casserole right?!  At least in my house, it's everyone's fave!!
So I thought "hmmm", I wonder what would happen if I took EVERYTHING, and I do mean everything that we know and love about that classic, comforting casserole and turned it into a pop-in-your-mouth, one of a kind finger food that will rival any holiday appetizer/side dish to grace your table – since the invention of appetizers..and tables!?  🙂
And guess what? ..What?, you ask.  The answer is THIS deliciousness happened ..
These festive fries were the guest of honor at not one, not two..but 3 different potlucks and my phone was blowing up with people begging asking for the recipe!
Each crispy, tender fry is coated in crispy, classic French Fried Onions, and then dipped deeply into some amazingly creamy mushroom dip.. that even if eaten / alone / with a spoon / ..is absolutely incredible (I'm not admitting saying I actually ate the dip with a spoon..lol)
Make a HUGE batch of these, make more than you think you'll need / want / care about / think about / …trust me! 🙂
What you'll need:
1 lb. (or so) of fresh green beans..ends trimmed.
2-6 oz. containers of French's french fried onions
1 cup flour
1 cup milk
1 egg (not 2 as shown)
oil for frying..I used canola
A food processor helps LOTS!
The creamy mushroom dip:
1-8 oz. block of cream cheese…room temp.
1/3 cup (or so) of CAMPBELL'S BEEFY MUSHROOM SOUP..this variety of soup will work the best, but if you can't find it…use creme of mushroom. – (I wasn't paid to say that in any way, the beefy version is truly the best for this dip)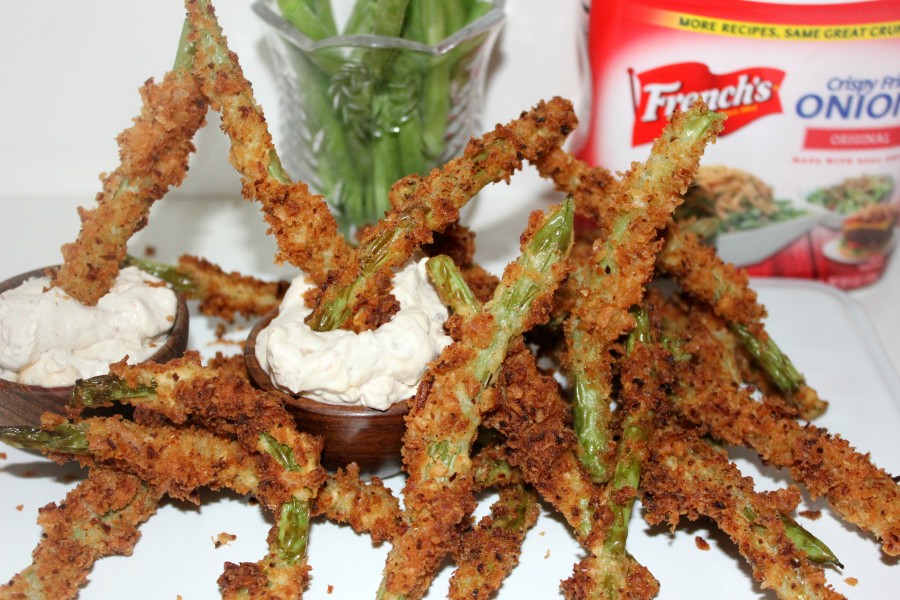 Directions:
First make sure your beans are trimmed and washed.  Then give them a quick blanch in some simmering water, for about 4 minutes or so..just until they're bright green and slightly tender…
While the beans are in the hot tub, it's a great time to whip up that amazing dip:
Just mix together the cream cheese and the beefy mushroom soup mix.  A food processor helps, but you can totally to it by hand too.  Set it in the fridge as you continue..
Drain the beans well, and set them aside to cool… So they're 'Cool Beans'…sorry!  😉
Now, in a food processor, or with muscles and issues / crush the fried onions until they're almost like bread crumbs. Place them in a shallow bowl and set side…
Into another shallow bowl, add the milk and egg… Now whisk it..whisk it good.
Into another shallow bowl add the flour…
Now, take about half the flour from the flour bowl and mix it into the whisked egg and milk bowl, just to create a slightly thick batter.  Reserve the rest of the flour in its bowl.
Dredge each bean in some of the reserved flour…
Then into the batter…
And THEN into the best part…the fried onion crumbs.  Making sure to coat them as best as you can in those delicious crumbs…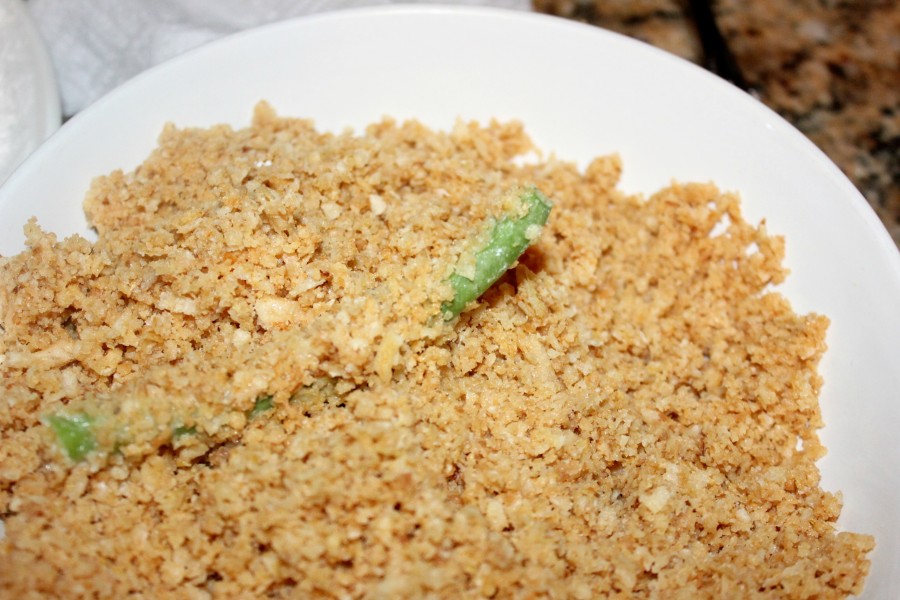 Drop them right into the oil, and fry them a few at a time in that hot (350 degree) oil, until they're golden.  DO NOT OVER -FRY..they get dark quickly…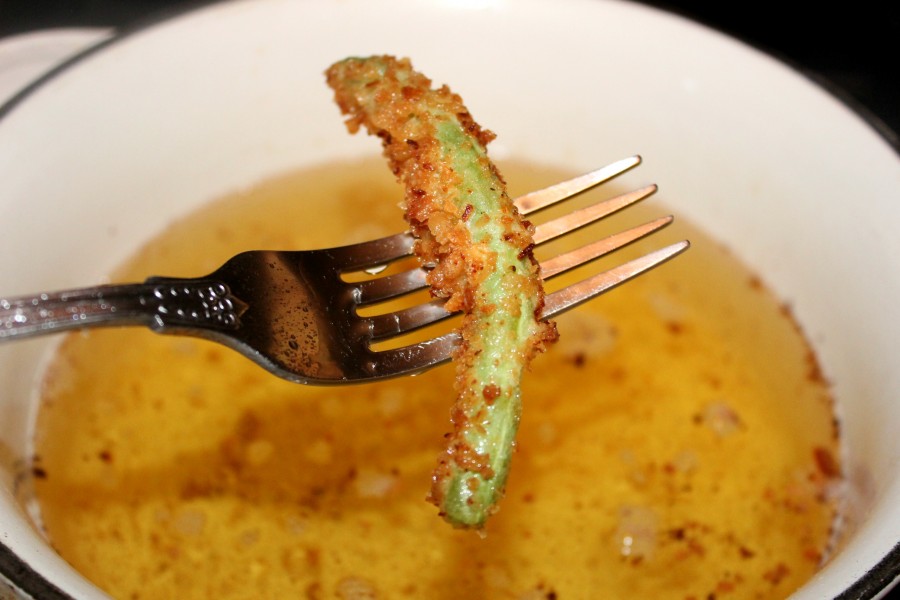 Let them cool on some paper towel…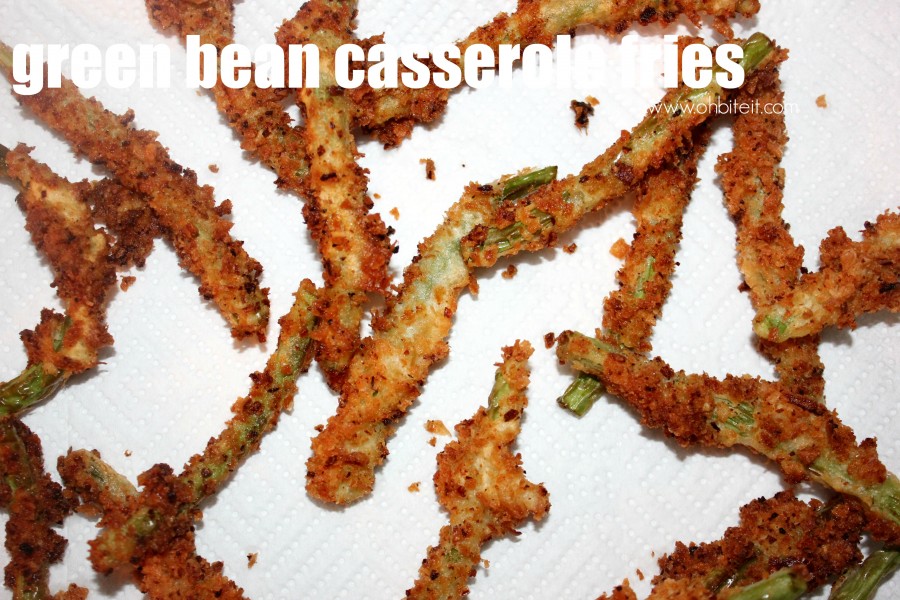 Serve them up with that delectable mushroom dip, and take cover..because you're about to be attacked by your guests…LOL!
There should be plenty to share, if you can get them away from yourself fast enough…lol
But that might be difficult..lol!  ~Enjoy!  🙂