When I think of "Pull-Aparts", at least in terms of food..bread is the first thing that comes to mind.
So I thought it would be fun to change that predictable concept up a bit and swap that bread for something unexpected, something delicious, something whimsical…something like um..ravioli!  🙂
Ravioli offers all the interactive and tasty fun of a typical pull-apart recipe, but with the added bonus of a bite sized,  ooey-gooey, cheese stuffed pasta, pulling all over the place.
These little bites of fun are so scrumptious and such a show stopper that people will beg ask you to make them ALL the time!  And that's just fine, because they couldn't be easier to whip up.  In a matter of minutes you will have a pan ready for the oven where the true magic will happen, as each ravioli becomes one with the saucy and cheesy layers of stackable heaven!
What you'll need:
9×9 square pan
2-18 oz. bags of fresh and ready to boil ravioli..  you'll only use a bag and a half, unless you want to go 3 layers high.  I only did 2 layers.
16 oz. whole milk mozzarella
1/2 cup grated parmesan cheese
1 cup marinara pasta sauce
1/2 cup dry bread crumbs
1 tbsp. oregano
1 pinch of hot pepper flakes..optional
1 egg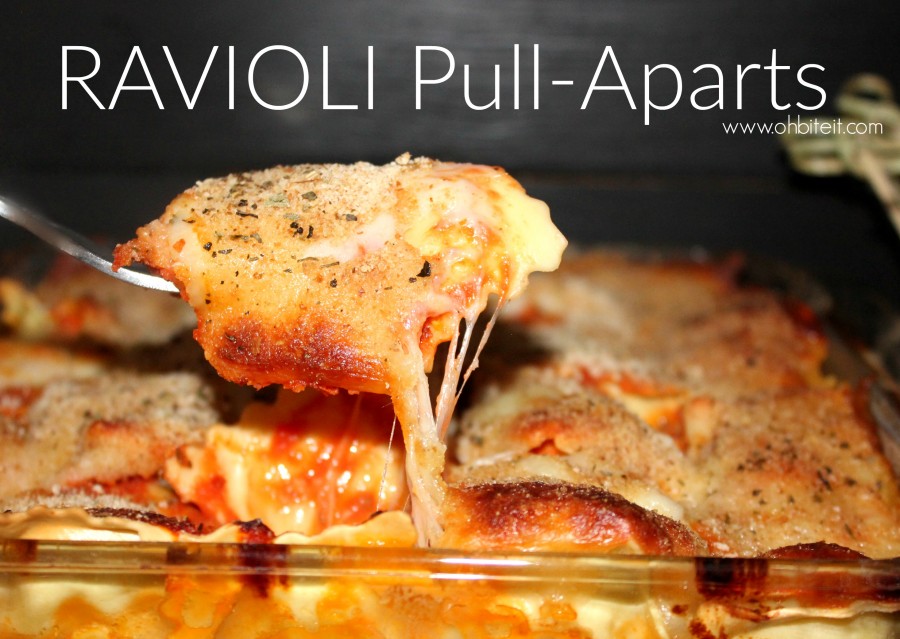 Directions:
NO NEED TO BOIL THE RAVIOLI FIRST if you use the fresh as I did.  ONLY the frozen, or processed ravioli will need to be boiled first!
In a medium bowl mix the sauce, egg, parmesan, oregano, and red pepper flakes until fully combined…
Now simply layer the bottom of the pan with a single layer of ravioli…
Top them with some of the sauce mixture, making sure to get it in between the ravioli..as this will be the delicious glue that creates a great pull-apart!
Then top it with a layer of thin cut mozzarella slices…
And then repeat with another layer of everything, starting with more sauce …
And ending with a sprinkling on top of bread crumbs…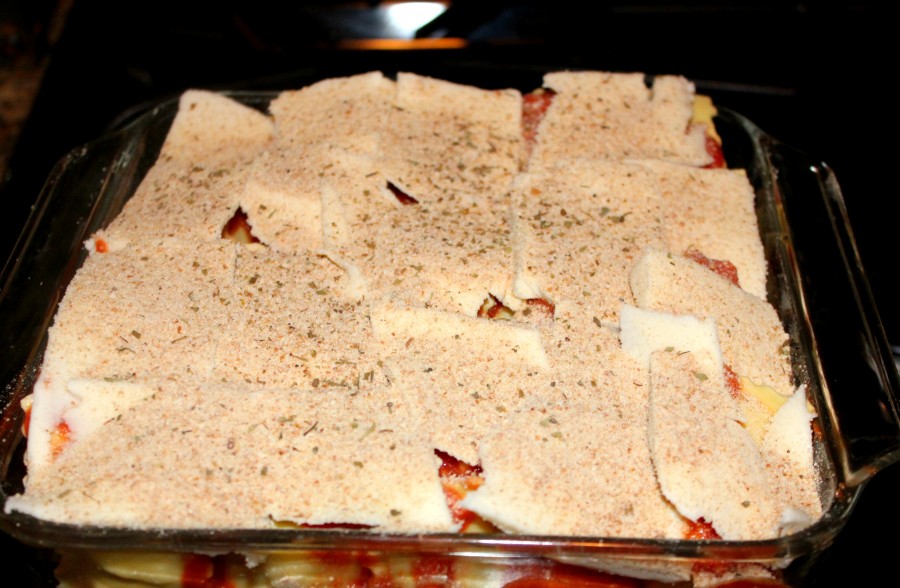 Now bake it at 350 degrees for approx. 45 minutes to an hour..or just until the ravioli is slightly puffy and the cheese is bubbly and golden…  Let it cool…
But definitely serve nice and warm…
So it does ..THIS!   DIG IN!  ~Enjoy!  🙂