Halloween has come and gone, and now we must be bombarded with "leftover halloween candy recipes" right?!  I mean, isn't that now part of the tradition?  Wether we like it or not, wether we actually have leftover candy or not..you will spend a good portion of your post-halloween week, scrolling through endless 'leftover' candy recipes, mostly of which consist of tossing that candy into a batter of some sort, and calling it a recipe.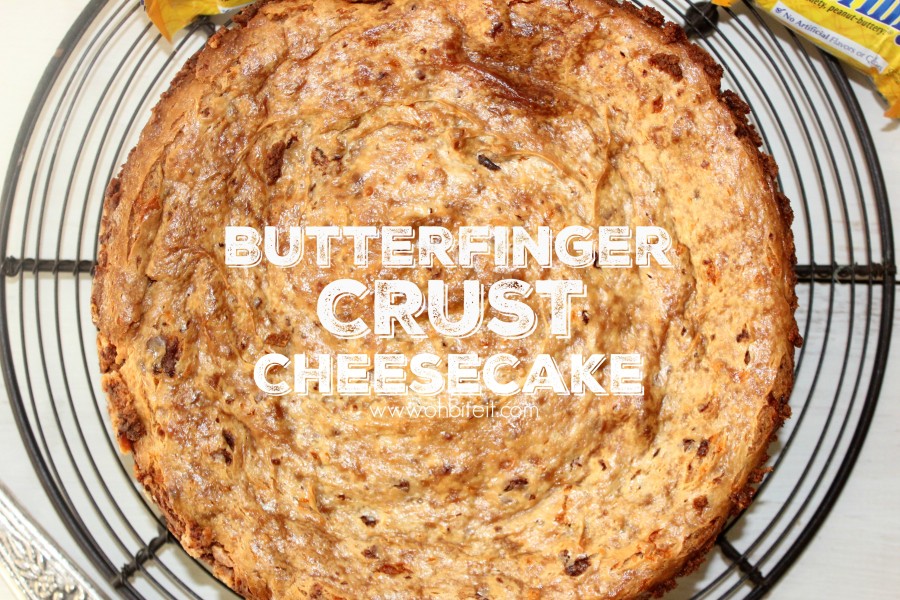 Until NOW~
Now, you can use/re-purpose your leftover candy in such a unique way that no one will be able to tell that it wasn't intentionally purchased for this recipe.  Because let's face it…it probably was intentionally purchased for this recipe, who has THAT much leftover candy anyway no one I trust …No one I know..LOL!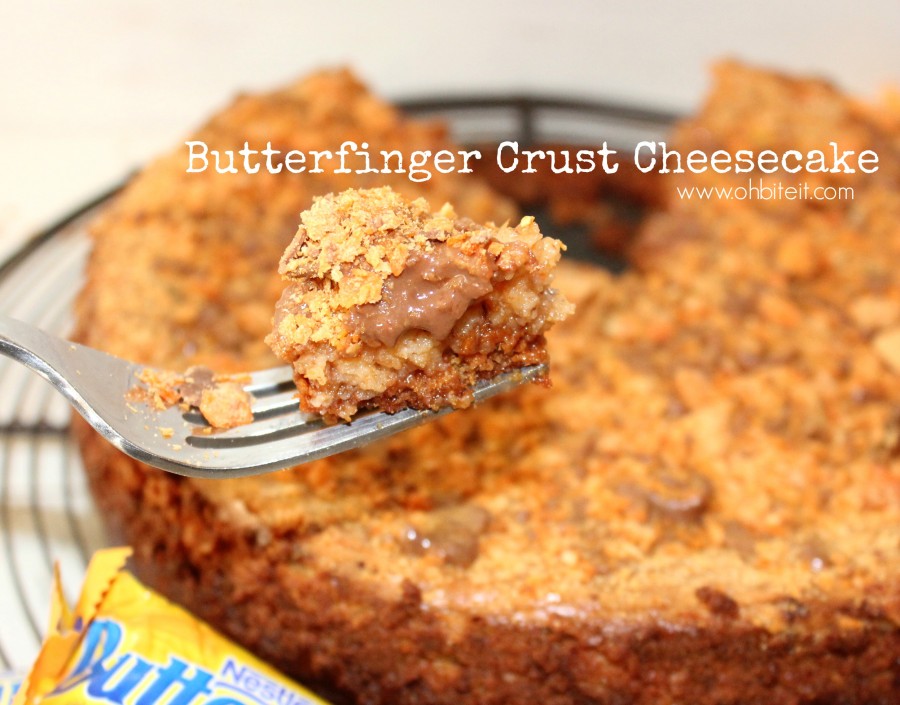 For this curst I used Butterfinger candy bars, because well…BUTTERFINGER!  However, you can toss any chocolate based candy into this crust and it will probably work.    If it doesn't work, grab a spoon and eat it in private.. do YOU!  🙂
The Butterfinger crust is over the top, out of the park delicious, and totally makes this cheesecake a winner!  I think I actually like the Butterfingers even better as a warm, gooey bed for that cheesecake than as the candy bars alone …haha!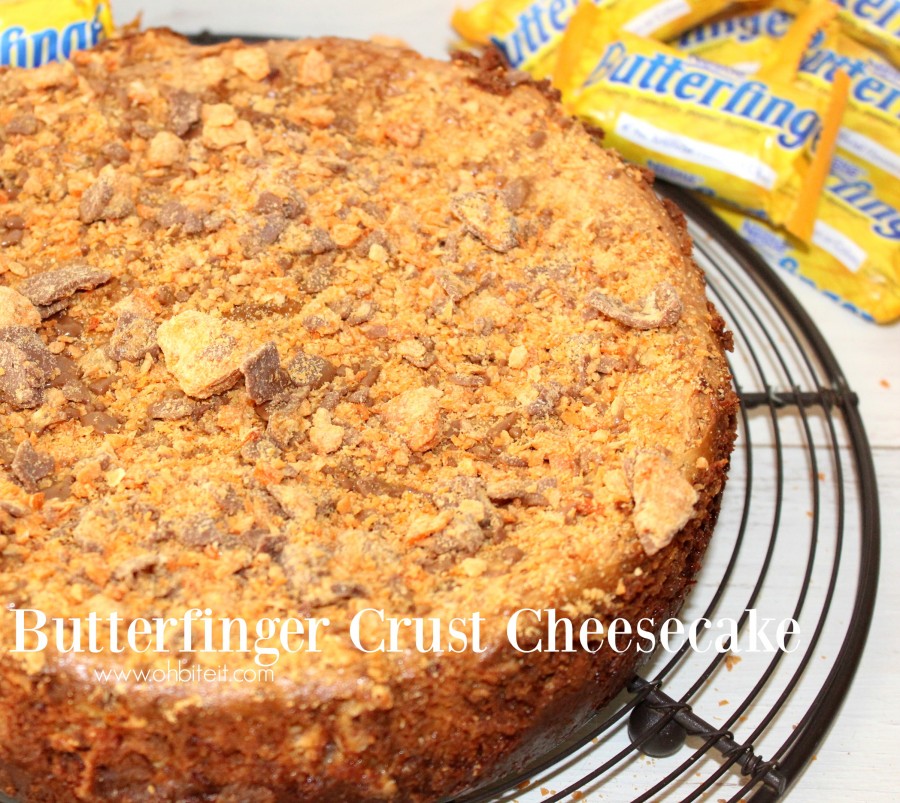 What you'll need:
8″ spring form pan
The CRUST:
24 MINI Butterfinger candy bars OR 6-8 full size bars
2 tbsp. butter..melted
The CHEESECAKE:
2-8 oz. blocks of cream cheese..room temp.
1 cup sugar
1 egg
1 tsp. vanilla extract
1/2 cup crushed up Butterfingers..OR you can use the "Bits" like I did.
White Frosting and extra Butterfinger bits for the topping..optional
Directions:
Add the butterfingers into a food processor and pulse until they're evenly crumbled, pour in the melted butter and pulse until well combined…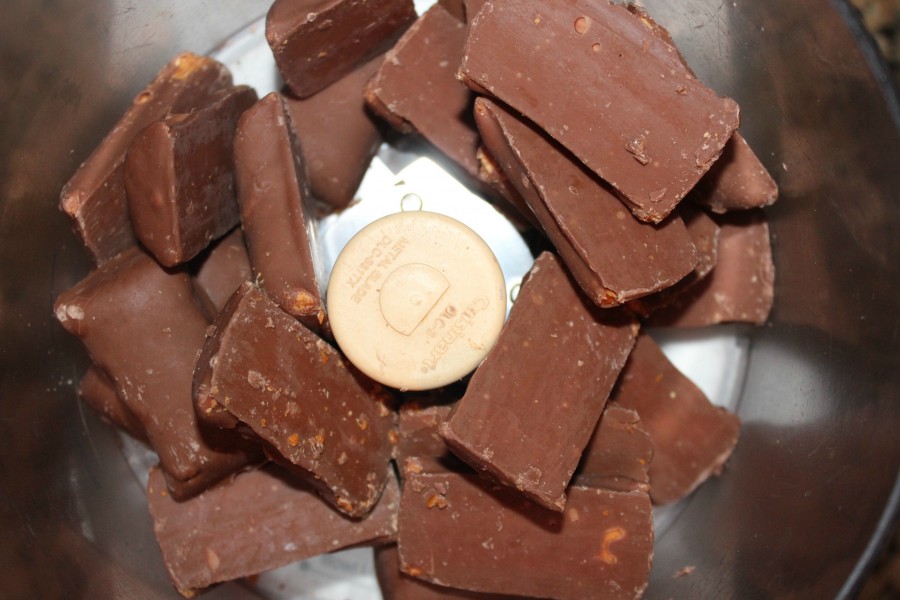 Press it evenly down into the pan and set aside…
Now into the processor, add the cream cheese, sugar, egg, and vanilla..pulse until smooth.  Add in the 1/2 cup of crushed butterfingers bits…
..and pulse a few times to blend…
Pour the filling onto the crust, and evenly smooth it out…
~Resist the urge to dive in head-first now, because you WILL want to …lol!!  🙂
Bake it at 350 degrees for approx. 45 minutes to an hour, OR until it's golden and completely firm!
While it's warm, run a knife around the edge to break the sticky seal that the crust created, but DO NOT remove the cake from the pan until it's COMPLETELY cooled!  
You can even place it into the fridge or freezer to help it along, but make sure it's cool/cold before cutting into it!
Once it's cooled, you can safely slice it up…
But you may want to just take a minute to marvel at that incredible ALL-Buttefinger CRUST… I mean, come on now~
Top it with some more Butterfinger Bits if you'd like…
Then grab a plate, drizzle some warm frosting over the top…
A nice warm knife helps to cut clean slices since the crust is a bit dense and sticky!  Serve it UP!
And dig IN!  ~Enjoy! 🙂