I think I've monkey'd every bread, biscuit, ball of dough that can be monkey'd and I have to say they were ALL amazing!  Like seriously scrumptious so this monkey-method will forever be my go-to for all things easy-appeitzer!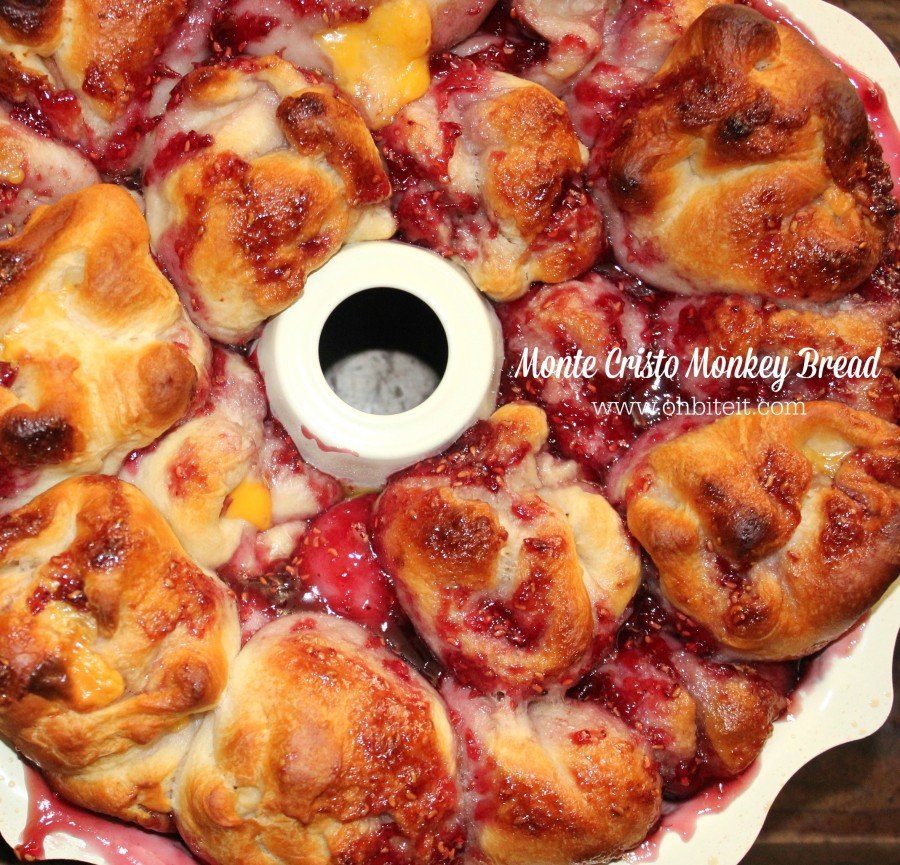 BUT~  dare I say that I have found the BEST, and I do mean the BEST version of a savory monkey bread that's ever graced my lips.
I share with you Monte Cristo Monkey Bread~  Oh yeahhhh!
Let me break it down before we move on to the easy recipe~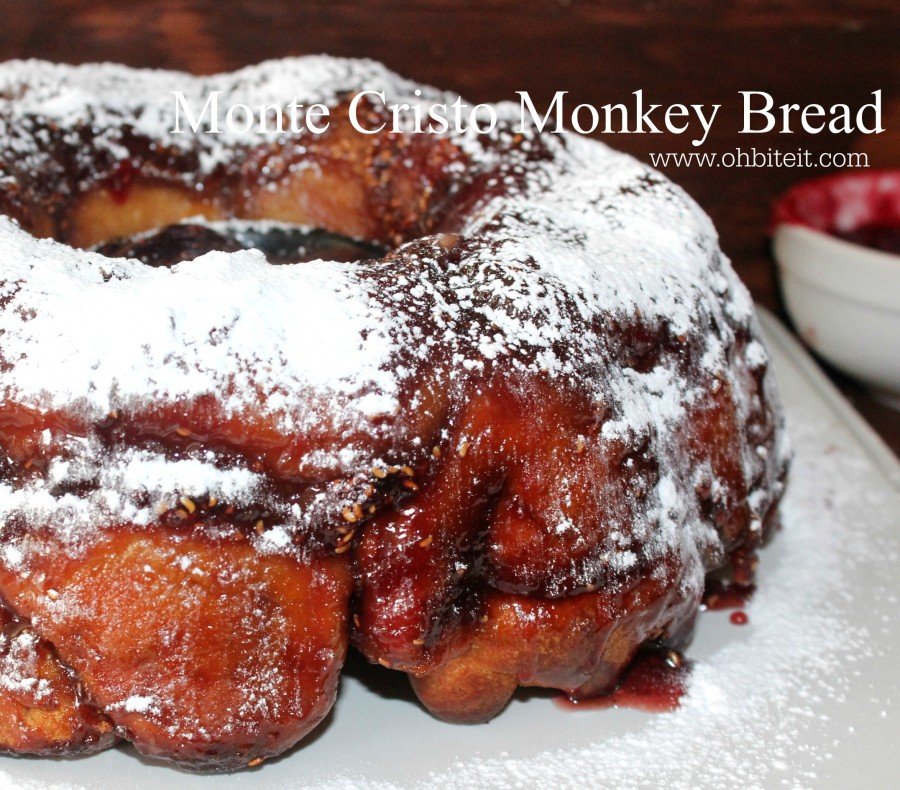 Here we go:
Each tender dough-ball is filled and rolled with all things Monte Cristo – I'm talking about ham, turkey, swiss cheese, and american cheese!  Then the entire bundle of beautiful balls is drizzled in a sweet cascade of raspberry preserves that self-glazes in the oven, baked to a puffed perfection, flipped out and showered with a generous dusting of powdered sugar, just to make their delicious point…lol.
When you dig into this pile of pure perfection, sink your teeth into those gooey and sticky sweet jam glazed balls of Monte Cristo, you taste that flavor-packed deliciousness, you'll think you died and went to food heaven, where the angels of yumminess grace you with seconds and thirds/fourths ..lol!
You have to do this…GO~
What you'll need:
2 containers of pillsbury grands flaky layers biscuits (8 count ea.)
Sliced ham, turkey, swill, american cheese.  One slice of each per 4 balls
3 cups of raspberry preserves..with or without seeds, whatever you like. (2 cups for the pan, 1 cup reserved for extra dipping)
Powdered sugar for dusting
A bundt pan
Directions:
Cut each biscuit in half and roll them out so they're even…
Stack up one slice of each of the meats and cheese, cut them into 4 equal sections…
place one of the stacks in the center of the dough…
Now roll it up making sure to seal them very well..creating the balls, gently set them aside…  🙂
Now warm up the 2 cups of preserves slightly in the microwave, just so you can pour it..reserve a little for the top layer.
Pour it as evenly as possible into the bundt pan, it will distribute more evenly as it bakes..so no worries…
Place all the monte balls as evenly as you can into the pan, and drizzle the remaining preserves over the top…
Bake it at 350 for approx. 15 minutes, then cover the top with foil..and continue baking for another 15 minutes OR until all the bread is firm and fully cooked throughout the pan…
Let it cool for a while before you attempt the flip… you can gaze lovingly at it while you wait.  🙂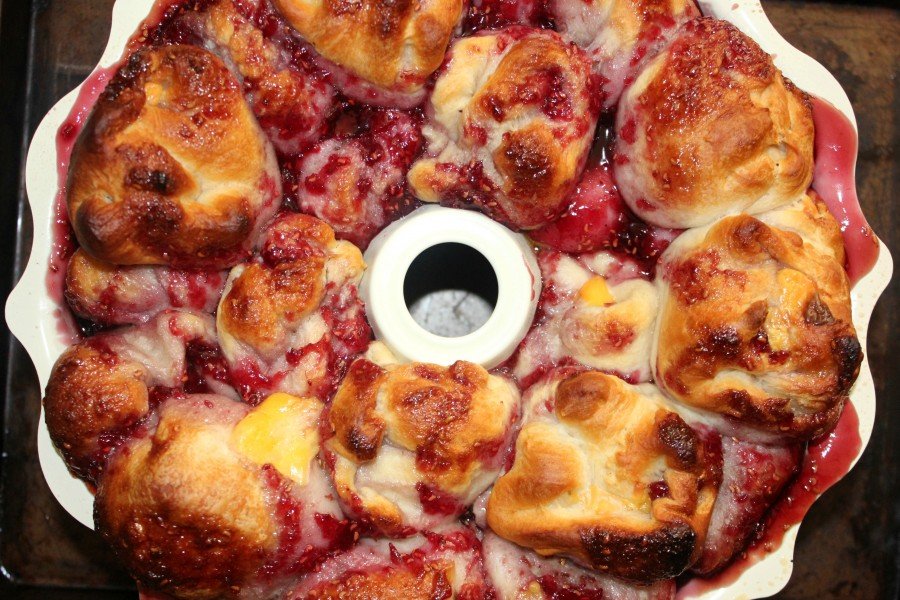 Then,..flip it, flip it good!
Work that powdered sugar magic…
And then gaze at it some more…because, look at it~
Serve it up with the reserved raspberry preserves for dipping, and serve only to the people you love lots, cuz they're not going anywhere…lol
I mean..can you blame them?
No..no you can't!  ~Enjoy!  🙂