Hass Avocados have got to be one of my all-time favorite foods.  Not only are they packed with tons of vitamins, they simply taste amazing, they're healthy and delicious.
You can also check out the recipe right here > FOODBEAST!
They're also super versatile, and make for the tastiest blank food-canvas just waiting to be deliciously brought to life..ever.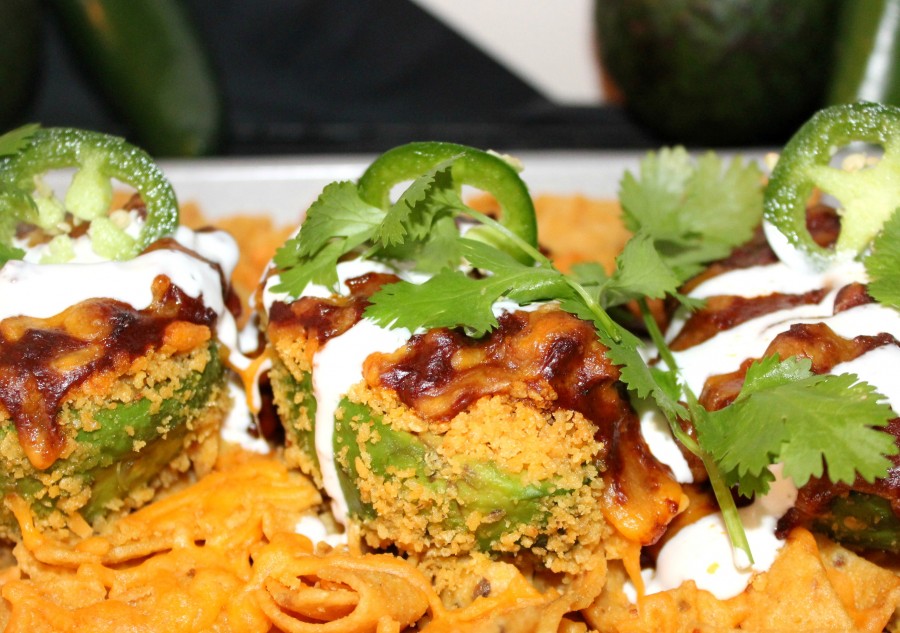 This time I thought it would be fun and oh-SO tasty to combine one of the most popular snacks > Frito Pie ..with the glorious green avocado.  And when I say combine, I mean magically morph these two until you really can't tell where one ends, and where the other begins..this is a match made in scrumptious food heaven.
Each Avocado Bomb is coated in crushed Fritos, filled with gooey & cheesy "ammo" .. then topped with a hearty, generous scoop of chili.
Placed on a bed of uh..more cheesy Fritos, and you just know something amazing is about to happen inside your mouth!
A quick bake in the oven and you've got a bomb of a dish that will explode happiness all over your taste buds.
What you'll need for 4 BOMBS:
2 med/large ripe Hass Avocados
2 – 9 oz. bags of original Fritos brand corn chips
4 -1″ cubes of sharp cheddar cheese
1 cup shredded cheddar cheese
approx. 1 cup of prepared chili, equally divided x4 between the avocados.  *You may use a bit less or more chili just depending on the particular size of your Hass Avocados
GARNISH:
all or none of these..to taste
cilantro / jalapeños / mexican crema OR sour cream, and cojita cheese..  *FYI~  I used them all!
Directions:
Crush half a bag of the fritos into crumbs (I used a food processor, but a zipper bag and muscles will work too) place them into a shallow bowl,
..SET ASIDE..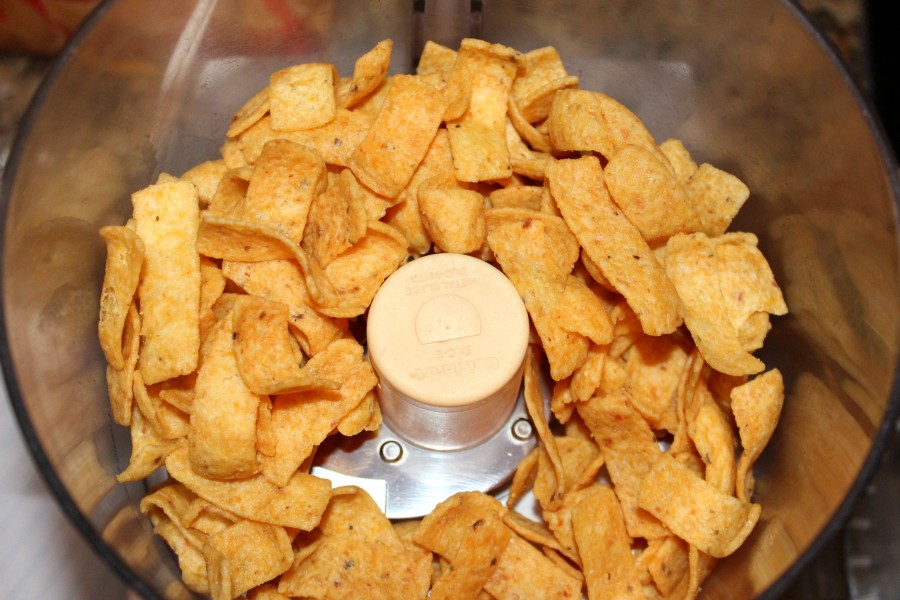 Lay out the remaining fritos, plus some from the unopened bag if needed, evenly onto the sheet pan, creating a generous, bed of fritos! ..set aside..
Now, evenly cut each avocado in half lengthwise, and remove the pit
Gently coat each avocado half in the crushed fritos and place them onto the sheet pan, nestling them slightly into the bed of fritos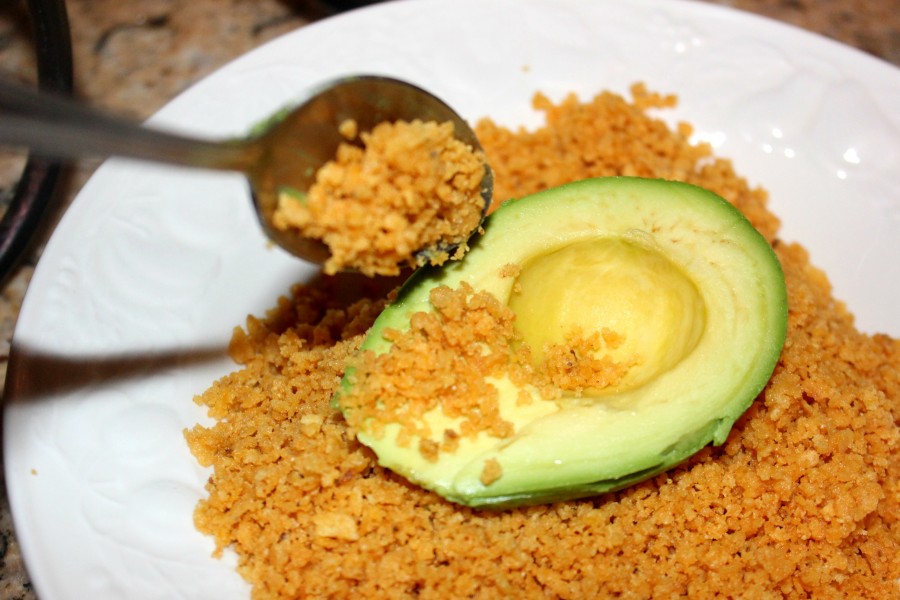 Place a 1″ cube of cheddar into each center of the avocados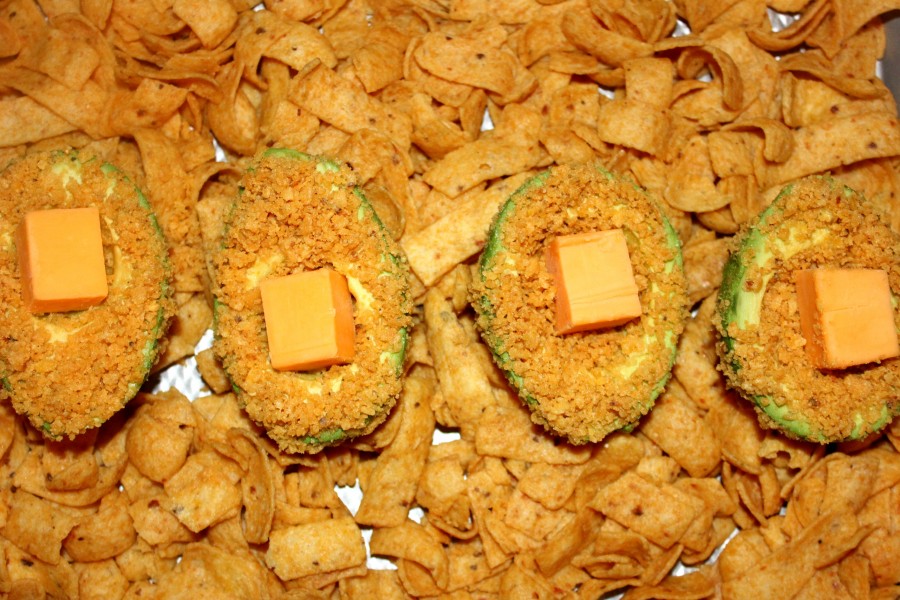 And now top the cheese cubes with a generous scoop of the chili
Top the filled avocados and the bet of fritos evenly with the shredded cheddar
Bake them at 350 degrees for approx. 15-20 minutes..OR just until the chili and cheese are bubbly and the fritos are slightly golden
Let them cool for a few minutes…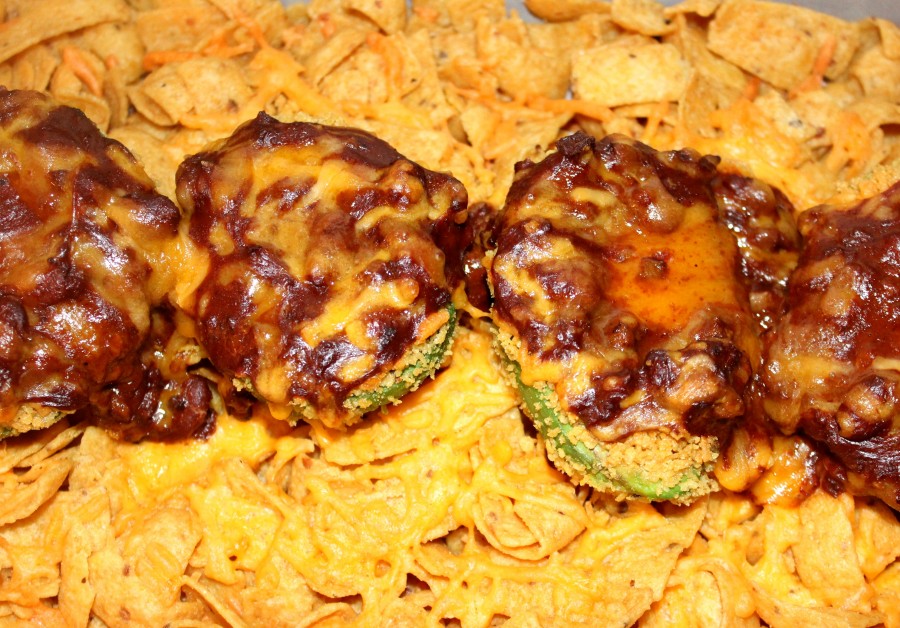 …and then top them with some of the mexican crema, and all the other preferred garnishes..
You may want to take cover when you cut into them…or expect some cheesy shrapnel ALL over your face…
Share them with lots of extra Fritos for scooping!
But they definitely go great with a nice, cold mexican beer!   ~Enjoy!  🙂
See these Avocado Bombs come to life in typical and delicious FOODBEAST fashion right here >