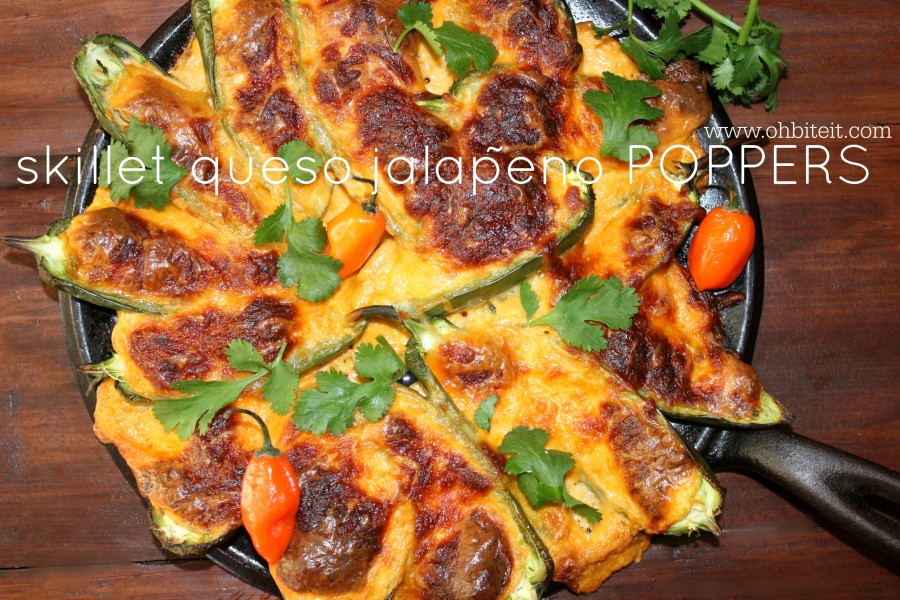 When it comes to spicy snacks, I personally can't think of anything better than a super-stuffed, super-cheesy, jalapeño popper.  They're easy to eat, and the fun filling possibilities are literally endless.
This time I chose to fill those spicy babies with a simple, yet scrumptious scoop of Queso and WOW~  did that ever work out perfectly!
The smooth and creamy cheese-filled queso is the best popper filling ever, and these will disappear as fast as you can make them.
Make more than you think you'll need…!
Make LOTS!
What you'll need:
15 fresh jalapenos
1-15 oz. jar of Salsa Con Queso
8 oz. shredded mozzarella..with half (4oz.) reserved for topping
1 – 8oz. cream cheese
red chile peppers or habaneros for topping..to taste
cilantro for garnish
A nice cast iron skillet~  of course you can make these on a sheet pan as well, for a less charred result..but still good! 🙂
Directions:
CAREFULLY slice the peppers in half and remove the seeds…  Remember that jalapeños are HOT so don't touch anything unless you want to feel the burn..lol
In the food processor, or with muscles…combine the cream cheese, 4oz. of the mozzarella, some chopped red peppers, and the queso..pulse until well blended…
Fill each halved pepper with the cream cheese/queso, top them with the remaining shredded mozzarella and place on the skillet.
~Bake them at 435 degrees until they're gooey and golden…
Top them with some cilantro and any other toppings you like…and serve them on the skillet…
Or on a plate if you prefer a more "civilized" presentation..lol
Either way~  DIG IN!  ~Enjoy! 🙂