When you think about a slow cooker, normally warm, savory dishes come to mind ..and those are fantastic.  BUT, what about cold, ice creamy-sweet treats?  Don't they deserve to be slow cooked as well?
Shouldn't we be able to "set it and forget it" when it comes to the good old ice cream cake too?!  I think so…and because of that, here we are.  🙂
I do have to say that I got a kick out of the idea of creating a typically cold confection inside a slow cooker, and the fact that this idea actually worked out had me excited all day long   …but I'm easily amused…lol.
Ice Cream Cake is one of life's greatest pleasures and such a tasty treat.  Who doesn't get extra excited when faced with Ice Cream Cake?  Who?  ///who?
Well, now anyone can have that typically time consuming and/or extra pricey party cake ..and with the usual minimal effort that you can count on me to provide, and you'll always find here on this page.  🙂
I'm talking about only '2 main ingredients'-minimal effort, and you don't even need to actually bake anything at all.  That's right~  the slow cooker does ALL the work for you, no baking, no layering, no freezing, no warming up the knife so you can cut through it..none of that needs to happen to reap all those ice cream cake rewards that we all know and love.
~Each scoop of cake is filled with yep.. ice cream, topped with yep.. more ice cream, frosting, and chocolate sauce … all you need to do is sit back and then sink your face gloriously down into it.  🙂
Grab some ice cream and a box of cake mix…and a slow cooker…BOOM~you're in business.
What you'll need:
A slow cooker/crock pot
1-18.4 oz. box of cake mix..I used chocolate
4-5 cups of softened ice cream..I used vanilla
frosting/sprinkles/chocolate sauce/cherries…for topping
Directions:
Simply add in the softened/but NOT melted ice cream…
Pour the cake mix over the ice cream…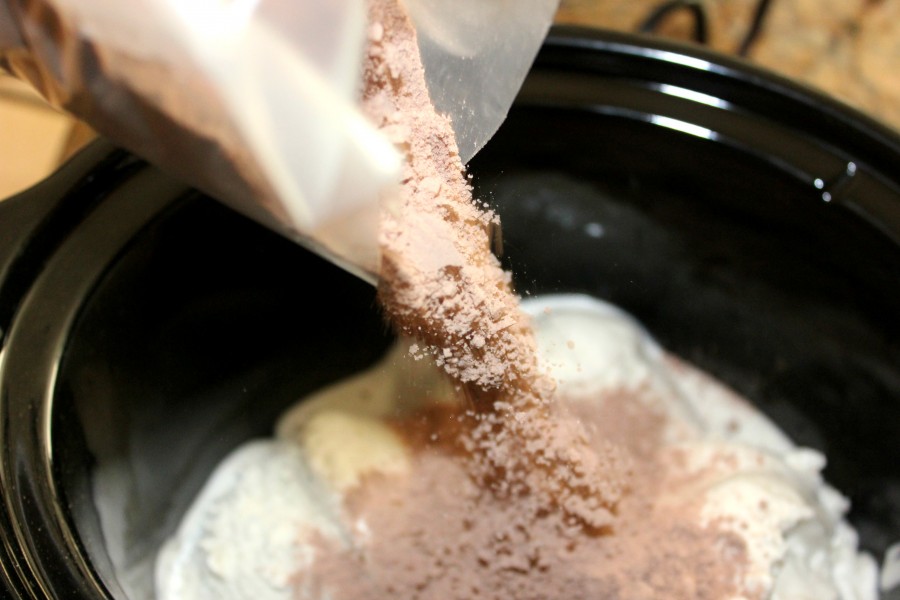 set the slow cooker to high for 2-3 hours..  THIS WILL VARY depending on your slow cooker, so watch for doneness.
Stir it slightly, just to combine it a little..remember, it will do most of the work for you.  🙂
Pour the lid on..and go relax…
Continue to give is a light stir…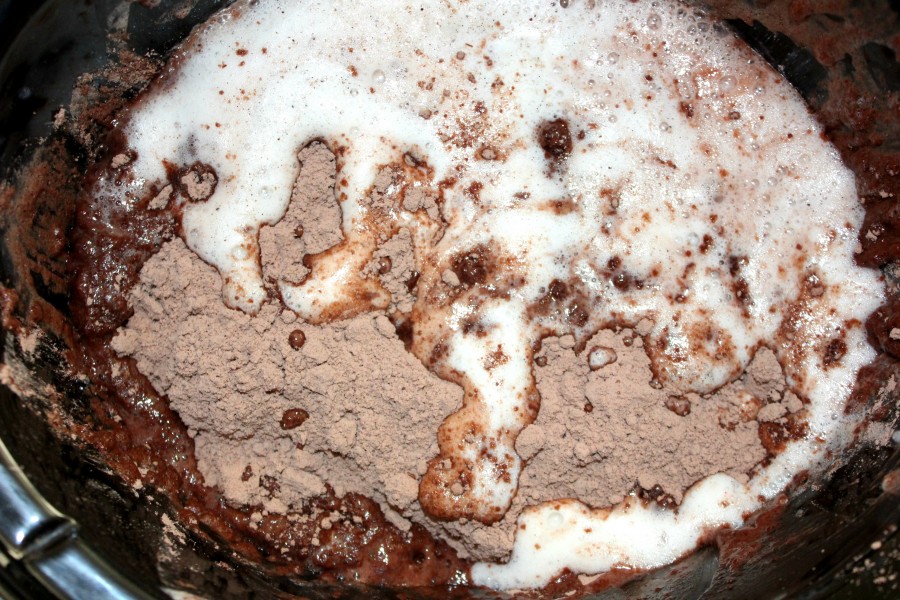 every hour or so just for even cooking…
When it's firm and "cakey" it's ready to serve… it's your preference how firm you want it to be.
You can scoop some onto a plate…
OR top the entire thing with frosting…
and colorful sprinkles for an amazing WOW factor…
But definitely serve it warm, with a cherry on top…
And then do what you do best..DIG IN!  ~Enjoy!  🙂