Well..I started "juicing" about 6 months ago..and I LOVE it!  I won't go on and on, but it's because of my love for juicing that you are here reading this. 🙂
It all started when I made fresh some Carrot juice, and found myself with a huge bag of shredded Carrots leftover from the juicer.  I really couldn't bring myself to just throw it away, so I decided to make a batch of these bars.  While I was at it, I also decided to use up a few things that I've had laying around in the kitchen..such as Vanilla Bean Paste.  However, regular vanilla extract will totally get you where you want to go with these bars if you don't have the paste on hand.
Anyway~  here we are!  🙂
Let me say > you DO NOT need a juicer to make these bars..regular old grated Carrots will do the exact same thing!  It's really the Vanilla throughout these bars that takes them over the top anyway!
Each bite is filled with cinnamony-vanilla, slightly spicy and super hearty Carrots that are perfectly balanced by the thick, rich and most succulent Vanilla Cream Cheese Frosting I've ever had!
~These are so easy..you will love them!
What you'll need:
A 9×13 baking pan, sprayed with non-stick spray and lined with parchment paper
3 cups of Shredded Carrots//OR the pulp from your Carrot juice
2 cups flour
2 cups sugar
2 tsp. baking powder
1 tsp. ground cinnamon
1/2 tsp. salt
1/2 tsp. baking soda
4 Eggs, beaten
1 tablespoon Vanilla extract
1 cup butter..melted
1 cup chopped nuts..optional..I didn't use any nuts
The Frosting:
16 oz. Cream Cheese..softened
2 tsp. Vanilla Bean Past..OR Extract will work as well!
2 cups Powdered Sugar
Directions:
Preheat oven to 350 degrees.
In a large bowl, stir together flour, sugar, baking powder, cinnamon, salt, and baking soda…
Stir in the butter…
Mix the Eggs with the Vanilla Extract and beat them up…
Pour them into the dry ingredients and mix well to combine…
Now..add in the Carrots, gently folding them into the batter…

Pour the batter into the pan…
Spread it evenly…

Bake 25 minutes or until a toothpick inserted near the center comes out clean.
Cool in the pan…

While it's baking/cooling, make the AMAZING Vanilla Bean Cream Cheese Frosting!
Place the cream cheese and vanilla paste in a medium bowl… (remember, Vanilla Extract will work too)
Beat with an electric mixer until smooth and creamy. With the mixer on low, gradually add the powdered sugar until the frosting reaches the consistency you prefer.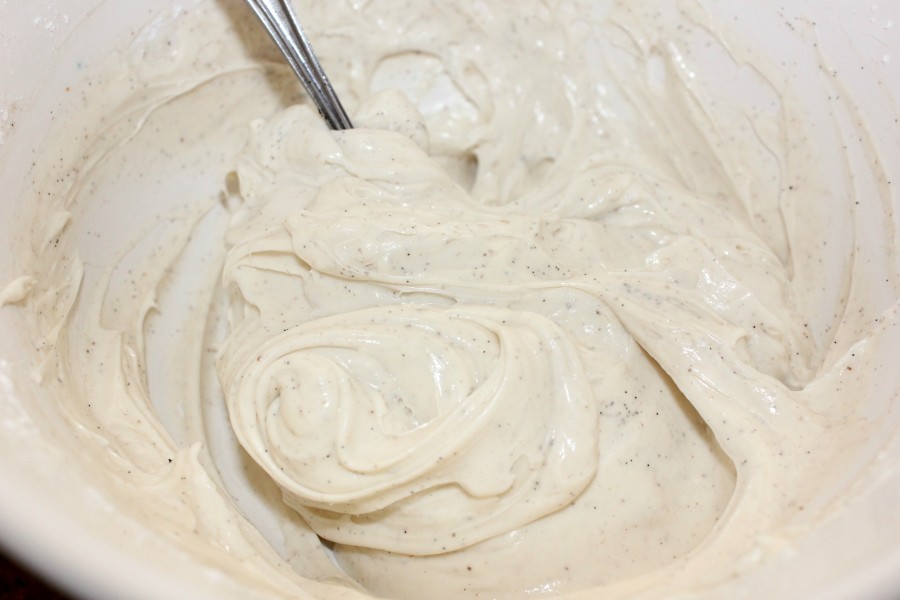 Spread the frosting on the cooled bars.  Store these in the fridge for freshness..and they're awesome cold!
And eat up~  these are SO..SOoooo good!  ~Enjoy!  🙂