If you ever find yourself in need of a simple, yet unique and totally tasty treat that will completely wow a crowd of two or 20, you're in luck.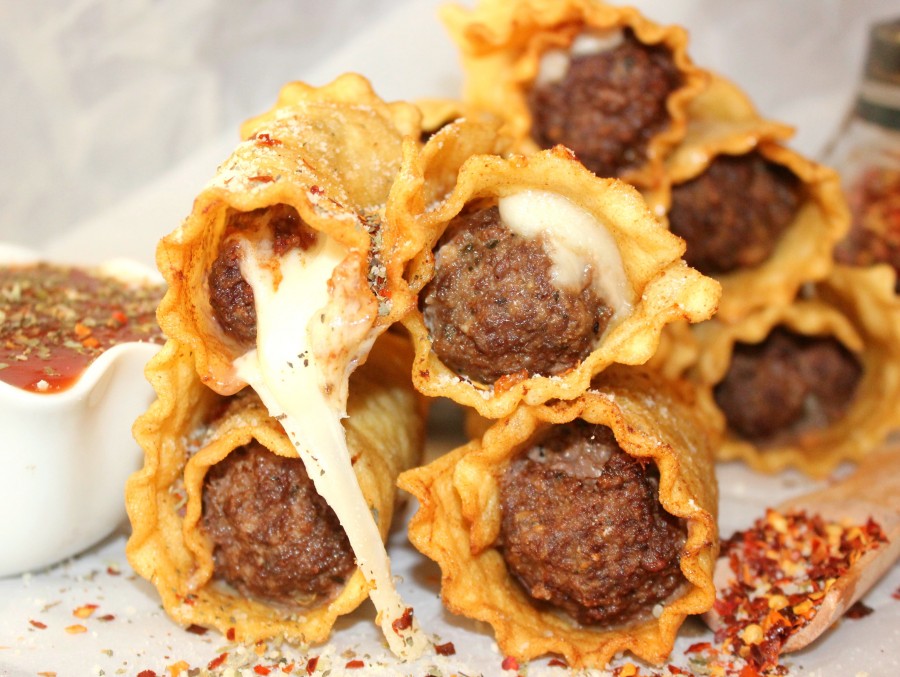 Sometimes we find ourselves making the same three recipes over and over… and OVER, especially when it comes to our snacks. I decided to jazz up the savory-snack department by adding some yummy Italian flair, in the easiest and most delicious way ever.
First of all, who doesn't love lasagna? I mean, what's not to love? It's cheesy, savory and simple. Now you can enjoy lasagna in a whole new way – a whimsical, fun, finger food two-biter that will leave your guests in awe.
Each lasagna bomb is stocked and ready to fire with a seasoned, cheese-stuffed meatball, wrapped in crispy lasagna noodle armor. Keep the safety on until you're sure you've made enough, because once these detonate there's no recovering. Bombs away!
What you'll need for 12-15 meatball lasagna bombs:
1 lb. lean ground beef (approx. 12–15 1″ meatballs)
1 egg
1/4 c. grated Parmesan oregano and red pepper flakes for seasoning salt and pepper
1lb. block of mozzarella (cut into approx. 12–15 1″ cubes)
lasagna noodles (approx. 8 noodles, or one 1/2 sheet per every meatball)
oil for frying (at least 3″ of oil in the pot or fryer)
marinara sauce for dipping
toothpicks
Directions:
In a large bowl combine the beef, egg and Parmesan.
Season with the oregano, red pepper flakes, salt and pepper. Mix well.
Cut the mozzarella cheese into cubes and set aside.
Roll the meatballs into approx. 1″ balls.
Place one cube of cheese in the center, making sure the cheese is secured inside the meatball.
Boil the noodles until they're tender.
Cut each noodle in half.
Place one stuffed meatball onto a noodle and roll it up. Secure with a toothpick.
Add at least 3″ of oil into a pot or fryer.
Make sure to leave plenty of room at the top of the pot for the oil to expand.
Heat the oil to 350º.
Place each lasagna bomb into the hot oil.
Fry until it's golden on all sides and the meat is fully cooked through.
Serve them up with some marinara! Enjoy!
"I partnered with @CenturyLink for to create this #EpicSnack"
This post was created for CenturyLink Prism TV's Epic Snack campaign.