Have you ever noticed that most of the cheese balls around are simply just savory balls of cheese…lol?  I know..I know, there are some sweet-ball versions out there, but why hasn't there ever been a cheesecake cheese ball, since it's umm..you know, cheesecake!?
These are the questions that keep me up at night…haha.
Anyway~  I took it upon myself to solve that cheesy mystery and create a cheesecake ball that's simply a ball of uh..CHEESECAKE..and it was AMAZING!
I'm talking about everything we know and love about cheesecake all balled up in everything we know and love about cheese balls.  🙂
This beautiful ball is filled with all things cheesecake and a few yummy extras as well, such as toffee bits for crunch, dark chocolate chips for sweetness, and a delicious cascade of cream cheese caramel for good measure.  Top the whole thing off with a shaving of chocolate and some graham cracker crumbs, and call it a day.
What you'll need:
A bowl, I used a soup size bowl
1-8oz. cream cheese
2 cups of cheesecake filling
1 tbsp. almond extract, vanilla will work too..but the almond gives this an incredibly special flavor.
1/2 cup powdered sugar
1/2 cup toffee bits
1/4 cup dark chocolate chips
1 cup graham cracker crumbs
1 cup white frosting
1/2 cup caramel topping
graham crackers for dipping
Directions:
In a food processor, or with muscles and frustration, mix together the cream cheese, cheesecake filling, extract, and powdered sugar until well combined…
Now fold in the chocolate chips and the toffee bits…
Line the bowl with some plastic wrap, and pour in the filling.
Press it down with a spoon so it forms to the bowl…
..and top it with some of the graham cracker crumbs…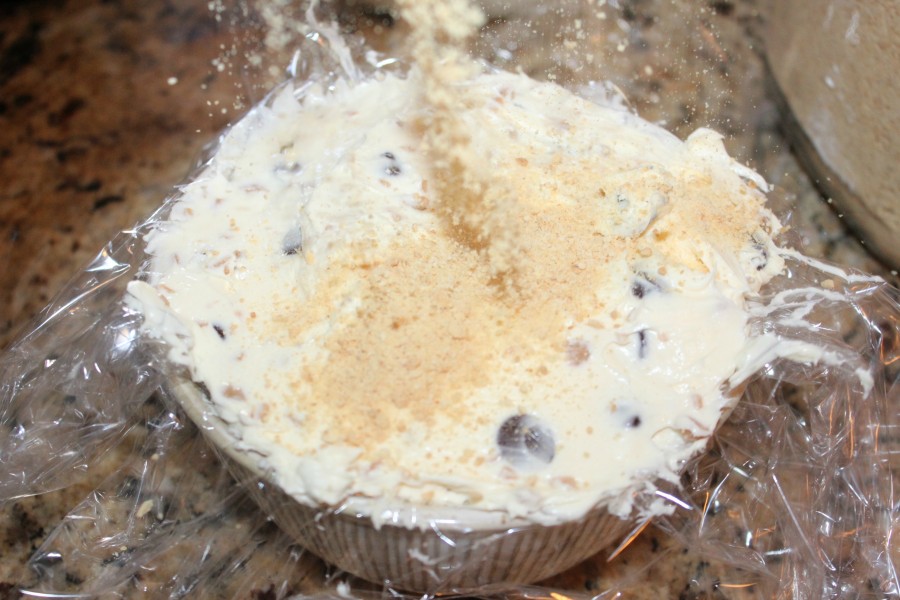 Fold over the plastic wrap so it's covered, and place it into the freezer for at least an hour…
Now mix up the frosting and the caramel …
Remove the cheesecake ball from the bowl and plastic wrap.  Place it onto a plate and pour the frosting all over the top…
Shave some extra chocolate onto the top if you'd like, because chocolate…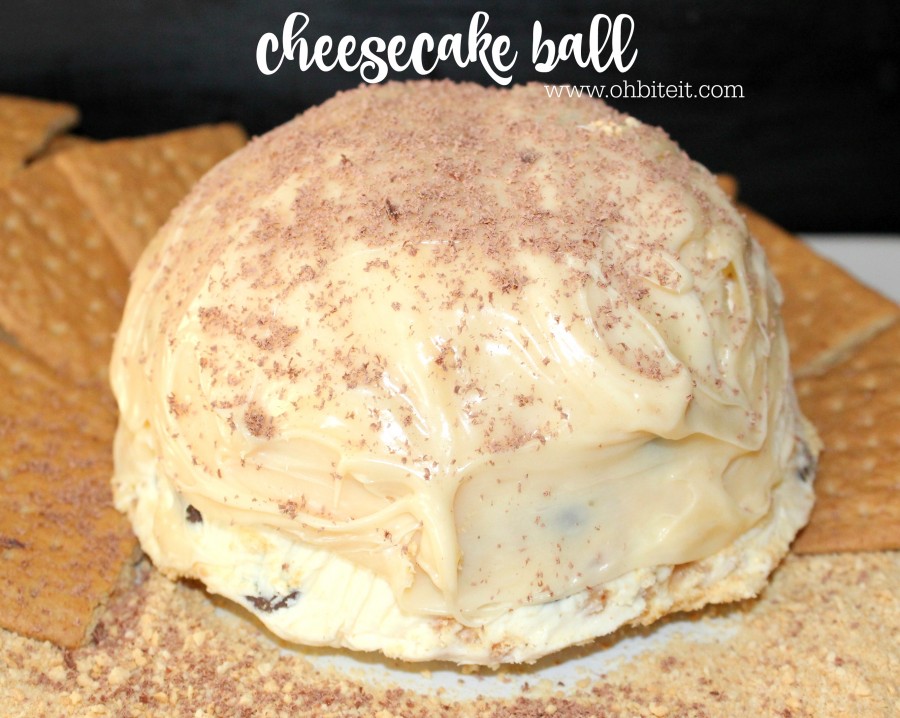 Now the time has come to serve it up…YAY…
And EAT it up!  ~Enjoy!  🙂