We've all heard that timeless saying "less is more' and sometimes that is true …  and then there are times when more is…more.
THIS is one of those times.  🙂
And what a delicious time it is.  Why?  Well, because we're talking about cinnamon rolls.  Sweet, sticky, ooey-gooey, dripping in frosting cinnamon rolls.  And when it comes to cinnamon rolls, more is always more.
I'm talking about a giant cinnamon roll, the size of an average pizza…topped with melty cinnamon chips, and speckled with yep~ mini cinnamon rolls, because every pizza needs a topper…lol.
And let's not forget about just a 'little' more frosting…
so it does ..this…
In a matter of minutes, you can impress everyone at the table as you serve this one of a kind, whimsical and delectable dessert pizza.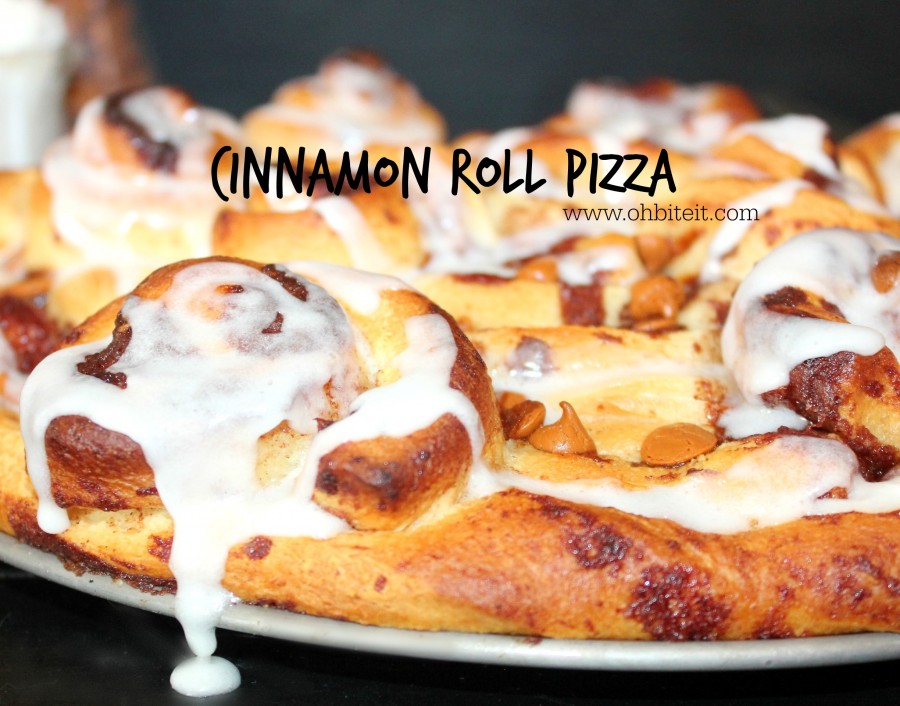 What you'll need:
1-10″ pizza pan
2 containers of pillsbury GRANDS cinnamon rolls with included frosting
1 cup of cinnamon chips…optional
Directions:
Unroll each roll, and slice it down the center, evenly in half…
Now, simply spiral the cinnamon roll strips all the way around the pan, creating a giant cinnamon roll…
Top it with the cinnamon chips…
Repeat the process of splitting the rolls and this time create tiny cinnamon rolls, place them onto the pizza…
Bake it at 350 degrees for approx. 12-15 minutes.
Let it cool for a few minutes,..
Top the warm pizza with the frosting…
Take it all in…
Slice it up…
Plate it up…
And DIG IN!  ~Enjoy! 🙂