I think Peaches could quite possibly be my favorite out of all the stone fruits~
Whole Foods Market does the work of finding the "best of the bunch" for me and keeps there produce area stocked with ONLY the best of the best.  There won't be any fruit roulette as you pick and choose your peaches…  Each peach is fresh, and ready to bite into.  However, sometimes it's fun to create with them too, especially in the summer when light, cool & refreshing treats are a must.
Peaches are my go-to fruit for all things dessert..I mean yes, they have a 'stone' in the center.. but they totally make up for it with their sweet, generous-juice deliciousness.  🙂
~ Not to mention their versatility.  What a fun addition to your summertime BBQ by tossing a few peaches onto the hot grill, or jazz them up in the easiest way ever with these super simple, yet super impressive Peaches & Cream Dumplings.
Thanks to Whole Foods Market's affordable food choices and produce.. I've been 'peaching' up a storm!
This time, I decided to make an upscale, 5 star-ish, classy dessert that even the snootiest of guests would enjoy..LOL!  So unlike me, I know~ but hey…it was still super simple, and didn't require any real measuring, soooo!
Actually, the "result to effort" ratio of this little summertime treat is off the charts, and makes no real sense.  These beautiful babies take less than 15 minutes from prep to lips and deliver the most scrumptious treat ever!
A warm, buttery and golden sugared crust gently hugs a 'bursting at the seams with juice' peach that's been filled with the sweetest cream cheese filling you can imagine.
They're the perfect way to end a meal on the patio OR a family/friend gathering indoors.
What you'll need:
Pillsbury Grands flaky Layers Biscuits…one per Dumpling
Fresh Whole Foods Market Peaches..one per Dumpling!  Peaches not your thing?  …no worries, Whole Foods Market also offers top quality plums, nectarines, and apricots..all of which will make awesome dumplings.
1 cup of Cream Cheese..softened
1/3 cup Powdered Sugar
Decorative Sugar..or regular will work too
1 Egg mixed with a splash of water for egg wash
Directions:
In a medium bowl, mix together the Cream Cheese and the powdered Sugar..set aside
Slightly roll out a biscuit. just to even it out.
Slice up the peaches, and gently remove the pit.  Replace it with a scoop of the Cream Cheese filling, just one side of each peach…
Put the Peach back together and place it in the center of the biscuit…
Fold the dough over, and wrap it around the peach…
Seal it up by pinching the dough together…
Place it seam side down on a sheet pan, and brush the tops with the egg wash…
And a nice sprinkle of Sugar…
Bake them at 350 degrees for approx. 12 minutes, or so..just until they're puffed and slightly golden.
Let them cool, the peaches hold LOTS of heat…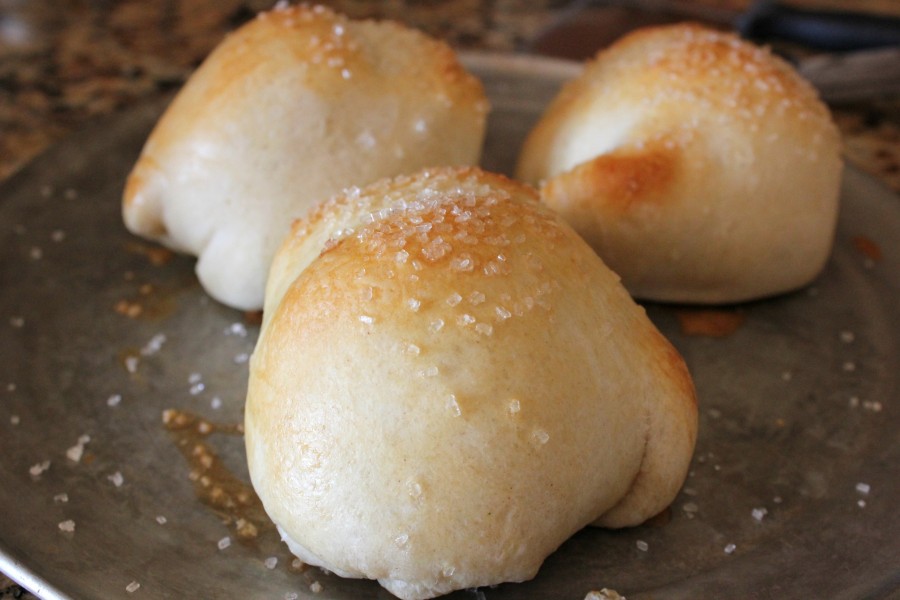 Cut them open to reveal their sweet beauty.
And check out Whole Foods Market across social as well:
FACEBOOK > TWITTER > PINTEREST > INSTAGRAM > YOUTUBE
Eat them up!  ~Enjoy! 🙂