Once in a while when you're cooking with top quality ingredients and super generous portions, leftovers are simply gonna happen~  I mean a little goes a long way when you're enjoying the fresh flavor of high standards..lol.
Case in point:
These Kansas City BBQ Dry Seasoned Ribs by Smithfield.
~That's right!  Perfectly seasoned, prime fresh pork, fall off the bone Ribs, delivered to my door, and on the table in a matter of minutes.  Yes, minutes..!
How is that possible you ask.  The answer is simple!  Smithfield Dry Seasoned Ribs are ready to go.  And when I say ready to go, I'm taking about fully seasoned, top quality, dry rubbed ribs just waiting for your grill OR yes, oven.. to bring them to life.  One bite of this succulent rib meat, and even you won't believe that they didn't slow cook all day long.  They're THAT good.
Something else that's good is when you can take that decadent, rich rib meat and create an entirely new and delicious dish out of it.  yep~  who would've thought that in under 30 minutes, this scrumptious Smithfield rib meat could come to life yet again in a unique, simple, and oh, SO amazing way.
Each of these Spare Rib Roll-Ups are bursting at the seams with juicy rib meat, authentic Kansas City BBQ flavors, and a presentation that will impress the same crowd all over again.
Grab yourself some of these incredible Smithfield Dry Seasoned Ribs and take those leftovers to the next level of ahhh-mazing.
What you'll need (amounts will depend on your amount of leftovers): 
The meat of leftover marinated fresh pork Smithfield Dry Seasoned Ribs (I used the Kansas City BBQ variety)
Lasagna noodles.. as many as you'll need.
1 cup Original BBQ sauce..divided equally
Provolone slices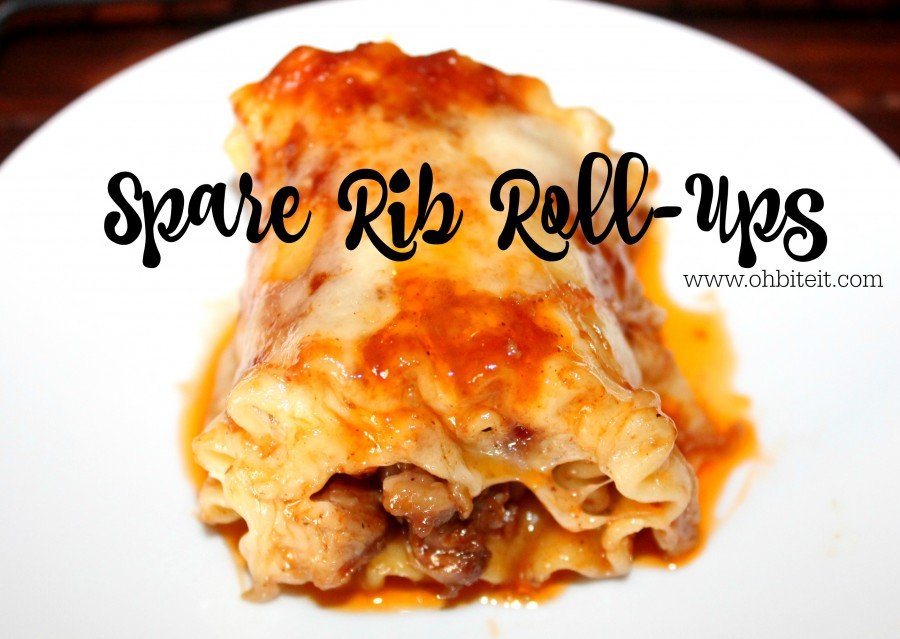 Directions:
Prepare the ribs (according to the package instructions)…
Reserve those rich, mahogany cooking juices…
Now make sure the rib meat is cool…
Cut the ribs accordingly… and just look at that perfectly spiced, tender and succulent rib meat…
Remove all the meat off of the bones, and cut the meat into small pieces…
Add 1/2 cup of the BBQ sauce into the reserved meat juices..
..and mix it well to combine…Now, add in all of that rib meat, stirring evenly to coat.
Boil up the lasagna noodles until they're almost fully tender…
Add a thin layer of the reserved BBQ sauce to the bottom of the pan…
Now, add approx. 1 tablespoon or so of the meat to the end of a noodle…
Roll it up…
Place it into the pan, seam side down…
Top them each with the reserved BBQ sauce…
And now top them with that Provolone…
Bake at 350 degrees for approx. 15-20 minutes, or until the cheese is slightly golden and they're hot all the way through.
Serve them super warm… So they do..THIS…
And plate them UP…
Listen for the Oooh's and Ahhh's, then dig IN!  ~Enjoy! 🙂
Be sure to check out Smithfield across social~
FACEBOOK . TWITTER . YOUTUBE
This is a post sponsored by Smithfield Foods, however all opinions and content are my own.