Having the opportunity to try out various products is pretty common around here, and I'm always so grateful for the chance to share what I like with you.  But…it's a rare and beautiful day when a terrific trifecta of treats comes a'knockin' on my door, and today was that day.  🙂
In one glorious box, I was introduced to 3 incredible brands that offer top quality tasty treats that you can feel good about sharing with your family and friends.
Let's start with Heavenly Organics~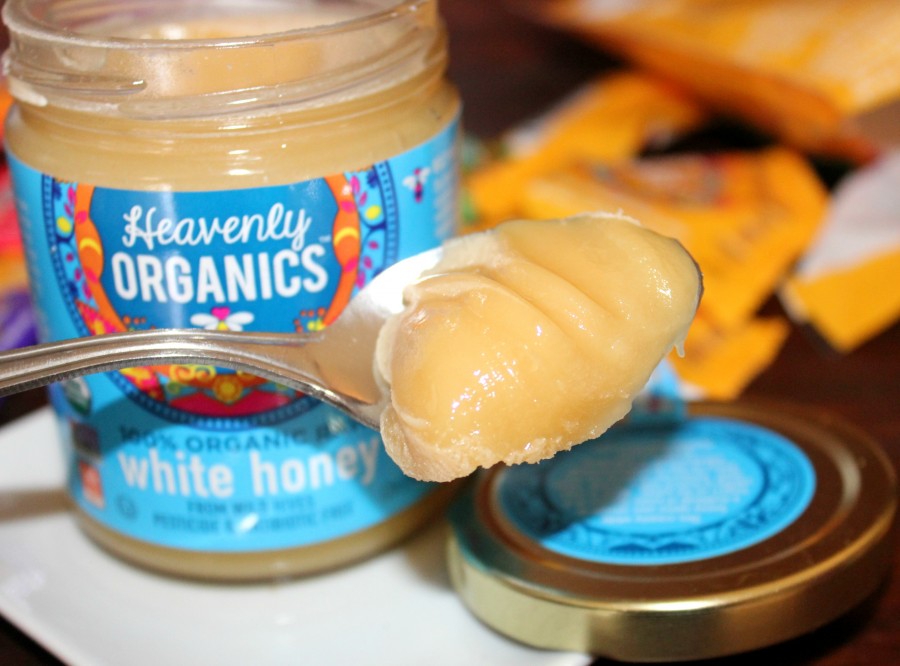 The name is correct, these products are nothing short of heavenly, and the quality and love that's put into each one is evident in its unique and rich flavors.
"For over 35 years, Dr. I.S. Hooda had cultivated relationships with small farmers to help preserve traditional and sustainable organic farming methods while helping them earn a living from selling their delicious organic goods.
In the untouched forests of India live wild beehives that contain the most pure and delicious honey varietals known to humankind.
Amit's father was an integral influence in developing a sustainable, bee-friendly and smoke-free method of extracting the honey and worked with local honey harvesters to teach them this method.
Amit eventually decided to pursue a higher education in the United States. His parents encouraged him to attend the Maharishi University of Management (MUM) in Fairfield, Iowa to continue his studies and spiritual growth (MUM is consciousness-based education, where all students practice the Transcendental Meditation method and study traditional academic programs). While attending school and studying Computer Science, Amit and his father continued talking about how they could help eliminate conflict in areas of Northern and Central India and parts of the Himalayas, where conflict was still present.
They came up with the premise that the only way to eliminate conflict is to provide the people in these areas with ethical job opportunities.
The duo saw the potential in combining this idea with Amit's father's organic agriculture projects, and the idea of Heavenly Organics was born"
Check out Heavenly Organics all over social as well:
Next we have True Made Foods ~
Talk about a sauce and ketchup lovers' dream come true..  If you like to dip, dive, delve into delicious sauces… check this out!
"True Ketchup taste made with real vegetables. True made ketchup has an amazing ketchup flavor, but every bottle is made with over a cup of real vegetables: Spinach, Carrots and Butternut Squash. By using vegetables we are able to cut the added sugar in half, giving us half the sugar of Hienz with all the flavor. Non-GMO, Gluten Free, Vegan."
Check out True Made Foods across all social as well:
FACEBOOK > INSTAGRAM > TWITTER > YOUTUBE
And last, but NOT least..we have Sonoma Syrup Co.
This is the place where you can enjoy the best of the best extracts, syrups, and even olive juice in the classiest, and most top quality way ever.
"In Northern California's Wine Country, exceptional ingredients, terroir and artisan blending are essential in the crafting of world-class wines and memorable meals. At the Sonoma Syrup Co., we apply these principals to our artisan culinary products.
Founded in 2002 by Karin Campion, Sonoma Syrup Co. is steeped in the regions culinary tradition of naturally derived, high quality flavors and healthful ingredients. Handcrafted in small batches, the uniquely American syrups and extracts reflect the flavors and sensibility of the region.
A lifelong California resident, Karin created the Sonoma Syrup Co. to capture and share the quintessential flavors of Sonoma. She is involved in the specialty food business and developed the Infused Simple Syrups from her own kitchen garden.
Karin studied architecture and gardens in Rome, Florence, Nantucket and in Southern California. She develops specialty foods for a variety of market segments as a culmination of her broad experience with botanicals, cooking, design and family life with her three sons.
As we develop new varietal flavors of botanically Infused Simple Syrup and other artisan culinary products, we encourage people who love to cook – both at home or in the professional kitchen – a taste of the principal of terroir and artisan blending, which have resulted in our extraordinary American Artisan products.
aboutfooddivider
We care about what you put in your body and believe that 'healthy beverages' and 'great flavor' can live in synchronicity. A little bit of sugar is a luxurious indulgence — so we take our product, the people we touch and our purpose personally. We do this by being:
KIND, TRUE & SMART with the terroir. The journey our syrup makes to get to you is a sustainable one. Our bottles are made of recyclable and compostable materials. We handcraft in small batch kettles. We source locally and organic as much as possible and are on our way to non-GMO verification.
SIMPLE, PLAYFUL. We go all-out and aim for your Sonoma Syrup experience to be sunshine infused and smile inducing with each delicious all natural flavor you try.
REAL, PURE, AUTHENTIC. Our real fruits are natural and picked from organic orchards, fresh botanicals from organic gardens. Our sugar is pure cane. We strive to be as authentic and genuine as our fresh all-natural flavors and use only ingredients made by nature."
Check out Sonoma Syrup Co. across social as well: