Well, here we go again…  with another fun, mini, pop in your mouth version of an otherwise big, attention grabbing mess of a meal..haha.
This time I focused all of my attention on poutine.  Ahh yes, ~ Poutine.. that incredible pile of fries, cheese…and gravy that could easily shame even the most daring of snackers,, if not by the mess they make, definitely by the sheer volume of the stuff that can be consumed in one sitting..lol!
I thought it would be cute and a little less embarrassing to eat 5 pounds of it, if I took everything we know and love about poutine, and made it super cute, super delicious, and super easy to sneak into your mouth.  That's right, now you can enjoy all the succulent elements of typical poutine, minus the huge plate, fork, napkins, and a chin full of gravy.  Well..there still might be some gravy on your chin, but you won't care.
Each crispy and tender poutine popper is bursting with melty cheese curds, coated in potatoes (chips), and then shamelessly plunged deeply into a glorious pool of warm brown gravy.  yeah~  um..make LOTS!
What you'll need:
2 cups of crushed potato chips
24-1″ cubes of FROZEN cheese curds..or just cut up a block of regular cheese if you can't find authentic curds
brown gravy for dipping
1 cup all purpose flour
2 eggs
oil for frying..I used canola
Directions:
Freeze the cheese curds for at least 2 hours, or overnight if possible
Crush up the chips…
Add the eggs, flour, and crushed chips into separate shallow bowls.
Coat the cheese in the flour…
..then the egg…
And then generously into the crushed chips…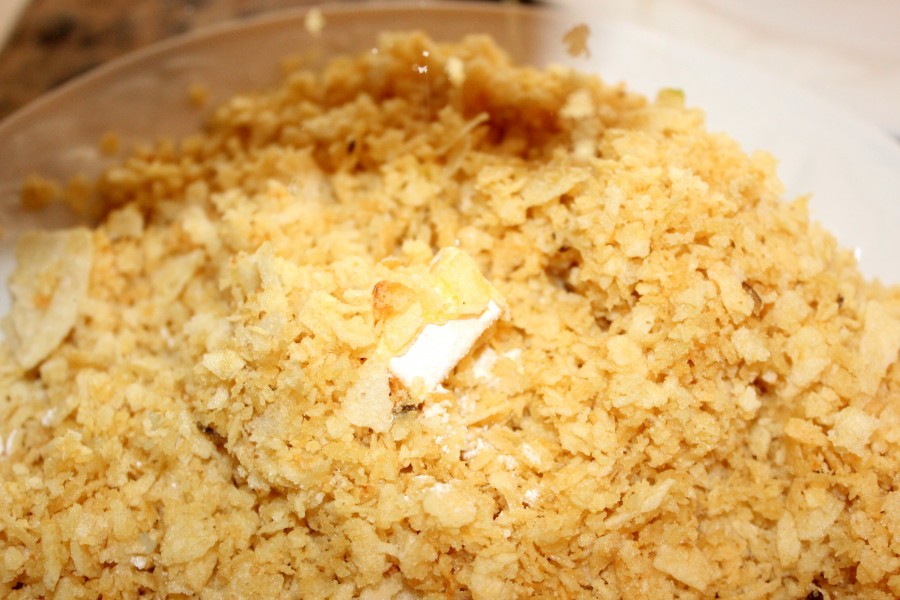 make sure you work quickly so the cheese stays frozen, or you can pop them into the freezer as you continue to prepare the rest of them…
Now fry them up a few at a time in the hot (350 degree) oil, until golden…
Serve them warm…
..with lots of warm brown gravy for dipping…