Being the noodle lover that I am, when I was given the opportunity to try out some FORTUNE Asian Noodles by JSL Foods, I didn't waste any time digging in.  Right off the bat, I was pleasantly surprised by how incredibly easy it was to create such a fun and delicious dish with these noodles due to their sheer quality and convenience!
NOODLES
"Now enjoy the finest restaurant noodles at home. Let Fortune be your choice. Fresh, pre-cooked,cholesterol-free, MSG free and ready to serve in just minutes. Find them in your grocer's refrigerated produce section.
Inspire any recipe. Add vegetables, protein and Fortune Yakisoba Stir Fry noodles with sauce packet and within minutes you have a complete nutritious and delicious meal without a lot of effort. Stir fried or microwaved, their versatility and great taste always satisfies whether it be Asian or fusion. New — now made with 100% natural ingredients!
Our Udon Fortune noodles are perfect for those wonderful, quick soups in five flavor packets. Pre-cooked and microwaveable, they fit easily into busy family lives. Fortune Udon noodles are nutritious with no MSG, no cholesterol and fortified with Omega-3.
Fortune Noodles – your partner in all of your noodle recipes."
Annnd of course, I wasn't going to eat them in a typical, expected way…oh no, I wanted to create a fun, original, and whimsical way to enjoy this typical dish in a deliciously extraordinary way.  And I think I did just that.
These fun little pad thai poppers deliver everything we know and love about pad thai, in the most crispy-tender party-ready way ever.  Each popper provides a unique crispy-crunchy noodle, lovingly wrapped around a juicy, tender chicken nugget, only made better by a little plunge into a creamy peanut dipping sauce.  OH yeahhh!
Make LOTS, and be sure to check out JSL Foods on Facebook as well as TWITTER!
What you'll need for approx. 2 dozen perfect pad thai poppers:  (Supplies for this recipe were purchased at Smith's/Kroger)
1 lb. chicken tenders cut into 1″ cubes
1 package of Rice Noodle Gluten Free noodles.. Thai Peanut flavor
Oil for frying.. I used canola
Peanut Dipping sauce.. I used store bought
Directions:
Cut the chicken into approx. 1″ cubes, set aside..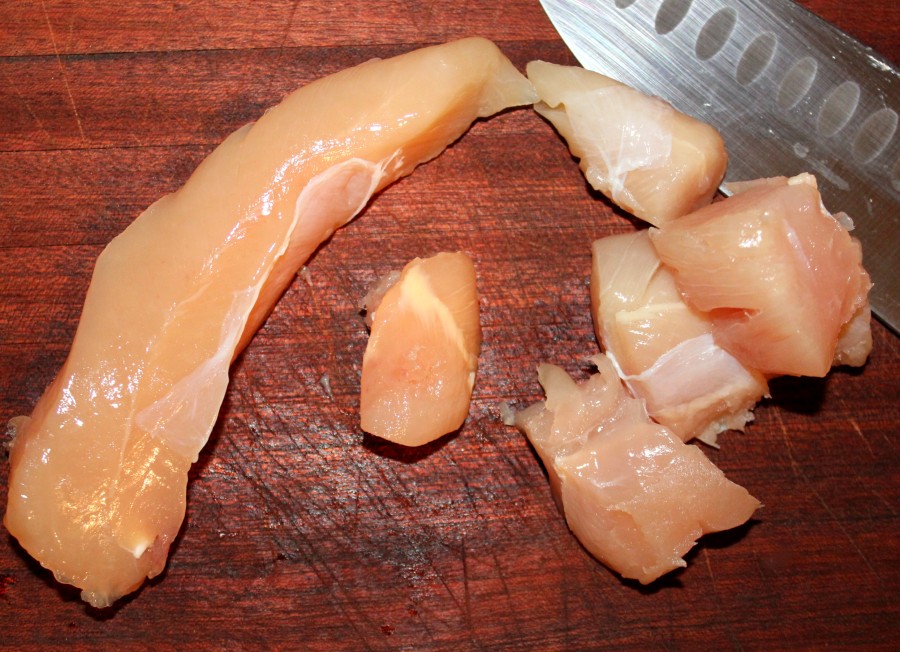 In a shallow pan, cook up the noodles according to the package instructions, set aside..
Now, add approx. two inches of oil into a shallow pan and heat it up.
Take one if the chicken cubes on the end of a fork, and wrap it with the cooked and seasoned noodles.  This doesn't need to be perfect, just get some of the noodles around each piece of chicken and when it hits the oil, they will stick..
Fry each side in the shallow oil, just until they're slightly golden in color..
Prepare your dipping sauce, and serve them up!  ~Enjoy!  🙂