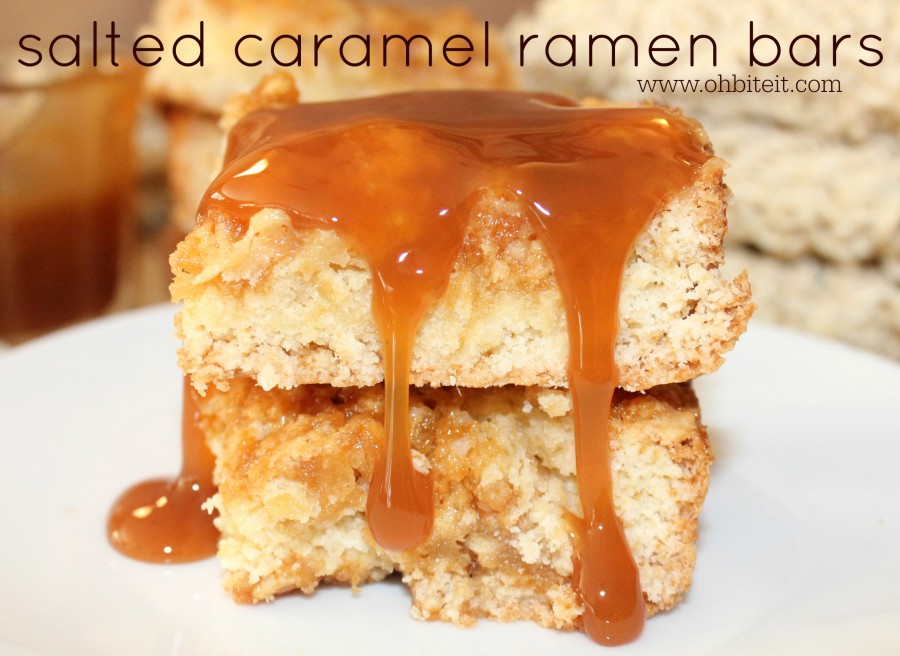 Is there any better go-to food than Ramen..?  Seriously? I mean, you like to save money, you also need to eat, you need energy, and spare time is not an option since you probably REALLY also need to get to work..lol.
Anyway, Ramen has become a household staple best known for is affordability and versatility.  These bars are proof of that.  Each bite is tender and sweet with that incredible flavor punch of salted caramel.  They're satisfying, super tasty, and that ramen totally jazzes them up and is the star of the show.
I learned that not only is Ramen affordable, but it also serves as an incredible ingredient in sweet treats.  It stays tender, yet crispy and totally lets each bite shine through with its subtle flavor.  Not to mention that it's super cheap and unique, and whimsical, and fun, and tasty..and cheap, very cheap…CHEAP!  🙂
Make a batch of these bars and show everyone what they've been missing.
What you'll need:
9×9″ square pan for thicker bars.. OR 9×13 if you want thinner bars.  sprayed generously with non-stick spray
3 blocks of Ramen noodles (OR approx. 2 cups of crushed Ramen noodles) ..MINUS the flavor packet!!  
1-15.25 oz. box of cake mix..white or vanilla
1/4 cup butter ..melted
1 egg..to be added to the cake batter.
1/4 cup caramel
1 tbsp. salt
Directions:
In a med bowl combine the cake mix (with included egg) & butter..mix well, then fold in the crushed Ramen..about 2 cups or so… it will be thick.
Add the batter into the pan and flatten it down so it has an even thickness…then pour the caramel sauce over the top, swirling it around with a knife so it's pretty…
Then sprinkle it with some salt..
Bake it at 350 degrees for approx. 20 minutes, or until it's firm and cooked through.
Serve it up…
Top it with some more caramel if you'l like, and maybe another sprinkle of salt for that extra flavor POW!  ~Enjoy! 🙂