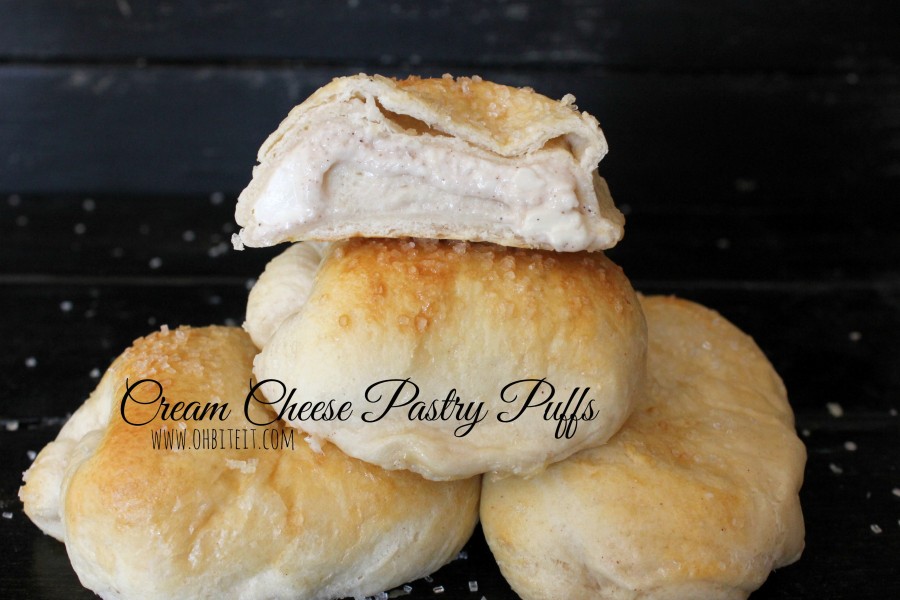 Once in a while a recipe comes along that's like the food equivalent of a "duh moment"…a sweet, simple, why didn't I do this sooner..DUH moment!
This is one of those recipes, it's so simple, yet so amazingly delicious, I should've done this years ago!  But, I'm having no problem making up for lost time now..lol!
Warm, buttery and flaky dough puffs are filled with cinnamony cream cheese and topped with a subtle dusting of coarse sugar for the sweetest crunch!  They literally melt in your mouth and leave you wanting more~many, many more!
~Whip up a quick batch the next time you need an impressive and succulent little dessert treat, any time of the day!
What you'll need:
1 container of Pillsbury Grands Flaky Layers Biscuits (8 count)
8 oz. Cream Cheese ..softened
1/2 cup Powdered Sugar
1 tsp. Cinnamon
1 egg mixed with a splash of water for egg wash
Decorative Sugar for toping…regular Sugar will work too!
Directions:
In a medium bowl combine the cream cheese, powdered sugar, and cinnamon until it's well blended, but don't mix it so much that it's runny (if that makes sense..lol)…
Roll out  each biscuit just so it's even and flat, place a heaping teaspoon or so of the cream cheese filling into the center of the biscuit…
Gently fold over each side, then roll it up, making sure to seal it up as you roll…
Place them onto a parchment lined sheet pan and brush them with some egg wash…
AND..a glorious sprinkling of the sugar…
Bake them at 350 degrees for approx. 12-15 minutes, OR until they're golden, and a little puffy.
Let them cool, in fact..these are amazingly great with a little chill on them from the fridge!
You can even freeze them and keep them on hand as little ready-to-go dessert gems for family and friends that stop by!
Or for you to grab and go anytime you 'need' one..or two!
~Enjoy!  🙂