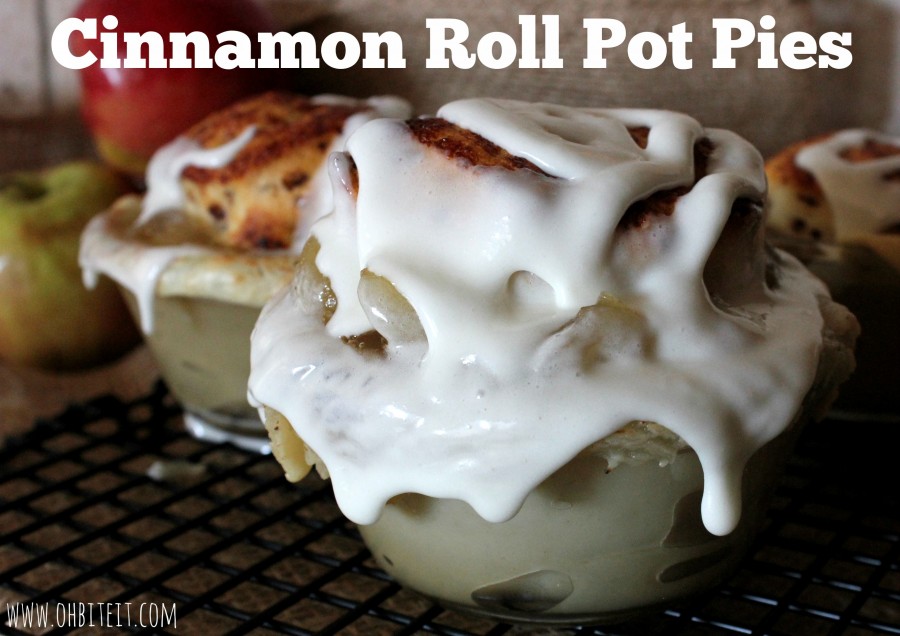 Oh my gosh~  A one bowl, single serving wonder of a decadent dessert dream come true!  Your very own Cinnamon Roll Pot Pie!  No sharing, no fighting over who gets that perfect bite~ nope, this is ALL for YOU!
A warm, buttery and flaky Pie Crust is filled with sweet Lucky Leaf Premium Apple Fruit Filling and Topping, lovingly topped with a gooey, warm and tender Cinnamon Roll dah-ripping in icing!  Can you say..WOW!
These fun and unique pot pies are so succulent, and so special, thanks to the top quality flavors and attention to detail that Luck Leaf has given us in the form of sweet and tender apples.  In a matter of minutes, all you will hear are oooh's and ahhh's coming from your dessert table.
~Make a batch of these unique little desserts and you will feel the love for sure!  🙂
What you'll need for 8 Pies:
Small oven-safe 8 – 3″ oven-safe small bowls
1 container of Pillsbury Grands Cinnamon Rolls (8count)
1 (2 count) box of Refrigerated Pie Crust
1-21 oz. can of Lucky Leaf Premium  Apple Fruit Filling and Topping
Directions:
Roll out the Pie Crus and use one of your little bowls to cut out each crust.  Place each crust dow into the bottom of the bowls, pressing gently.
Par-bake the crusts for approx. 10 minutes, remove to cool.  (I tried it par baked and not par baked..the par baked is BETTER!)
Now fill each Crust with a nice scoop of the Apple Pie Filling, just up to the top…
Top the filling with one Cinnamon Roll.
Bake them on a sheet pan for approx. 15 mites, or unit the Cinnamon Roll is golden and the filling is bubbly…
They will smell AHH~MAZING!
Let them cool so you don't burn your tongue off…
Now you can drizzle them with that enclosed Icing….sigh…
That's right, don't be shy…
Grab a plate…
You know what to do…
Dig in!  ~Enjoy!  🙂
Be sure to follow Lucky Leaf all across social media, and send them your LOVE! 
FACEBOOK > PINTEREST > TWITTER > YOUTUBE
This is a sponsored post, however all opinions are my own.