We're in the middle of a new world of doughnuts..a revolution of that round, fluffy, sweet disk of deliciousness, and it's a great time to be alive I tell you.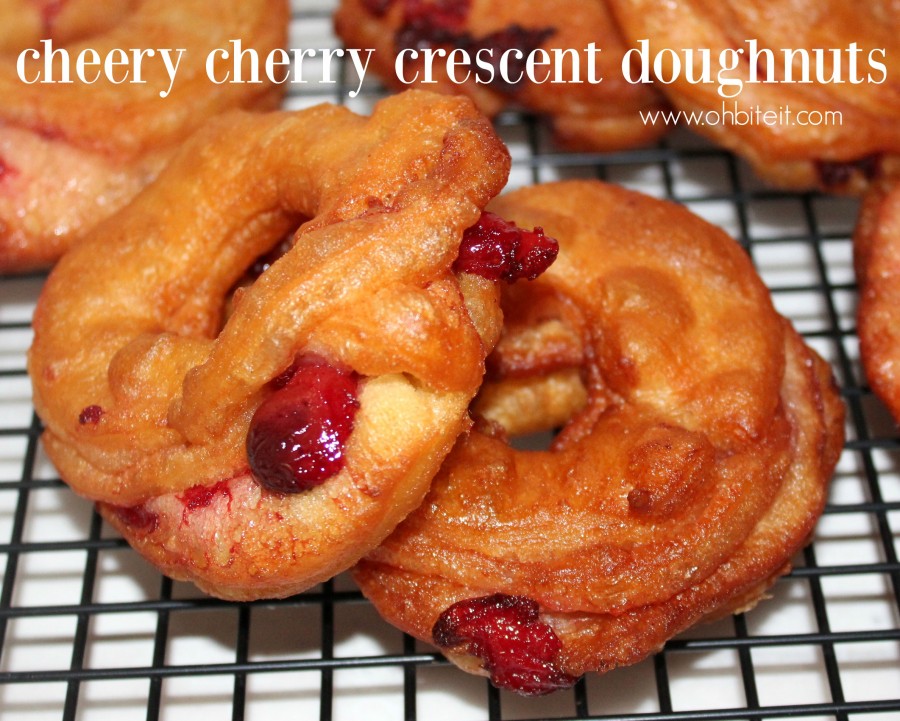 Back when I was a kid (Oh jeez).. I think there were like 5 kinds of doughnuts (maybe)..haha!  NOW~  now there's every kind of doughnut you can imagine, and it's glorious.
Thanks to the quality and ease of Lucky Leaf Premium Cherry Fruit Filling & Topping I was able to create a doughnut like no other.  It's true.  Take a look at all of the layers upon layers of buttery crescent doughnut mixed with these beautiful and deliciously plump, sweet, cherries.
The quality that Lucky Leaf provides is beyond compare!
"What We're Made Of:
What do you call a grower-owned company who made its name by making high-quality easy-to-use dessert products? Lucky Leaf, that's what. Since 1949 we've stayed true to our mission of providing bakers with simple, delicious products to make their lives a little easier.
At first, we focused on Lucky Leaf Apple Sauce. As times changed, and the world started moving at a faster pace, people stopped having time to make pies from scratch. That's when we decided to step in and help. To take care of the apple-peeling hand aches, we started producing ready-to-use apple fruit filling. In no time, it hit the shelves and good ol' apple pies were back in the oven.
America's appetite for Lucky Leaf grew, so we expanded our line of flavors. Today you'll find Premium Cherry, Apple, Blueberry, Peach, Lemon, Red-Raspberry and many more in your grocery store.
60 years later, we still say "make it easy, make it delicious, make it with Lucky Leaf," and we'll continue to improve and expand upon our customers' needs for years to come.
The Lucky Leaf Label History
Although rare, you may have spotted the original four-leaf clover Lucky Leaf label at one point in your life – perhaps in your grandma's kitchen when you were a kid. Since the original 1949 design, the label has gone through three additional changes to keep the brand as fresh as its fruit fillings."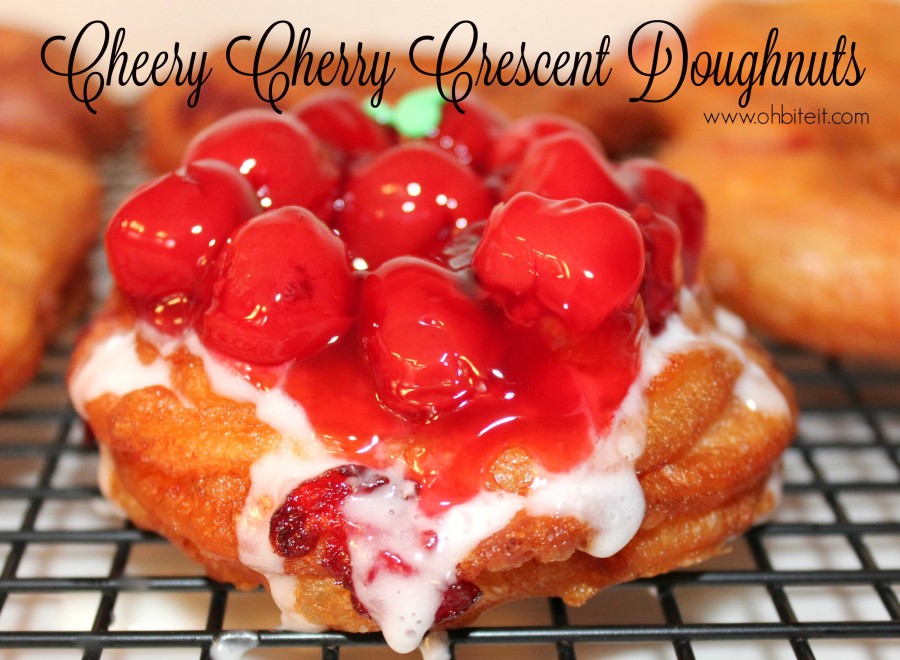 BUT, I have to say..out of all the new-age doughnuts, my ultimate favorite is the cronut style, multi layered, gooey filled fantasy come true.  I've taken this style doughnut to savory levels, sweet levels and now…fruity levels and they're all to.die.for!  And perfect for the holidays!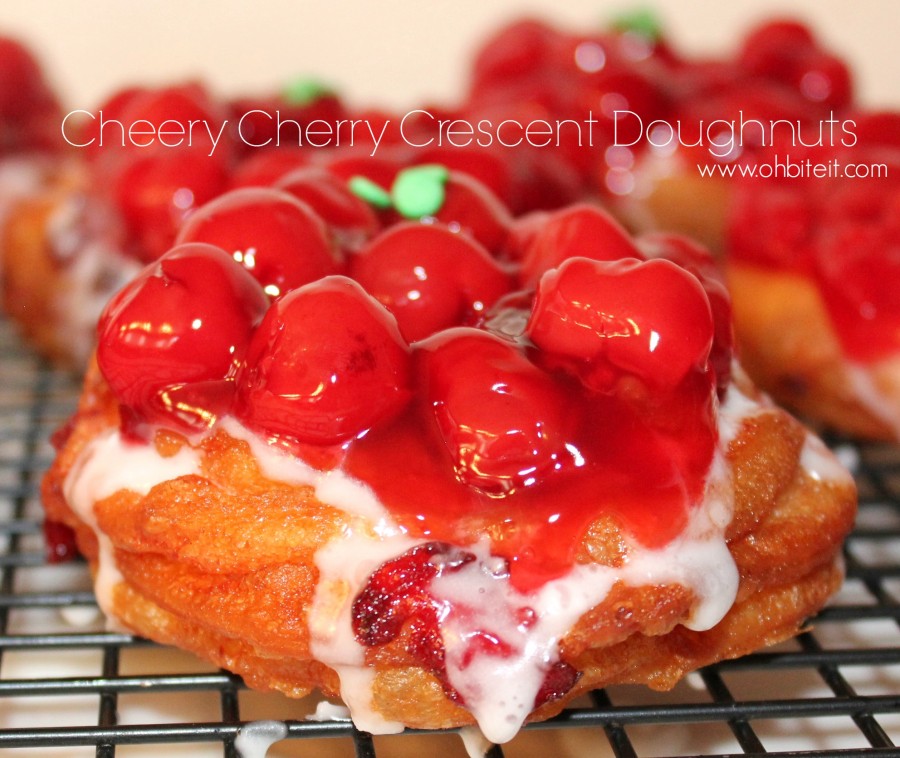 This time, I thought it would be delicious to incorporate cherries into the light and layered doughnut mix and did it ever take them to another level of scrumptiousness.
Each cloud-like bite is filled with buttery crescent dough greatness, and layer upon layer of sweet and sassy filling.
Top them with some glaze and now, there's no going back!
What you'll need:
1 container of pillsbury seamless crescent dough
1-18 oz. can of cherry pie filling/topping
1 cup of vanilla frosting
1-3″ round cookie cutter
green candies for decoration/// optional
oil for frying..I used canola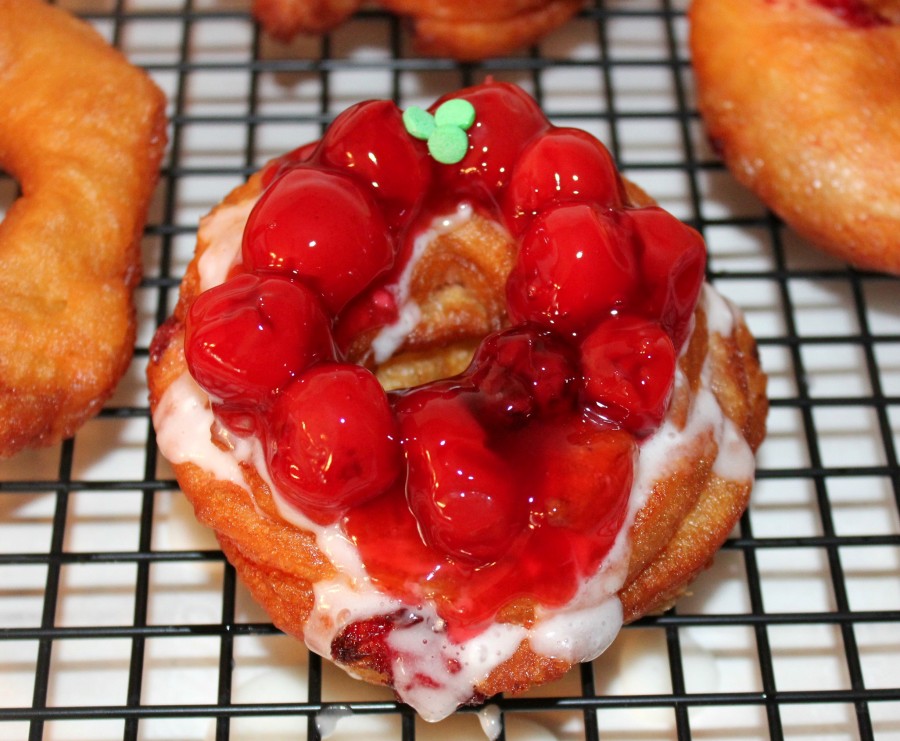 Directions:
Roll out the dough and spread an even (not too much), but thin layer of the cherry filling over it… *Reserve the rest for the doughnut topping..
Now fold the dough over, and repeat.
Cut the filled dough into doughnut shapes using the round cutter…
You can cut out the center hole if you like, or not..it wont matter~
Fry them one at a time in the hot (350 degree) oil…
until they're evenly golden, and puffy…
Let them cool..
Now drizzle them with some frosting…
…and top them with some of the reserved cherry filling.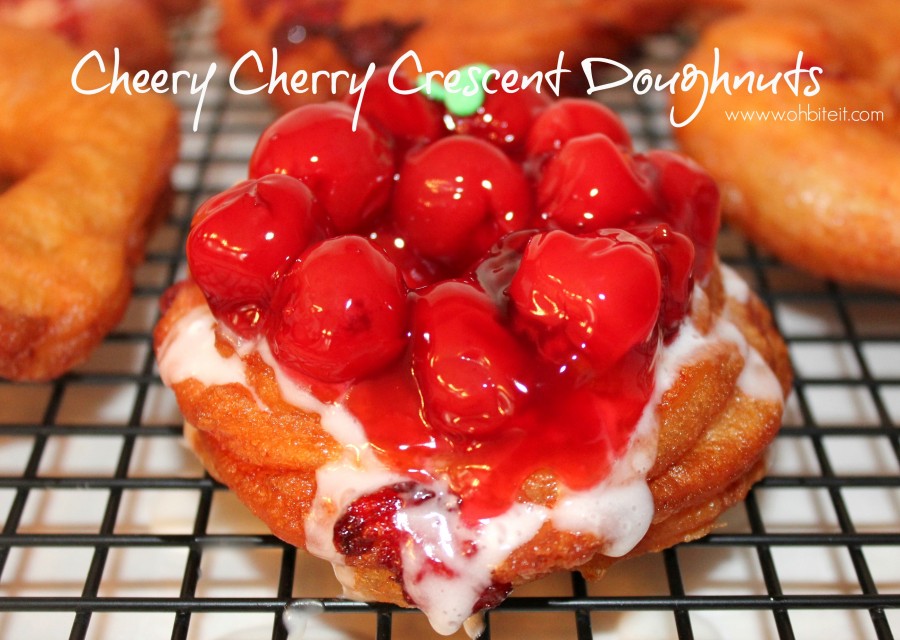 Let them set up for a few minutes, unless you don't mind the super sticky fingers…
NOW~  you can share…
OR just take a moment to enjoy their beauty …
I mean, just look at those amazing layers of goodness…
So serve them up…
OR just um…eat them all yourself… ~Enjoy!  🙂
Be sure to check out Lucky Leaf all across social as well and share the love!  <3