When the cooler weather settles in, we find ourselves reaching for extra comforting, tummy-hugging foods that not only satisfy, but also provide an amazing "WOW" factor when served to your family and friends.  And if we're lucky, that amazing dish will also be super simple and easy.  Well, that dish is right here.  Yep.. thanks again to Smithfield, I was able to create a one of a kind, easy, delicious, and unique meal that will take your ordinary dinner to extraordinary with just a few simple ingredients.
I present to you this succulent, tender, and super-simple "Pork Loin Chile Relleno"  
That's right, everything we know and love about that classic chile relleno, all rolled up inside a cheesy, marinated, top-quality Smithfield Fresh Pork Tenderloin.. then covered in green chile and a blanket of buttery pastry, then baked to a slightly spicy, oh-so-satisfyling, simple palette pleasing perfection.
With Smithfield Marinated Bacon Pork Loin, you can bring a little taste of the Southwest to your table.
Marinated Pork
"Deep flavor and easy preparation—you get the best of both worlds with marinated pork. From your oven to your table, you'll get all-day flavor in a matter of minutes."
What you'll need:
One – Hardwood Smoked Bacon and Cracked Black Pepper Tenderloin
1 container of Crescent Sheet Dough
Block Cheese sliced into strips .. enough cheese to stuff the tenderloin, I used approx. 4 oz. of Cheddar/Monterey Jack
Whole Green Chile Strips (approx. 6 strips), I used canned.. but fresh is great too.
Sour Cream, Cilantro and any other toppings and garnishes you like.
Directions:
Slice the tenderloin, making sure not to cut all the way through the meat…
Place the cheese slices inside the meat, use as much as you can get in there and still be able to roll it up…
Now, roll it up, and place it seam-side sown into your baking pan…
Place some whole green chile strips onto the top, making sure yo evenly cover it…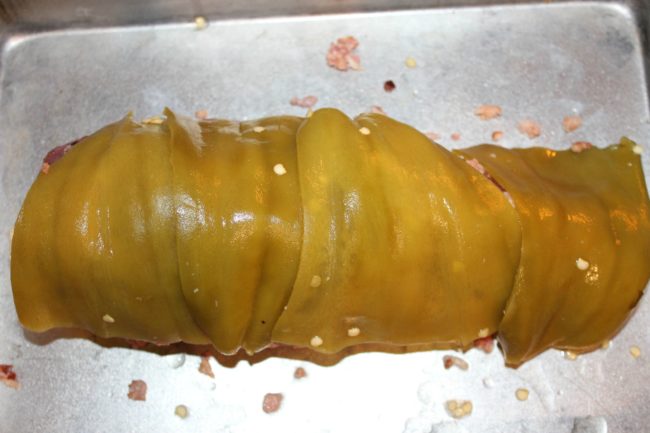 Par-bake it at 350 degrees for approx. 20 minutes, just until the meat is almost cooked through…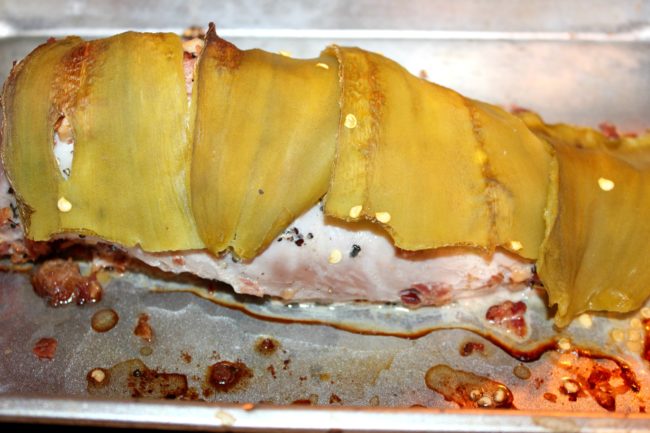 Unroll the dough, and place the tenderloin top-side down onto it. Gently stretch the dough all the way around the meat, and roll it up, ..place it back into the baking pan, with the dough seam-side down again…
Finish baking at 350 degrees for approx. another 20-25 minutes…
or until the crescent dough is golden and it's cooked completely through…
Let it rest a few minutes, and then slice it up into roughly 1″ slices or so.  Serve it warm with sides of sour cream and other garnishes of your choice…
Dig in! 🙂  ~Enjoy!
Be sure to check out and follow Smithfield across social as well:
The Right Way to Do Business
"We believe that there is a right way and a wrong way to make money. Sustainability is ingrained in our culture, and that applies to the way we run our plants, the products we produce, the way we treat our employees, and the communities where we operate. We also treat the animals we raise with the respect that they deserve."
—CEO Larry Pope
"The Smithfield® brand's heritage of quality pork began in 1936 when Joseph W. Luter and his son founded their small meatpacking company in Smithfield, Virginia. Almost 80 years later, Smithfield continues to delight consumers with premium-quality hams, smoked meats, bacon, and fresh pork. Flavor hails from Smithfield."
This is a post sponsored by Smithfield, however all opinions and content are my own.