La Tourangelle has figured out a way to not only provide a top-quality, deliciously flavored oil, but they've also made it nutritious.  Yes, it's true..hard to believe right? I know..but, take a look at this!  Oh, and their bottles are so beautiful, they'll  make a lovely addition to your kitchen decor!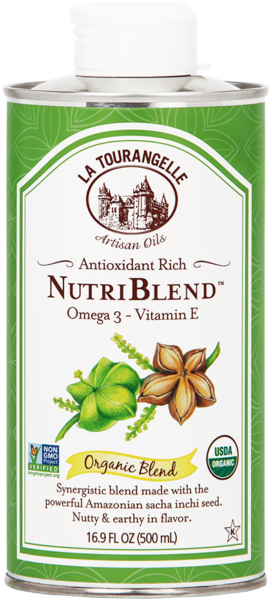 Health Benefits: Excellent source of the anti-oxidant Vitamin E providing 20% of the FDA's recommended daily intake. Contains 2.70g of Omega 3 to compensate for the low intake of omega 3 in the western diet (omega 3 is important in the prevention of heart disease). These natural and vegetable nutrients are particularly desirable in vegan and vegetarian diet. The Sacha Inchi seeds produce a rare and exceptional virgin oil. It is really considered as a super food by nutritionists.
Heat: Medium-High heat
Taste: Extra Bold
Good Food comes with sustainability: Sacha Inchi has a social impact, promoted as an alternative crop to coca for farmers in the Amazon.
Organic Gourmet Super Food – La Tourangelle has created a unique, 100% organic blend to get the best of both worlds: gourmet food & supplement. The Organic Amazonian Nutriblend™ could be considered a supplement oil thanks to its high level of vitamin E and omega 3. The blend has yummy, nutty aromas and earthy undertones and by using it daily, you will benefit from essential nutrients.

Start your own collection of delicious and beautiful La Tourangelle Oils right here  and share the love!