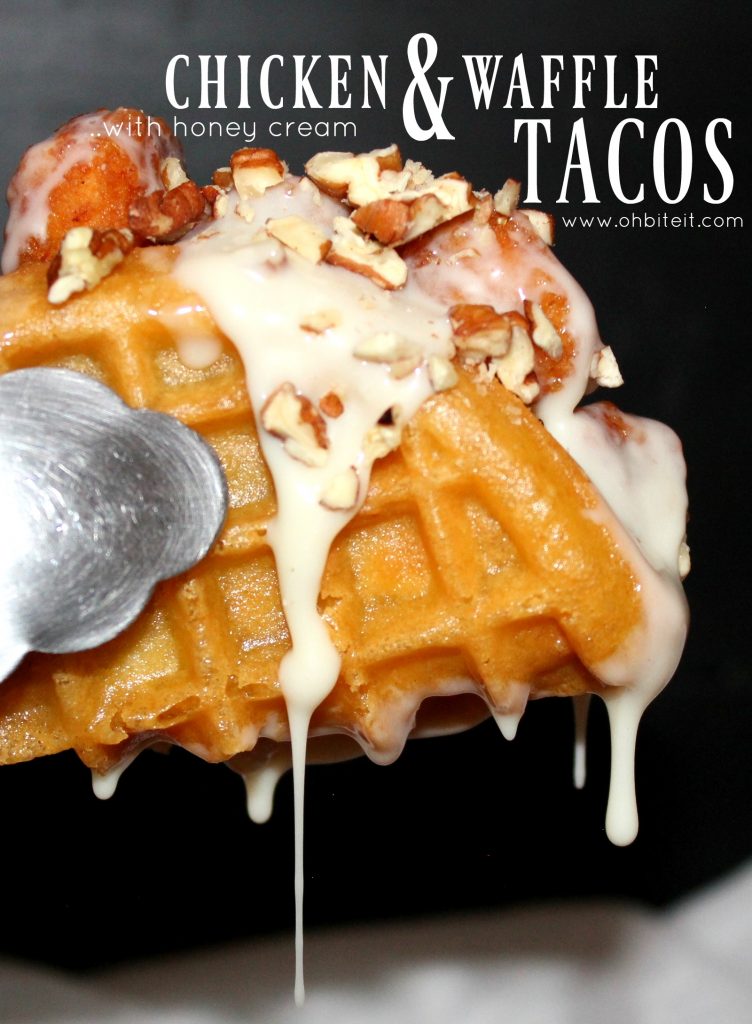 I bet you thought that the chicken and waffle combo craze was long over.. or at the very least, you were hoping it was long over..lol.  Well, you're not alone.  I fall into that category myself, so imagine my surprise when this recipe ambushed my brain out of the blue.  I was at a delicious war with myself, but at the end of the day this recipe won..  and (like it or not)  here we are.  🙂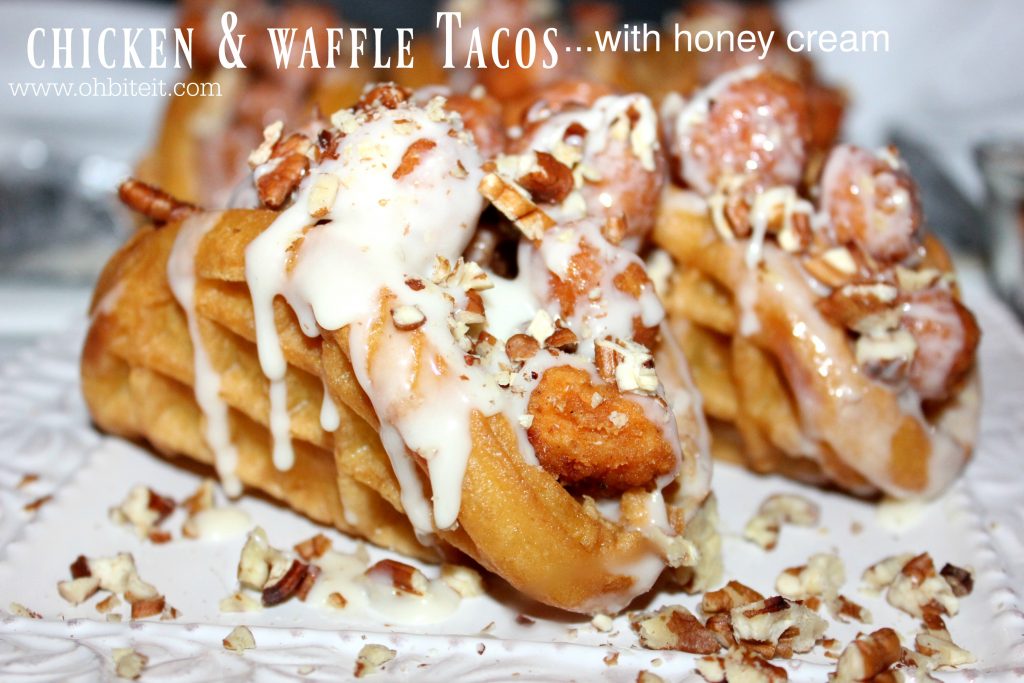 Now, let me get to the good part, the part that "made me do it".  This is the part where I acknowledge the fact that we've see just about anything and everything turned into waffles right?!  We've waffled our lives away with everything from breakfast to dinner.  BUT.. when was the last time you saw the actual waffle turn itself into something else?   I bet it's been a minute.  So I thought it would be fun to take that poor forgotten plain old waffle and transform it into something we all love, something magical and incredible..YEP.. a Taco.
I'm not talking about just your regular taco, although that would probably be SO good as well, but nope, ..this time I'm talking about the classic combo of chicken and waffles!  This waffle is shallow fried to a golden, toasty crisp, then filled with fried chicken chunks, and topped with the most amazing honey cream sauce just to drive its deliciousness right into your skeptical mouths.
Each bite of the perfectly waffled waffle-taco shell is toasty, sweet, and tender, ..and made even better by the succulent and slightly salty bite of the fried chicken.  I have no words to adequately describe what the delicious drizzle of the honey cream adds to these tacos, so I'm open to suggestions. 🙂
In a matter of minutes you can impress your family and friends with this kicked up combo… shake up Taco night and breakfast for dinner all at the same time. 🙂
~Make lots!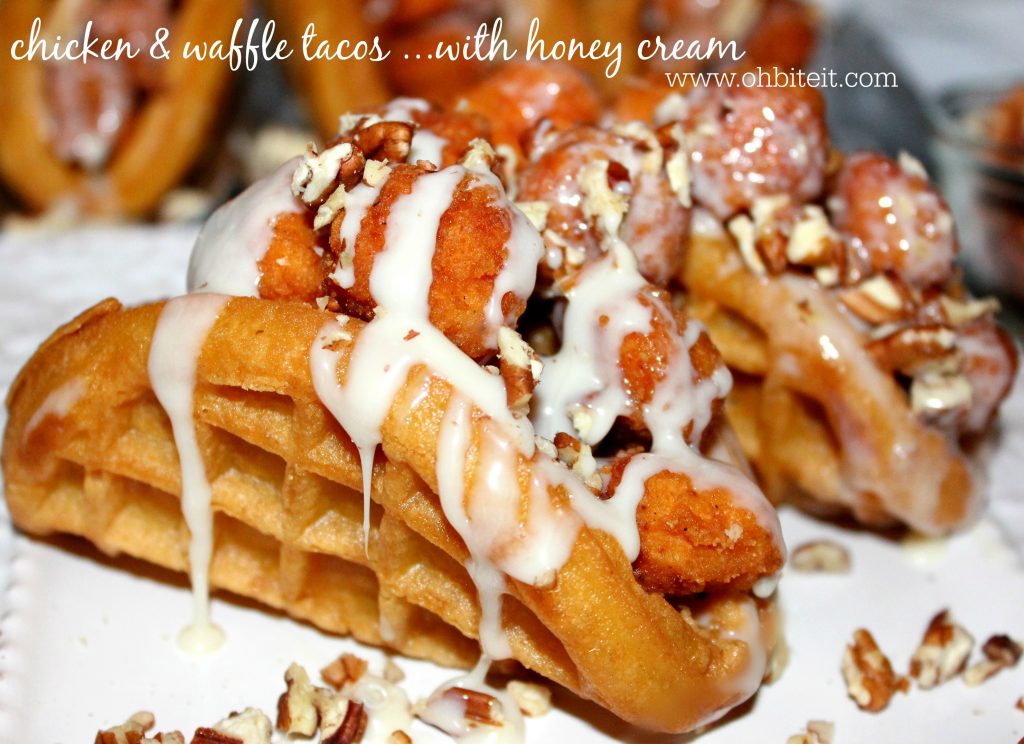 What you'll need (this is just a method, adjust accordingly for a larger portion): 

waffles.. from the frozen section at your grocery store actually work best for this.
fried chicken .. I used store bought popcorn chicken.
oil for frying~ I used Canola
For the honey cream:
Simply mix up: 3 parts honey to 1 part heavy cream until smooth.
pecans..chopped for topping.. optional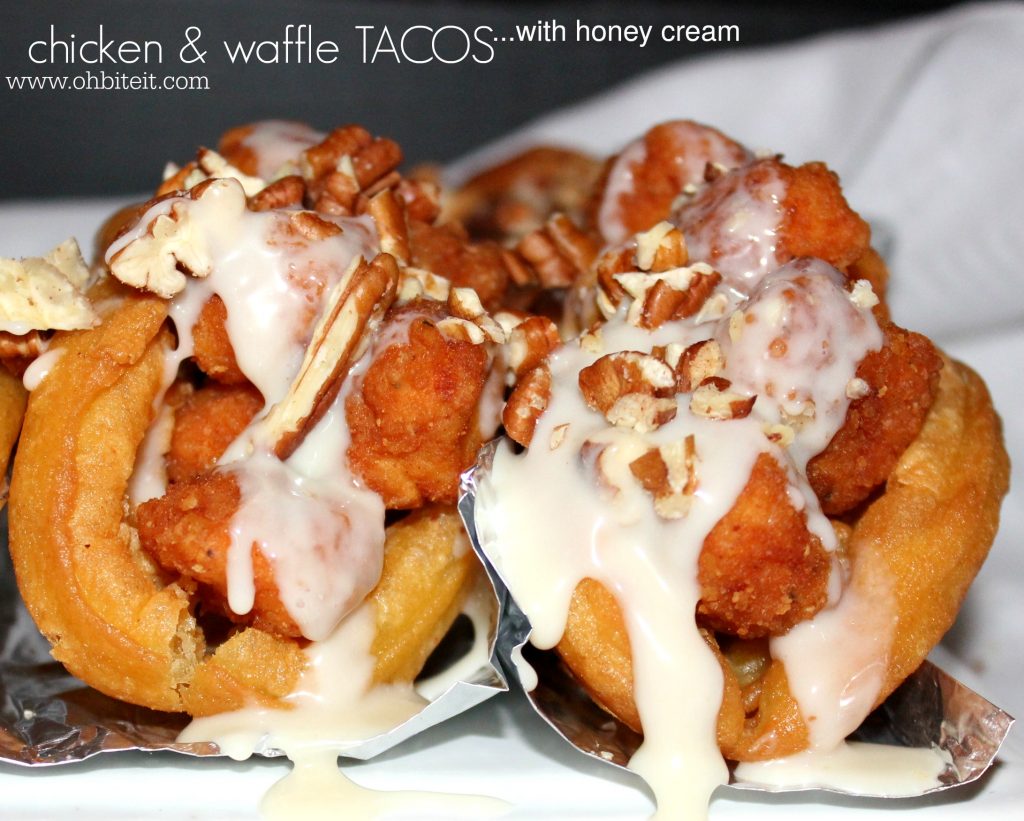 Directions:
Heat up your oil in a medium pot.. 350 degrees is best.
While the oil is heating up, make the honey cream, buy mixing the honey and cream together.. set aside.
Defrost your waffles~ and gently fold them over one at a time, and into a 'taco' shape.
Using tongs to keep their shape, carefully place the folded waffle into the hot oil.  Once the shape is secure you can let it go.. be sure to flip it over for even cooking.
Remove the taco waffle when it's golden, and place it onto some paper towels to cool…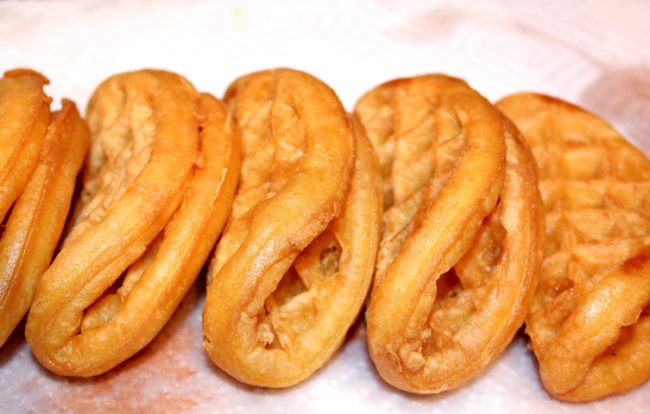 Once they're cooled, fill them with your chicken~ and when I say "fill".. I mean stuff those babies GOOD.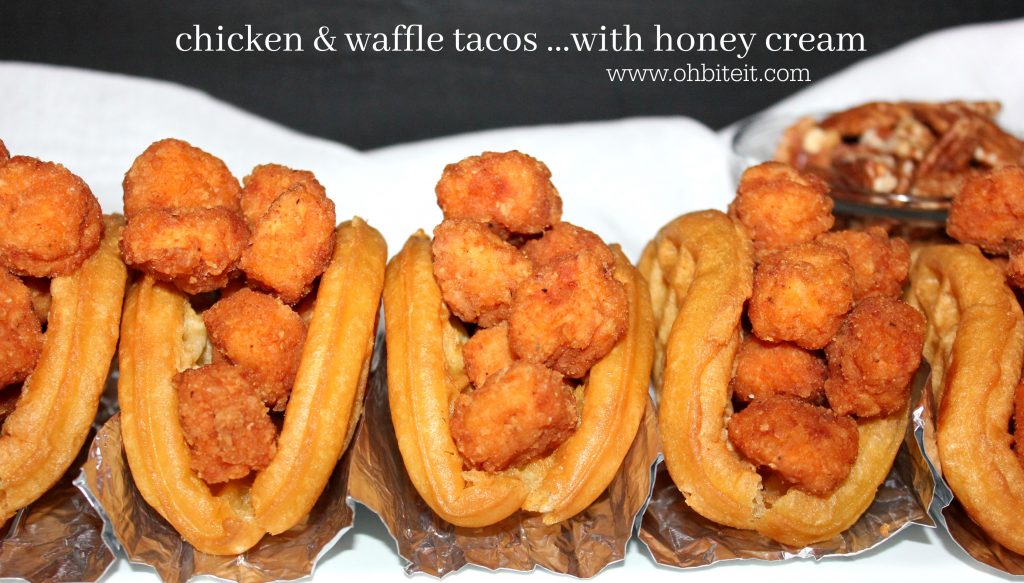 Now it's time for the BEST part  .. the honey cream!  DO IT..and do it well.
And it's also time to share, although let's be real, we could all take these down by ourselves, but we should do the right thing and remember our manners, right?
Top them with some crushed Pecans, if you desire..  Clearly, I desired.  🙂
Just be sure and remember to grab a few for yourself~ before all the people who you so kindly shared with, leave you with none!  😉
And then DIG IN!   ~Enjoy!