Well, what can I say.. it is yet another National food day of some sort.  And while I get just as annoyed about that as the next guy/girl.. this time, ohhhh.. THIS time, I think we can all agree that it should be a day to be celebrated!  Why? ..you ask?!  Simply because today is National Pancake Day!
Yep, that's right.. An entire day dedicated to that fluffy, sweet, flattened cake, cleverly disguised as "the most important meal of the day" .. The Pancake!  Is there a tastier way we can all fool ourselves into thinking that those sweet stacks are anything other than dessert? .. nope, not today logic.. NOT today! 🙂
So here we are!  And as everyone knows.. when there is a need for pancakes, there is also a need for an incredible pancake mix and a huge need for just the perfect pan to flip them in.  That's where Krusteaz and T-Fal joined forces and met us right here, right now..at the perfect moment, to help us all properly celebrate such an incredible national holiday like umm..Pancake Day!
Thanks to the quality of this non-stick T-Fal pan, each pancake was effortlessly flipped, and evenly cooked to perfection.
"We all need to care for the environment and T-fal is today more committed than ever to producing quality products that are safe, reliable and eco-friendly.
This responsible approach to the environment dates back over 50 years, with an ever-growing influence manufacturing processes.
Our key priority remains unchanged to provide you with high-quality, eco-friendly products for everyday healthy cooking."
Krusteaz supplied the time-tested quality that they're known for, by providing the most fluffy, tender, and light pancakes, which added the perfect flavor accent for that rich, dark chocolate goodness.
For today's celebration, (and by 'celebration', I mean piled-high pancake pig-out).. I bring to you the decadent combination of Red Wine and Dark Chocolate.  Yeah, that's right.. Let that sink in for a minute~ if food could be sexy, this combo would be the poster child.
The buttermilk pancake batter is infused with dark chocolate cake, studded with chocolate chips, cooked to perfection and piled high between layers of smooth and creamy fudge.  THEN..they're decadently dripping in the BEST tasting Cabernet Syrup you can imagine. These are so savory, so sweet, and so deliciously unique that they're perfect for a special occasion, or a late night breakfast-for-dinner-in-bed treat.
~Make LOTS!
What you'll need:
2 cups of Krusteaz Buttermilk Pancake Mix
1 cup dark chocolate cake mix.. any brand.
1/4 cup cocoa powder
1/2 cup chocolate chips.. any size
approx. 2 cups water or milk (give or take a little for consistency)
1 cup of fudge topping
chocolate shavings for garnish.. optional.
For the Cabernet Syrup:
1/2 (750 milliliter) bottle of Cabernet
1 cup powdered sugar
3/4 cup white sugar
1 tsp. vanilla extract
1/2 tsp, ground cinnamon
Directions:
In a medium pot, combine the wine, powdered sugar, white sugar, vanilla extract, and cinnamon.. simmer over low heat, stirring occasionally until sauce reduces..approx 30 minutes.  Just keep it simmering until it reaches your desired thickness…
In a large bowl combine the pancake mix, cake mix, cocoa powder, choc. chips, and milk OR water.. mix until well combined…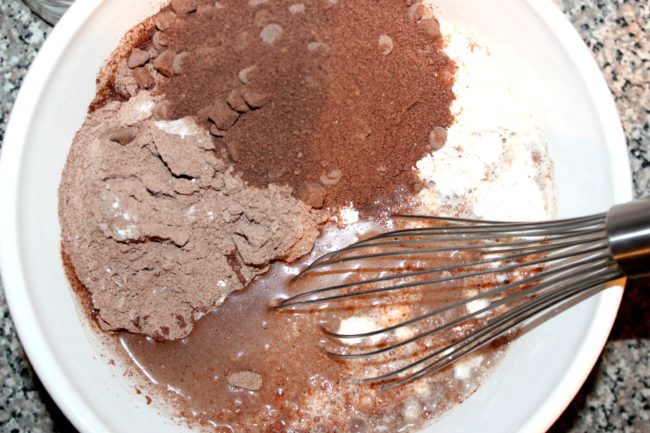 Heat up your pan (with T-Fal's technology, the pan lets you know when it's ready by turning bright red)…
Now simply make your pancakes…
Add an even layer of fudge topping in between each pancake as you stack them .. this is optional of course, but WOW..it adds something that you didn't know was missing.
When your stack is stacked..  drizzle that incredible Cabernet syrup all over the top….
With a sprinkle of chocolate chips or shavings for good measure…
Then dig IN!  ~Enjoy!  🙂
**In honor of National Pancake Day, be sure to check out Target and Amazon.com for special T-fal Cookware discounts! 
Be sure to check out Krusteaz and T-fal all across social as well, and share the love!