When you think of sexy foods, the first thing that 'usually' comes to mind is .. Oysters!  Yep, that little mood-enhancing bite of deliciousness that can take your dinner from "Ooo" to "Ooo-LaLa" in minutes.  Well, Valentine's Day is right around the corner, and I'm sure we can all use a little help in the sexy food department..right? .RIGHT!  That's where Whole Foods Market comes in.
Thanks to Whole Foods, we can stock up on fresh and delicious Oysters for that special day, and that special someone.  you can fry them, as seen here > "POPCORN OYSTERS" 
Or you can simply eat them on the half-shell~ for that traditional Oyster experience.  Whatever way you choose to enjoy them, you won't go wrong.  Just look at all these Oyster options!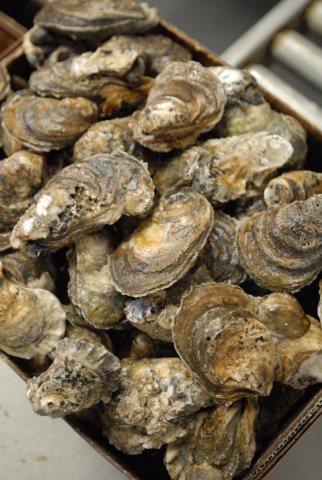 This story by Jenn Greene is provided by The Nature Conservancy.
"I've been in a love affair with oysters for nearly 20 years.
I get a little giddy when I see people enjoying our locally farmed, boutique oysters in my adopted hometown of Mobile, Alabama. I find myself wanting to inspect the shape of their little bodies and perfection in the shape of their shell. I get the same feeling when I see crusty clumps of thriving oysters attached to reefs and pilings along our Gulf bays and estuaries. I've worked to restore shellfish for nearly 20 years, and I feel as much love and affection for these little bivalves today as I did when I started."
Be sure to check out Whole Foods Market all across social as well.. and share the LOVE!
FACEBOOK > TWITTER > PINTEREST > INSTAGRAM > YOUTUBE > SNAPCHAT