Oh, I don't even know where or how to begin.
I can keep it short & simple by saying that I thought it would be fun to create a "cake" made out of ummm..grilled cheese sandwiches, and that's the truth.  ..that's basically it.  BUT, there is the part where I was too lazy to stand at the stove and flip multiple grilled cheese sandwiches, and I was, once again..searching for an easy way out of the kitchen,, and I found it!
I'm pretty sure all this recipe did, aside from providing an amazingly beautiful, and efficient way to enjoy grilled cheese, is prove to myself yet again that laziness PAYS OFF!  LOL!
This one of a kind cake is piled high with layer upon layer of melty, cheesy, grilled cheese goodness, all wrapped up inside a buttery layer of seasoned crust.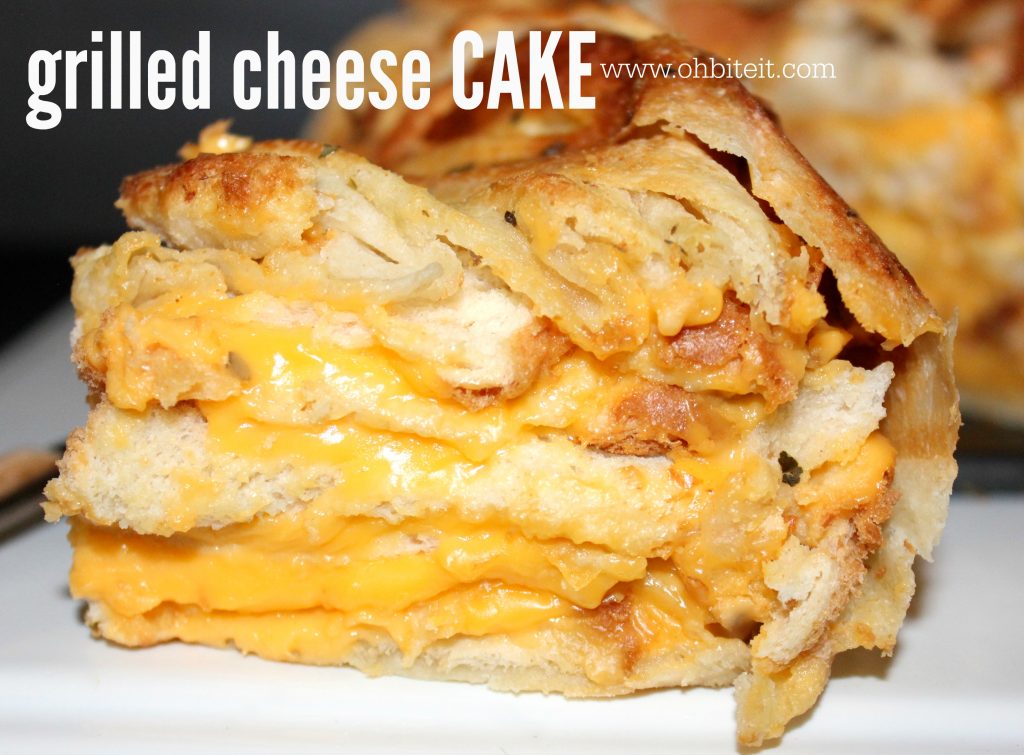 One slice into this crazy cake, and you will know you have a winner on your hands.  This cake will be your entertainment and your meal.  And what a delicious show stopper it is!
What you'll need:
1- 8″wide X 4″ deep springform pan::  sprayed with non-stick spray
1 container of THIN CRUST pizza dough, I used Pillsbury
1- 1lb. loaf of good-old white bread, OR any bread you like
APPROX, 40 slices of American Cheese.  give or take some slices, just depending on how you layer.
1/2 stick of butter..melted
2 tsp. Oregano..optional
1 egg
Directions:
Melt the bitter with the oregano…
Roll out the dough so it's even, and brush it with the melted butter…
Drape the dough over the pan, BUTTERED SIDE DOWN, so the buttered side is touching the inside of the pan…
Gently push the dough down into the pan, making sure that there is enough dough around the edge to cover the top with after you layer..
…then, brush the inside of the dough with the butter as well…
Now start layering, bread and cheese, evenly covering as much as possible, cut the bread and cheese to fit if necessary…
All the way to the top.
Add the egg into the melted butter…
Fold the excess dough over the top of the pan, and brush with the egg/butter…
Now bake at 375 degrees for approx. 25 minutes, making sure to cover with foil if the top gets too golden before it's cooked through.
Let it cool for a few minutes…
Then you can safely cut into it… and serve it up…
Admire it's beauty …
And share it with only those you love LOTS, cuz they won't be leaving any time soon..lol
OR, you can just eat it all yourself..!!  ~Enjoy! 🙂