Do you ever have those days when you just don't want to turn the oven on?  Once in a while you just want a hearty, and comforting meal that's simple, easy.. super tasty, and SUPER fast.
~ Well, do i have a quick and impressive, no-sweat dinner idea for you.  .. ENCHILADA CASSEROLE!
Yep.. thanks to the incredible quality of Lagostina Cookware, I was able to stick to my super cheese-filled New Mexican/Southwest roots as a "Favorite Regional Family Recipe", and create this one-pot-wonder version of Enchiladas.  This is everything we know and love about enchiladas, all in one easy to use pan, cooked on top of the stove.. in a matter of minutes.
These enchiladas are filled AND topped with cheese, and we all know what stove-top cheese will typically do to a pan.. yeah, it either ruins the pan or it ruins you..lol.  Not this time though.
The nonstick quality of Lagostina is so stellar that not one bit of cheese stuck to this pan.  I was able to serve straight from the pan with ease.
Just check out these amazing features:
Premium hard anodized construction with thick 3.5mm base for even heat distribution
Non-stick coating provides easy cooking and cleaning experience
Sturdy and ergonomic riveted cast stainless steel handles
Polished hammered stainless steel lid
Flared edges for dripless pouring
Dishwasher Safe
Oven and broiler safe to 500°F
Lifetime Warranty
Thanks to the incredible beauty and quality of Lagostina Cookware providing me with this unbelievable NEW Nera 12″ Nonstick 5-Qt. Casserole with lid, I was able to literally throw together one of the tastiest, and most impressive meals I've ever served.  Not only can this cookware go from stove to oven to table.. it's so beautiful that it also serves as a gorgeous and very tasty-filled center piece.  It's bling for your kitchen.  
This dish is so easy, it's almost like doing well..nothing.  And guess what?  Everyone you serve this to will be blown away at how delicious it is.  When they find out how easy it is (if you choose to tell them..lol) .. you will be a one-pot, stove-top, beautiful-pan-serving -delicious-dinner ROCKSTAR!  🙂
Just be sure to have this recipe ready to share, you'll need it.
Where to Buy: 
The Lagostina Nera 12″ Nonstick 5-Qt. Casserole with Lid is currently available on Macys.com ($49.99).
What you'll need:
1 – Nera 12″ Nonstick 5-Qt. Casserole with lid.. found here > at Macys.com 
approx. 20 corn tortillas
2 – 12 oz. cans of chicken OR tuna.. OR if you prefer fresh, just use approx. 3-4 cups of chicken or tuna.
1 -1oz oz. can of cream of mushroom soup.. or any cream soup you like will work.
3-4 cups of shredded cheese.. I used a mexican blend.
1 -10 oz. can of green chile enchilada sauce.  Just fill up the empty soup can and it's perfect.
sour cream and cilantro for garnish..optional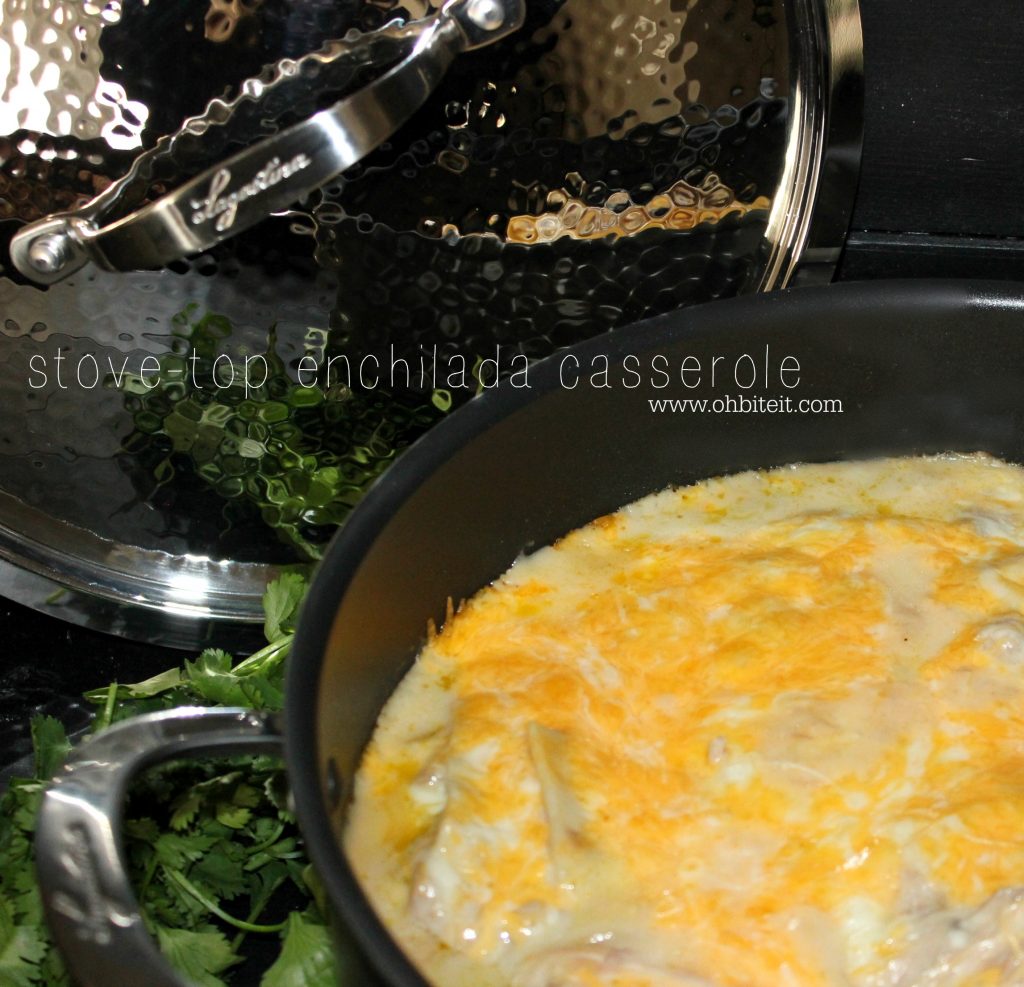 Directions:
Cut the tortillas into strips.  approx. 3″ x 1″
In a large bowl, combine the tortilla strips, chicken or tuna with the soup, enchilada sauce, 2 cups of the cheese (reserving one cup for the topping),
Now pour the mixture into the pan, and evenly top it with the reserved shredded cheese.
Cover the pan with the lid, and set your stove-top heat to medium.  Let it cook covered for approx. 12minutes, and then check it to see if it's hot throughout and that the cheesy topping is all melted.
Let it cool for just a minute.. that cheese is HOT!
Serve it up nice and warm…
And plate it up, with some sour cream and any garnish you like…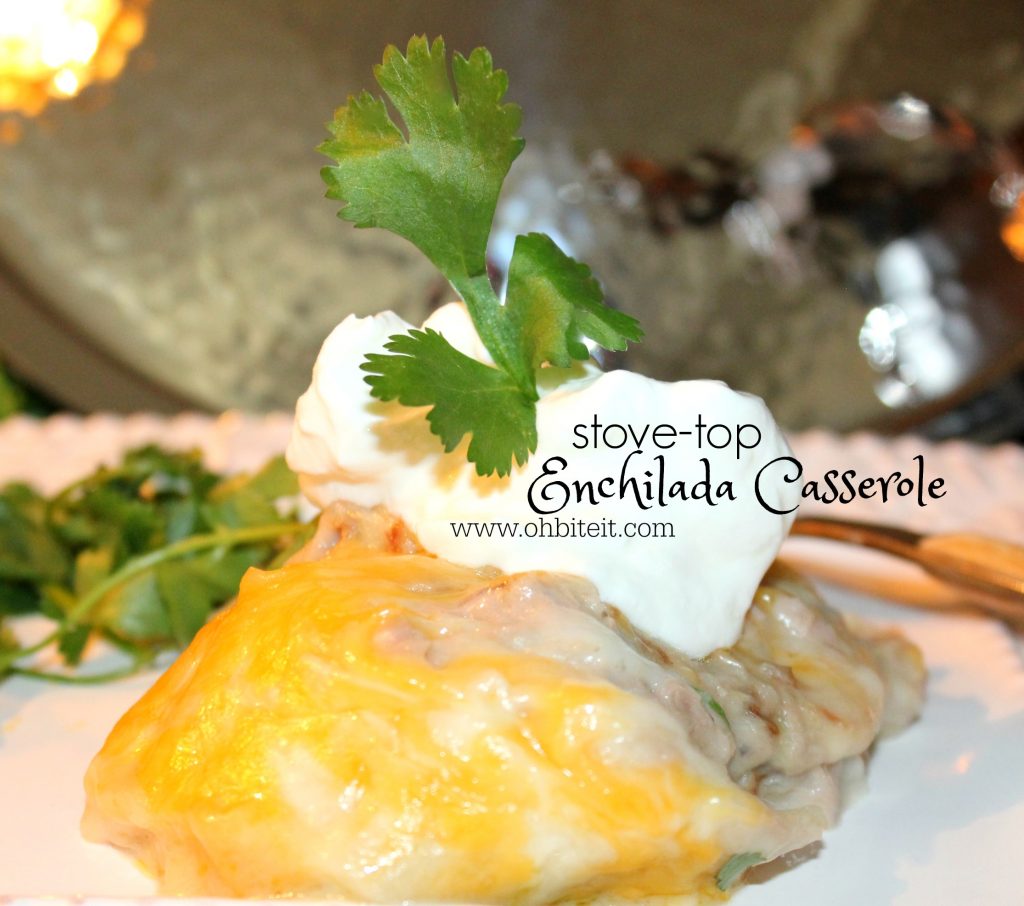 Now DIG IN!  ~Enjoy!  🙂
I received a Lagostina product in exchange for this post, however all opinions are my own.