It's such a beautiful thing when two delicious worlds collide isn't it?  There's just something so unique about the union of two tasty treats coming together to give life to a brand new doubly delicious tasty treat.  🙂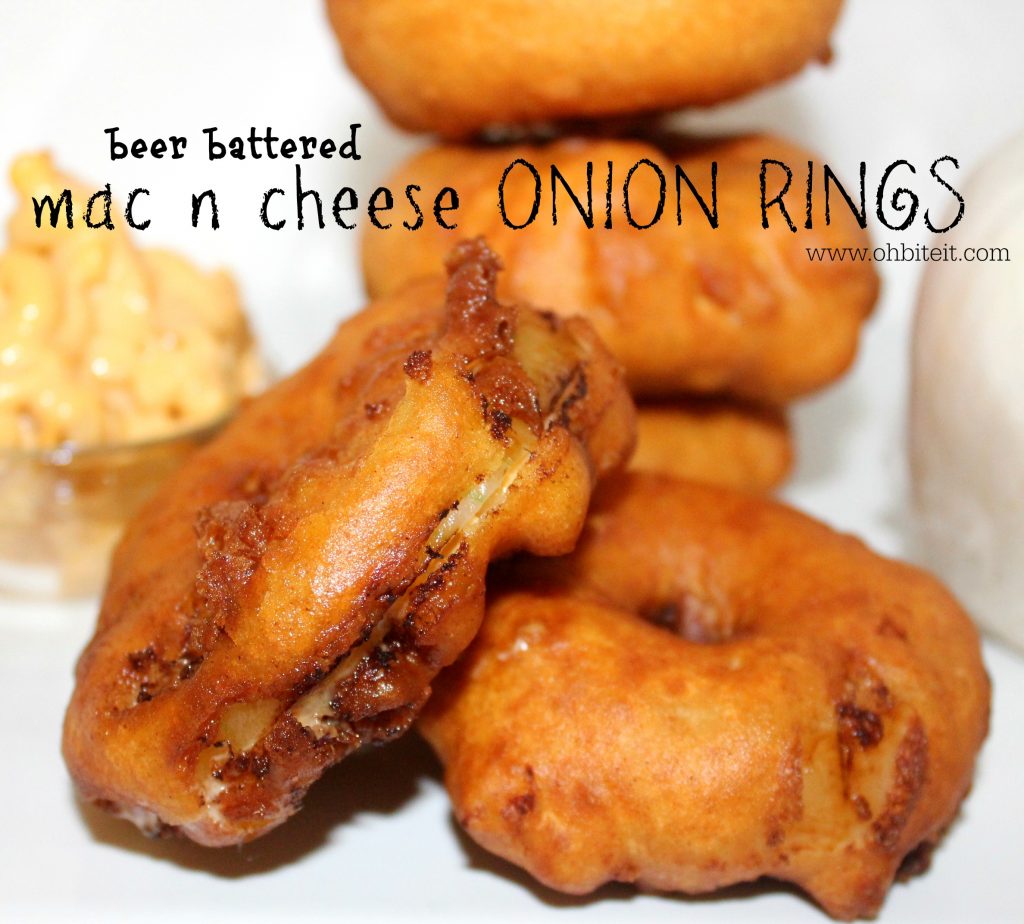 This is one of those unions.  I've taken classic mac n cheese and magically merged them with crispy and crunchy onion rings.  Make sure you're sitting down when you eat these babies, because they are life-changing.
Each glorious onion ring is beer battered for a light and crispy crunch on the outside, ..and then they're warm, cheesy, and OH SO gooey on the inside, as that mac n cheese makes its way through your mouth and into your soul.
Pile them nice and high for a huge WOW factor~
~Whip these up for the next movie night, or game day, and you will be the snack MVP!
What you'll need:
2-3 med/large onions, cut into 1⁄2-inch rounds
2 quarts peanut oil
1 cup all-purpose flour
1⁄2 cup cornstarch
1 teaspoon baking powder (not shown)
1⁄4 teaspoon baking soda
1⁄2 teaspoon paprika (not shown)
3/4 cup OR SO light-flavored beer (such as Modelo), ice-cold
DIRECTIONS
On a parchment lined sheet pan, place a small onion ring inside a larger one…
Fill the onion ring "void" with some mac n cheese…
Put them into the freezer for at least one hour…
Preheat the oil to 375°F in a large wok or a Dutch oven over medium-high heat.
Combine the flour, cornstarch, baking powder, baking soda, and paprika in a medium bowl and whisk together…
Slowly add the beer to the flour mixture, whisking constantly until the batter has texture of thick paint (you may not need all of the beer).
The batter should leave a trail if you drip it back into the bowl off the whisk. Do not over mix; a few small lumps are OK…
Dip one frozen and stuffed onion ring in the batter, making sure that all surfaces are coated, lift it out, letting the excess batter drip off, and add it to the hot oil by slowly and CAREFULLY lowering it in with your fingers until just one side is sticking out, then dropping it in…
Fry, flipping the rings halfway through cooking, until they are deep golden brown…
Serve them warm and gooey…
Don't forget to share… ??!
Or NOT!  ~Enjoy! 🙂