Oh, trust me.. I'm over the whole chicken & waffle craze too, I don't care if I ever see another chicken & waffle union again.  So you can imagine my horror when out of nowhere, this idea of chicken & waffle fudge literally assaulted my otherwise disturbed normal mental state.
I mean, I was just living life, buying booze at 9 am (as I do).. when BOOM, there it was, and now… here WE are!  ..you know, cuz.. I couldn't think of a crazy recipe like this an not share it with you, could I?  …  uh, NO!
Anyhoo, I know it IS sounds crazy, but if we're going to beat that chicken & waffle combo into the ground, we might as well do it right.  And by "right", I mean like this.
This fudge is not only surprisingly delicious, whimsical, and fun..but it's also a super easy, and such a unique way to jazz up that classic chicken & waffle combo.  The flavors really aren't any different than you'd find on your dinner plate, as the sweet, and savory are in complete harmony here.
Rich cinnamony-maple-fudge perfectly mimics a delectable waffle as it's studded with tender bits of perfectly fried chicken and crunchy pecan bits, …THEN the whole shebang is slathered in a sweet, amber drizzle of maple syrup, just to drive those authentic c&w flavors right into your skeptical, yet eager face.  ..that's right!
This is just a new, and might I say, more crazy interesting way to enjoy chicken & waffles… one sweet, fudgy bite at a time.  The holiday fudge-gift-giving-bar has now been raised.  🙂  ~Make LOTS!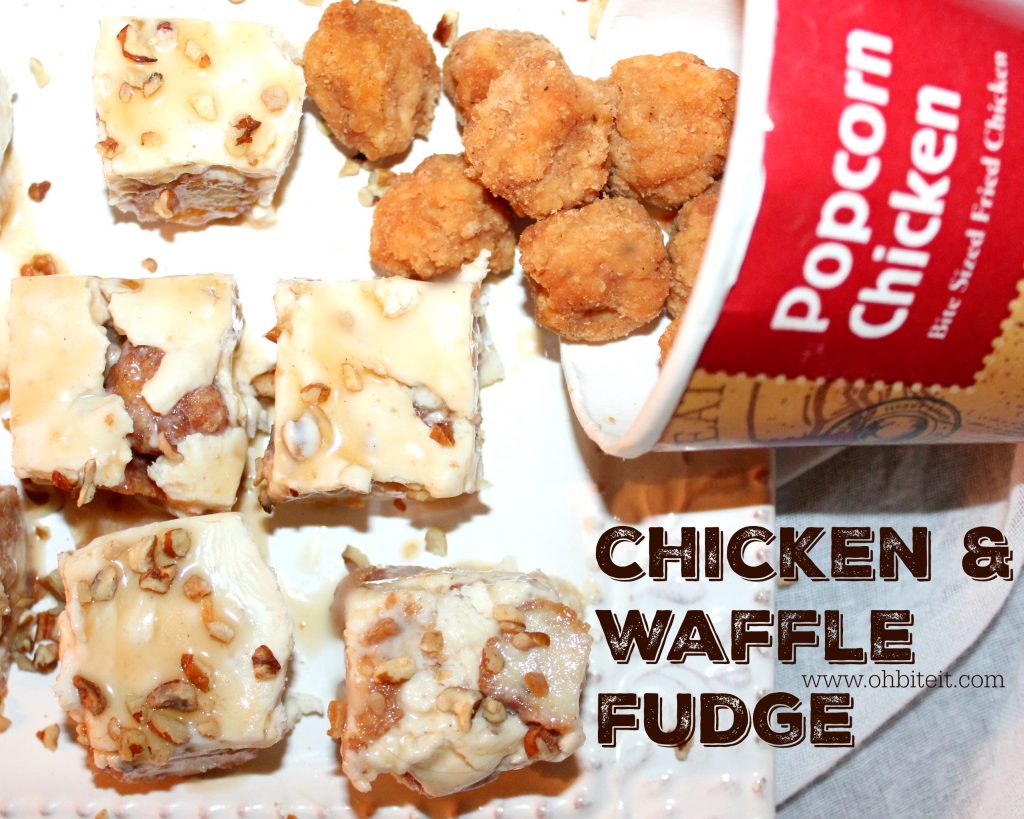 What you'll need:
2 cups of popcorn chicken.. I got mine from the grocery store deli counter
1-16 oz. container of white frosting, I used cream cheese flavor.
1-20 oz. bag of white chips
1/2 cup pecan chips
2 tbsp. cinnamon/sugar
1 tbsp. brown sugar
1 tsp. maple extract
syrup for drizzling
A square pan
Directions:
In a large bowl combine the frosting and the white chips, add them to a double boiler (or into the microwave for a few seconds at a time, stirring in between) and melt them until well incorporated…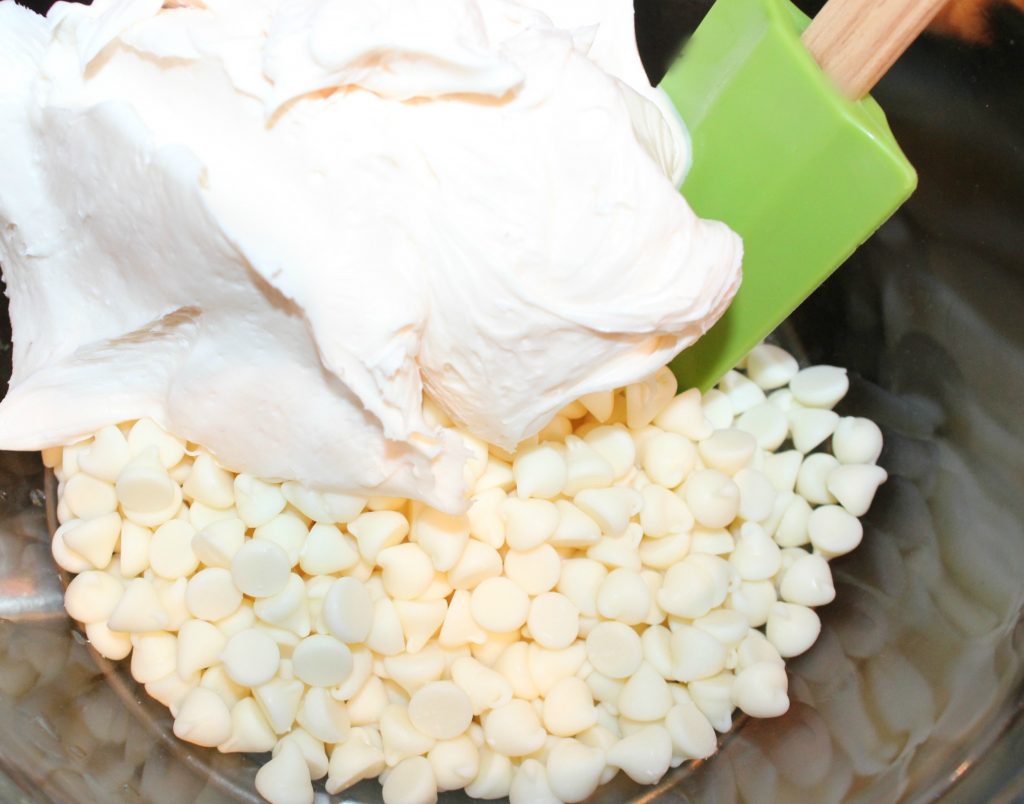 Stir in the brown sugar, cinnamon/sugar, pecans, and extract…
Fold in the chicken..
Mix that chicken in very well, so all of it is coated with the fudge…
Add the fudge into your pan, and evenly smooth out the top, making sure that the chicken is evenly dispersed throughout.  Now put it into the fridge to set up, approx. 30 minutes or so… At the 15 minute mark, drizzle the top with some maple syrup, and back into the fridge it goes..
When it's fully set, cut it into traditional fudge-like-squares….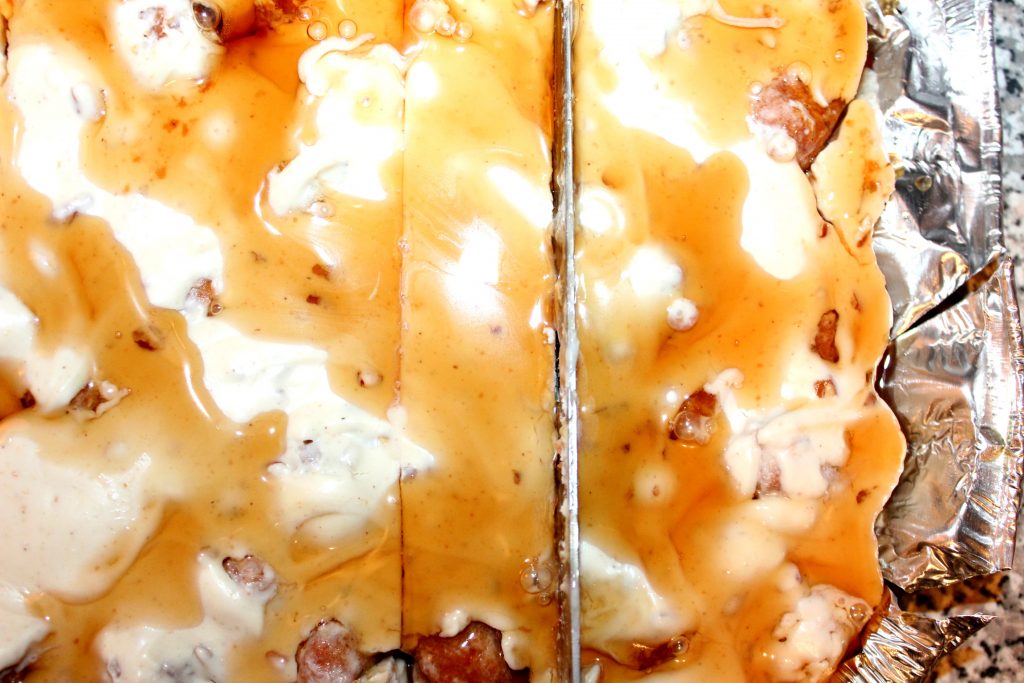 Orrrr serve it as you would chicken and waffles.. you know – a nice, big, slab of it on your plate..lol.  just kidding!
Share it with your most daring family and friends…
Or, if you have no daring friends at all, there will be more for YOU!  ~Enjoy!  🙂  *(store it in the fridge)