Oooh, I'm not sure what adjectives are strong enough to describe the sheer deliciousness that are these sweet and savory corn dogs!  I don't think I've ever tasted such an incredible, yet unlikely union of flavors.  
I've been having fun lately with sweet & savory combos, and this one is by far the winner!  Each gooey, hot and melty cheese stick, is coated in a pancake/graham cracker combo that is To. Die. For!  Then to top them off, every melt-in-your-mouth bite is met with a beautiful sweet, caramelized coating of warm, sticky sugar!  
~Go do this, … you can thank me later!  🙂  GO!
What you'll need for 12 delicious doggies: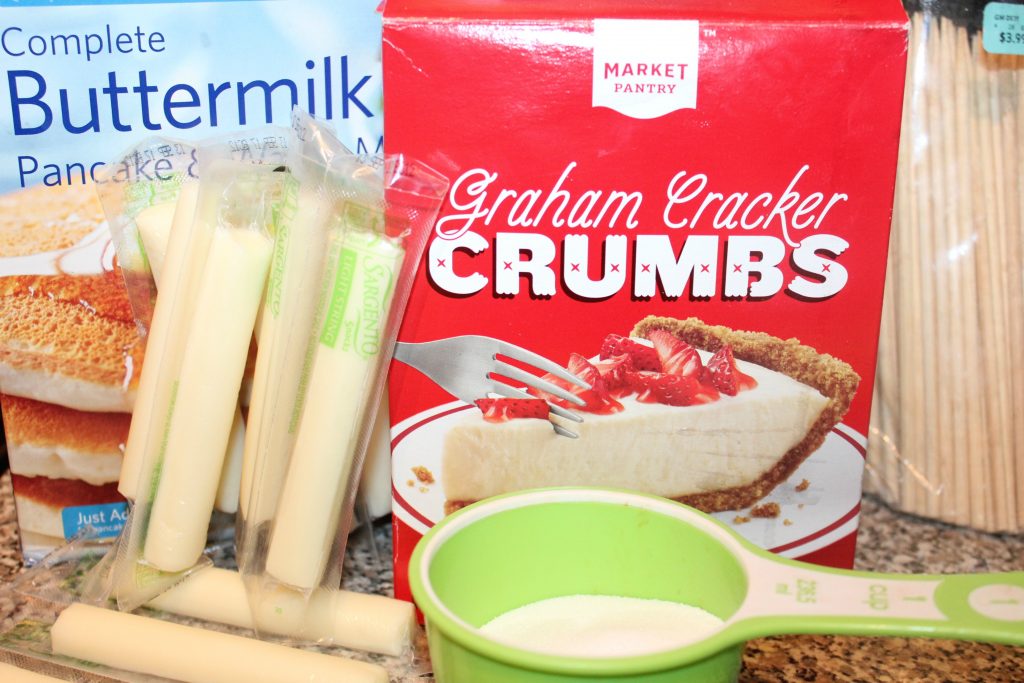 12 mozzarella cheese sticks
1 cup pancake mix, AND 1 cup graham cracker crumbs.. mixed together.
1 cup water
oil for frying.. I used veg.
1/2 cup white sugar for coating
12 corn dog sticks
Directions:
Mix the batter, according to the pancake instructions for TWO dry cups (one cup of pancake mix and one cup of the graham cracker crumbs).
Dip each cheese stick into the batter, making sure to coat evenly and generously.
Fry them one at a time in the hot (350 degree) oil until golden on all sides.
While they're hot, coat them in the sugar…
Plate them up…
Share, if you're able…
And DIG IN!  ~Enjoy! 🙂