If you've been around this page for a while, you know how I love turning what's typically a giant meal into a fun, whimsical, and bite sized treat.  Well, that love is alive and kicking, as evidenced right here, right now.
Yep, you're looking at a deep fried, spaghetti & meatball, one-bite-wonder.
A pop-in-your-mouth dinner for one, if you will.. in the form of crispy, crunchy, lightly fried angel hair pasta, snuggled deliciously around a perfectly seasoned, juicy and tender meatball.  ..ALL dressed up in a beautiful coat of saucy marinara dip!
You can thank me later, but for now.. go jazz up some spaghetti & meatballs, then let me know what you think…GO!
~ In a matter of minutes, you and all your closest friends and family.. (and strangely, some friends you didn't even know you had), will make these disappear like magic!  ~Make LOTS!
What you'll need for 2 dozen:
1/2 lb. angel hair pasta.. cooked and cooked completely
24 mini meatballs (fully cooked) from the frozen section..
2 eggs
1/2 cup grated parmesan
1 tbsp. italian seasoning
salt and pepper to taste
oil for frying..either veg, or canola
marinara sauce for dipping
Directions:
Cook up the 1/2 lb. or so of pasta and let it FULLY COOL!  ..set aside
In a small bowl combine the 2 eggs, cheese, salt and pepper, and seasoning…
Pour the egg mixture into the cooled pasta…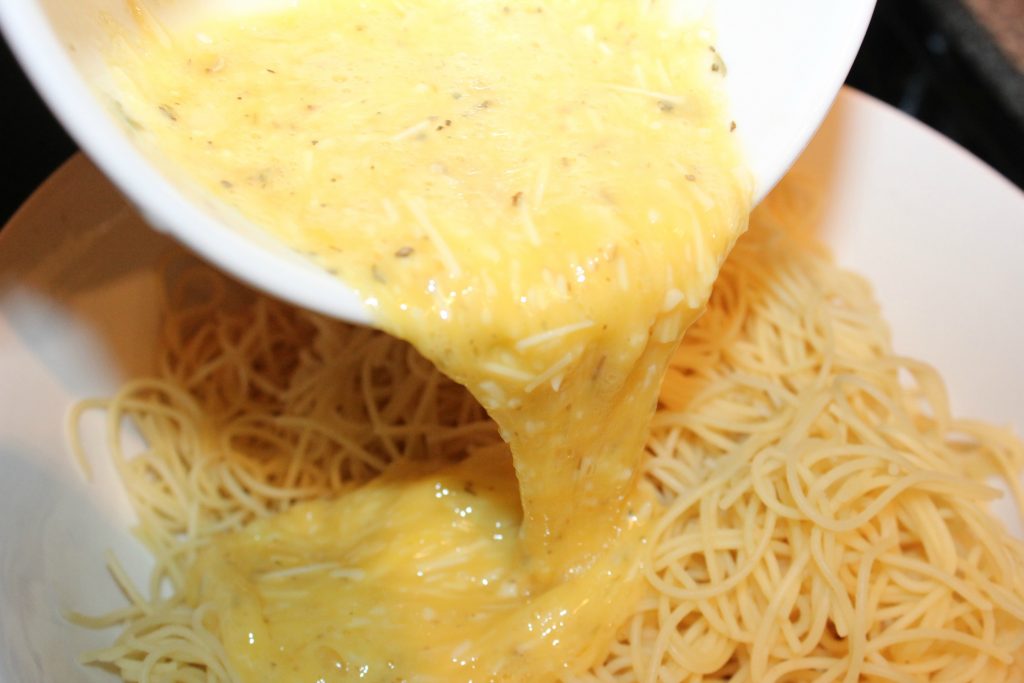 Now, take a meatball (it's fine if they're still semi-frozen) .. and using a fork, or your clean hands, wrap the pasta around the meatball…
Place them individually it into a NON-STICK SPRAYED muffin tin and freeze them for at least 1 hour…
Take them out when your oil is ready, and gently use a knife to pry them out of the pan.. they will pop right out no prob.
Heat your oil to 350 degrees, and fry up one or two pasta bundles at a time, until they're evenly golden…
Let them cool just a minute or two, if you can be patient…
And serve those babies up…
Don't forget the marinara sauce!
And dig IN!  ~Enjoy!  🙂